The Big Superhero Cameo You Might Have Missed In Spider-Man: No Way Home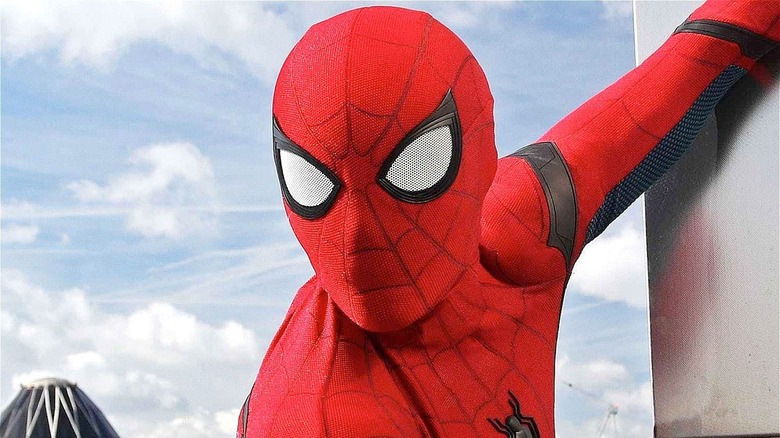 Sony Pictures/Marvel Studios
Contains spoilers for "Spider-Man: No Way Home"
"Spider-Man: No Way Home" begins directly after the events of "Spider-Man: Far From Home" with Peter Parker on the run. Mysterio's final deception sees Peter Parker (Tom Holland) outed as Spider-Man and blamed for both Mysterio's death and the considerable destruction that Mysterio himself caused. Now on the run, Peter's life as he once knew it is over (along with the lives of everyone he loves). Neither he, MJ (Zendaya), nor Ned (Jacob Batalon) get into college, and they're perpetually hounded by paparazzi, angry civilians, and legal troubles. 
With safety hard to come by, Peter is desperate. Anyone who has seen the trailer knows Peter convinces Doctor Strange (Benedict Cumberbatch) to attempt to magically mind-wipe everyone in reality such that no one remembers that Peter Parker is indeed Spider-Man. Of course, Peter Parker's neurotic protests interrupt the spell, sending the multiverse into chaos.
Before Peter tumbles into Strange's Sanctum Sanctorum in a desperate attempt to rewrite reality, he briefly does try one other method to escape some of the mess he finds himself in (at least in part). In an important cameo, Parker meets with a lawyer who might look familiar to fans of the pre-Disney+-era Marvel series. We dig into this important fan-favorite character that just broke into the MCU.
The return of the beloved Man Without Fear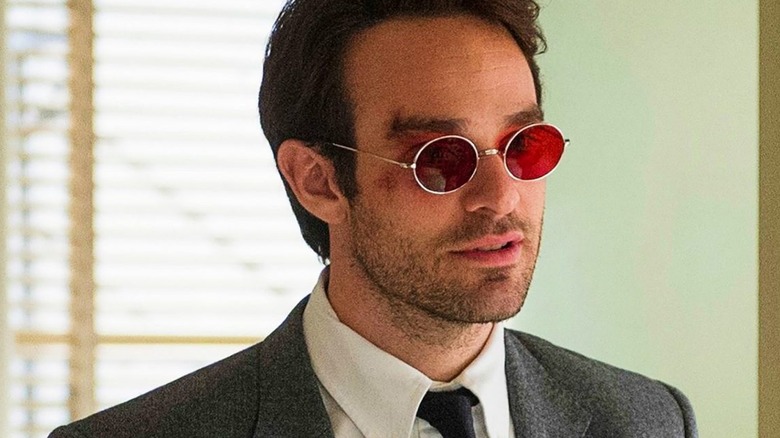 Netflix
In the pivotal scene, Peter is sitting at a table with Aunt May (Marisa Tomei), Happy Hogan (Jon Favreau), and the mysterious lawyer — the sunglass-wearing attorney Matt Murdock (Charlie Cox). 
He's never named directly in the scene — it is a proper cameo — but Charlie Cox is unmistakable, as he played the very same lawyer in Marvel's Netflix series "Daredevil" and the rest of the "Defenders"-associated shows. You might be thinking, "How do we know he's the same version of the same character, not just a nod to the character (like how J.K. Simmons plays two entirely different J. Jonah Jamesons)?"
Fair question, but here's the rub: At the meeting, Murdock tells Peter, "Peter, you may have dodged your legal troubles but things will get much worse. There is still the court of public opinion." A brick gets thrown through the window at blink-and-you'll-miss-it speed with a note affixed. Parker can barely react before the blind Murdock reaches out and catches it with lightning reflexes, shocking even Peter himself. 
"How did you just do that?" a shocked Peter asks. 
"I'm a really good lawyer," Murdock responds. Displaying those exact superhuman reflexes is precisely what Daredevil's known for. Ergo, we've definitely seen Daredevil introduced into the Marvel Cinematic Universe. 
In the comics, Matt Murdock aka Daredevil became exposed to toxic chemicals as a boy in an accident that took his sight, but left his other senses enhanced to superhuman levels. Combined with extensive training (alongside characteristic fearlessness and stubborn durability) Daredevil became a scourge to the criminal element on the streets of New York. He battles gangsters like Kingpin, assassins like Electra and Bullseye, and anti-heroes like Punisher.
Why Daredevil's return is such a big deal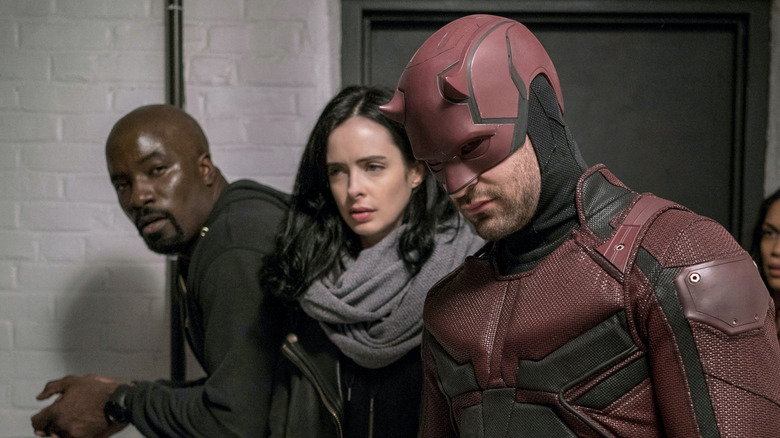 Netflix
As New York heroes with enhanced reflexes, the pair actually have a lot of interactions and team-ups in Marvel lore. In "The Spectacular Spider-Man" #27-30, Peter Parker gets blinded and is aided by Daredevil until his recovery. In "Daredevil" #305-6, the pair team up to stop a vicious female serial killer. A grieving, violent Spider-Man is nearly killed a criminal in rage in "The Spectacular Spider-Man" #110 until Daredevil distracts the hero long enough for him to come to his senses. Their partnership is one of the stronger informal team-ups in Marvel lore, so it's something special to see Murdock finally get to aid our favorite web-slinger. Any fan of the comics has a lot to be excited about now that Daredevil and Spider-Man are finally united in the same cinematic universe. 
For those first discovering these characters via film and TV, there's also a ton to get amped about. While the various Netflix Marvel series drew differing responses from fans, "Daredevil" still has a sizable fan base that lamented the cancelation of the Netflix series that started it all. Thanks to its stunning choreography, gritty tone, great characters, and a standout performance by Charlie Cox, fans really connected with the show and its star. In last year's Looper poll, of all major canceled Netflix series, "Daredevil" was far-and-away the one that a clear majority of fans wanted to return at. The show grabbed a whopping 21% of all polled. 
It looks like they just got their wish.