Sony And Marvel's Madame Web Just Landed A Euphoria Star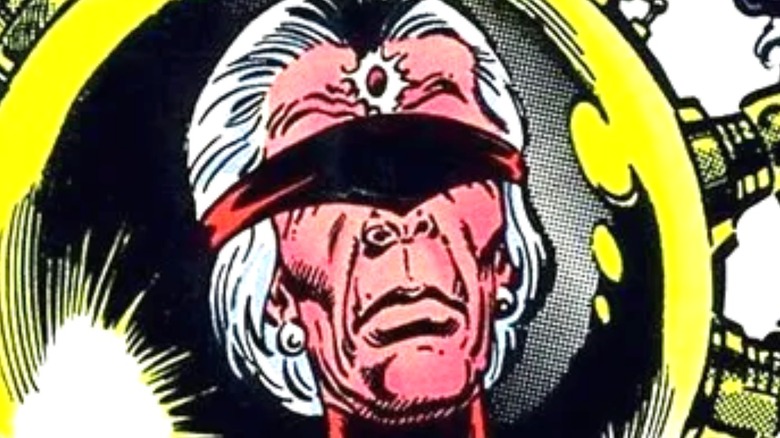 Marvel Comics
Following the success of "Venom" and its sequel "Venom: Let There Be Carnage," it's not surprising that Sony Pictures is working on expanding its own Marvel universe filled with "Spider-Man"-related heroes, villains, and everyone in between. Audiences are still waiting for the Jared Leto-led "Morbius" to arrive in theaters after numerous delays due to the ongoing pandemic; luckily, it's currently heading for an April 1 release date. Also in the pipeline is "Kraven the Hunter" starring Aaron Taylor-Johnson. Playing the mysterious character will mark Taylor-Johnson's third comic book role after "Kick-Ass" and "Avengers: Age of Ultron."
Another long-gestating project now in the works from Sony and Marvel is "Madame Web," which will star Dakota Johnson as the titular psychic character. The hero has a number of telepathic abilities, as well as being able to tap into the "web of reality" so she can see into the future (via /Film). She's typically shown to have myasthenia gravis and uses a life-support machine to stay alive. For the moment, it's not clear if the "Madame Web" movie will incorporate these backstory elements into the version of the character played by Johnson, further adding to our curiosity about the shape the project will take.
Talented British director S.J. Clarkson (Netflix's "The Defenders") is helming the project with a script from Matt Sazama and Burk Sharpless. This week, we've learned that one of the biggest stars of "Euphoria" will join Johnson, Clarkson, Sazama, and Sharpless in bringing the "Madame Web" story to the big screen.
Sydney Sweeney is joining Sony's Marvel Universe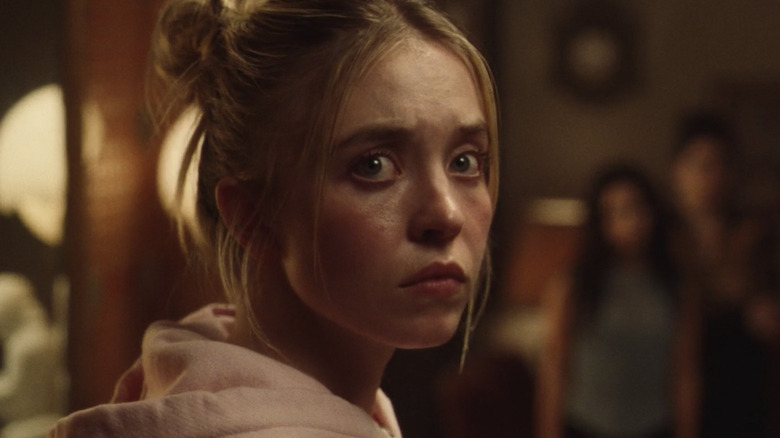 HBO
Yes, "Euphoria" star Sydney Sweeney is set to star opposite Dakota Johnson in "Madame Web." Deadline broke the news on Wednesday, revealing that the actress behind Cassie Howard had several offers she was considering, but joining a female-fronted superhero movie reportedly caught her eye. In addition to "Euphoria," Sweeney is enjoying a career hot streak right now, with roles in "The Voyeurs," "The White Lotus," and "Night Teeth" still fresh in our memories.
At the time of reporting, it's unclear who Sweeney will play in the "Madame Web" movie. That lack of information isn't stopping Twitter users, who have already suggested she play Felicia Hardy, also known as Black Cat, with @kwesitimes writing, "Sydney Sweeney has been cast in the Sony Spider-verse, and if [you] think she isn't finna be Black Cat and give MJ a run for her money y'all was wrong." Elsewhere, @vaia08 seemed similarly keen on this casting, tweeting, "[Please] PLEASE if Sydney Sweeney gets a Black Cat role, I am going to pass out."
It's entirely possible Sweeney could play Black Cat since Sony was originally developing a "Silver & Black" movie which would've starred Silver Sable and Black Cat, with Gina Prince-Bythewood was set to direct. Unfortunately, the movie was canceled, although Sony said it was still interested in bringing the two characters to the screen.
For now, the speculation over who the "Euphoria" star will play in the Sonyverse will probably help build momentum for "Madame Web."