The Law & Order Character You Likely Forgot Lauren Ambrose Played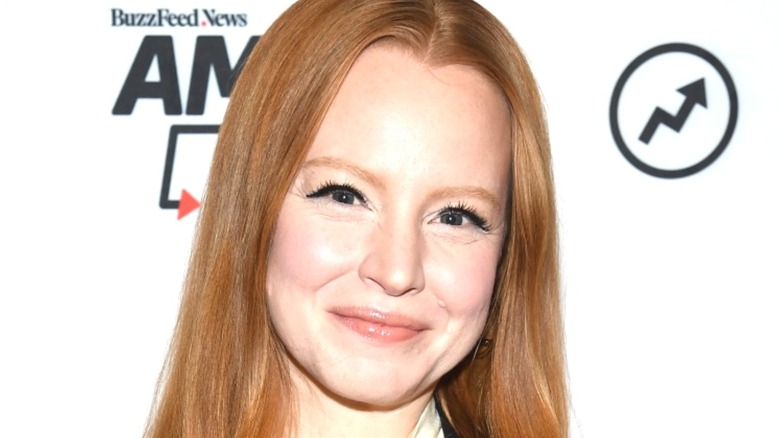 Dimitrios Kambouris/Getty
Just a few years after officially breaking onto the scene in Frank Oz's 1997 Oscar-nominated comedy, "In & Out," Lauren Ambrose had already starred in a second feature film with "Can't Hardly Wait," and landed a recurring role on Fox's popular primetime soap, "Party of Five." By 2001, she'd struck gold with the role for which she'd most become known, the character of Claire Fisher in Alan Ball's Emmy Award-winning series, "Six Feet Under." 
But long before the "Servant" and "The X-Files" reboot star had become a familiar face and household name in television, she, like many young actors, was cast in the original iteration of Dick Wolf's most successful franchise series, NBC's "Law & Order." Ambrose would return to the franchise in 2013 with a two-episode arc in "Law & Order: Special Victims Unit," playing a lovestruck and dangerous public defender who was a far cry from the vulnerable and memorable character she portrayed in her most well-known episode of the show's parents series. 
Lauren Ambrose portrayed a victim in Damaged
In 1998, the Emmy-nominated actor tackled a difficult role in Season 8, Episode 22 of the original "Law & Order," wherein the detectives' investigation of a teacher's murder leads them to Ambrose's character, Valerie Maxwell. It's the same episode wherein "Law & Order" legend Jerry Orbach, as Detective Lenny Briscoe, learns that his daughter has been killed for recently testifying against a dangerous drug dealer. Despite Briscoe's heartbreaking personal narrative, it's Valerie's storyline that may ring a bell, particularly since it's connected to a particular time of crime — one that "Law & Order: SVU" would, in later years, attempt to explore numerous times.
Ambrose's character Valerie, a developmentally disabled teenager, is sexually assaulted by a group of boys who claim she gave consent, and whose lawyer insists had no knowledge of her disability (via IMDb). Regardless of the actor's performance, it's an episode that would undoubtedly and understandably spark a more visible controversy in 2022 than it did in 1998, given the long fought-for move away from casting able-bodied actors in disabled roles (via The Guardian). Potentially, Ambrose landing the part was based on her courtroom performance in yet another episode of "Law & Order" just five years prior. 
If you or anyone you know has been a victim of sexual assault, help is available. Visit the Rape, Abuse & Incest National Network website or contact RAINN's National Helpline at 1-800-656-HOPE (4673).
Lauren Ambrose put her brother in jail in Pride and Joy
In Season 4, Episode 6 ("Pride and Joy") the actor had a slightly smaller role, but one that placed her on the stand and in a position where her character, like her character in "Damaged," had to deliver difficult testimony. In the episode, the detectives investigate the murder of the working-class father of an intelligent and promising but violently misguided and pretentious high schooler named Sean McKinnon (Gabriel Olds, of "The Eyes of Tammy Faye"). 
Embarrassed by his hard working father's job as a building superintendent, which he views as beneath him, the Ive League-bound Sean repeatedly verbally and physically abuses his father, ultimately resulting in the McKinnon patriarch's death. Though Sean's sister Maureen (Ambrose) initially supports his claim that he was the one being abused by his father (out of fear for her own safety), she eventually testifies against him, sealing the prosecution's case and obtaining justice for her father. 
Though Ambrose had an even smaller role in "Law & Order" Season 3 Episode 1 ("Skin Deep," guest-starring a little-known Claire Danes), it was her casting in "Damaged" and "Pride and Joy" that most assisted the actor's then-fledgling career. 
If you or someone you know is dealing with domestic abuse, you can call the National Domestic Violence Hotline at 1−800−799−7233. You can also find more information, resources, and support at their website.