Cherry Jones Reveals The Eyes Of Tammy Faye Scene That Had Jessica Chastain Trembling - Exclusive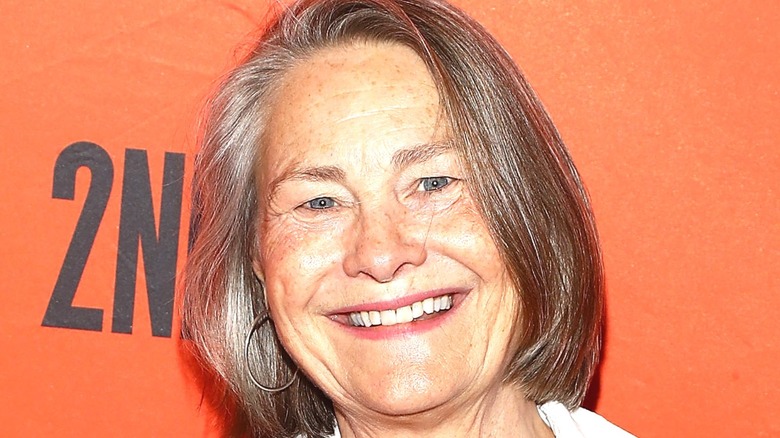 Astrid Stawiarz/Getty Images
In "The Eyes of Tammy Faye," Jessica Chastain transforms into the film's bubbly, almost cartoonish titular real-life figure who became synonymous with 1980s excess — all the way down to her overdone eyelashes. It is a passion project that has been years in the making for Chastain, who reportedly bought the rights to tell Bakker's story in 2012 (via Vanity Fair) and went on to produce the film, which is currently in theaters.
The biopic, which is based on the 2000 documentary of the same name, follows Tammy Faye Bakker's humble beginnings as the sheltered, secret only child of her mother's failed first marriage as well as her passionate but hasty courtship with husband Jim Bakker, laying out how the religious power couple built their multimillion-dollar empire — and then watched it all come crashing down. Starring alongside Chastain in the film is Andrew Garfield as televangelist Jim Bakker, Vincent D'Onofrio as the Reverend Jerry Falwell Sr., and Cherry Jones as Tammy Faye's strict mother, Rachel.
Jones, who may be best known for her role as President Allison Taylor on "24," recently revealed to Looper in an exclusive interview the intense emotions that overtook Chastain on the set of "The Eyes of Tammy Faye," and the one scene that left the Oscar-nominated actress trembling.
Jessica Chastain was 'shaking like a leaf' on her first day of filming The Eyes of Tammy Faye
Even though Cherry Jones has been performing since the 1980s and has won three Emmy awards, she humbly describes her "Eyes of Tammy Faye" co-star, Jessica Chastain, as being more experienced when it comes to screen acting. "I'm still kind of terrified of doing film, because I feel like I still don't have a clue what I'm doing," says Jones. "Jessica, on the other hand, has starred in how many films at this point and is a major motion picture movie star." Nonetheless, when the two went to shoot their very first scene in "The Eyes of Tammy Faye," which involves Andrew Garfield's Jim and Chastain's Tammy Faye telling her mother they had eloped, Chastain told Jones that she was a nervous wreck.
"The first scene they shot was the two of them [Jim and Tammy] coming and knocking on my door to say that they'd married," Jones reveals. "They come in, and Tammy Faye is just telling us how wonderful he is. When we finally got through with that scene, she said, 'Could you see my lips shaking? Because the rest of me was!' I said, 'What are you talking about?' She said, 'The first scenes are always the hardest.' And she said, 'I was just absolutely trembling.'"
As to why Chastain was so nervous, Jones notes, "She'd been preparing for that role for months and months — maybe even longer — and the day had finally arrived to actually be Tammy Faye on camera. Although she said she was just shaking like a leaf, I never saw it. But I want to go back and look at that scene again to just see if I can find any little tremor. I know I won't be able to. She's so good."
"The Eyes of Tammy Faye" is currently playing in theaters.