Things Fans Want To See In Bridgerton Season 2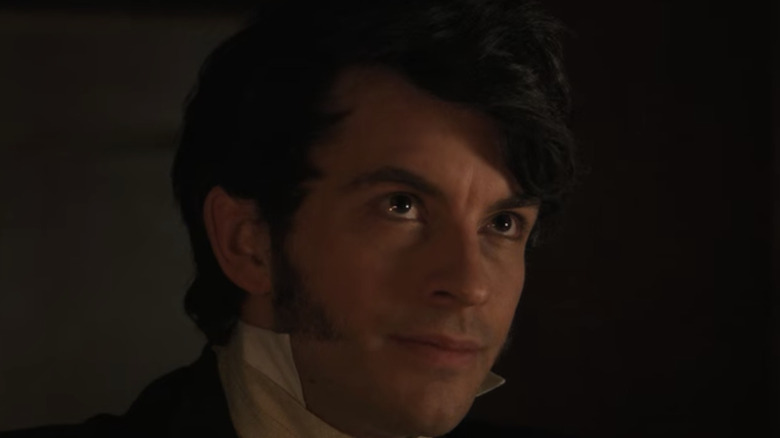 Netflix
Netflix's "Bridgerton" is an anthology romance series based on Julia Quinn's novels. With eight books and eight siblings, each season will follow a new budding romance towards a happy ending conclusion. And in a recent interview with Variety, Shonda Rhimes states she is hopeful the TV show will go beyond the season four renewal. Where the first season followed Daphne Bridgerton and Simon Basset's story from "The Duke and I," the second season will center around Anthony Bridgerton and Kate Sharma (Sheffield) from "The Viscount Who Loved Me." As a result of the first season's ability to balance the core love story while highlighting the heart of the family's dynamic, there is complete confidence that the series will continue to grow when it returns.
A large, loyal fanbase of the book series (as well as the romance genre) waited years to see these stories come to life on-screen long before "Bridgerton" took the world by storm last Christmas. At the very least, while fans understand that certain aspects are harder to adapt without an omniscient narrator dictating innermost personal thoughts, fans want (or maybe even need) to see specific events on-screen that are integral to Kate and Anthony's story. And understandably, while changes are inevitable, so long as the fabric of their story remains intact, massive book fans will likely adore variations of these scenes.
There's much more with other characters we want to see in "Bridgerton" Season 2, but for the sake of this article, we will be focusing on scenes from "The Viscount Who Loved Me" with Kate and Anthony's love story.
Pall Mall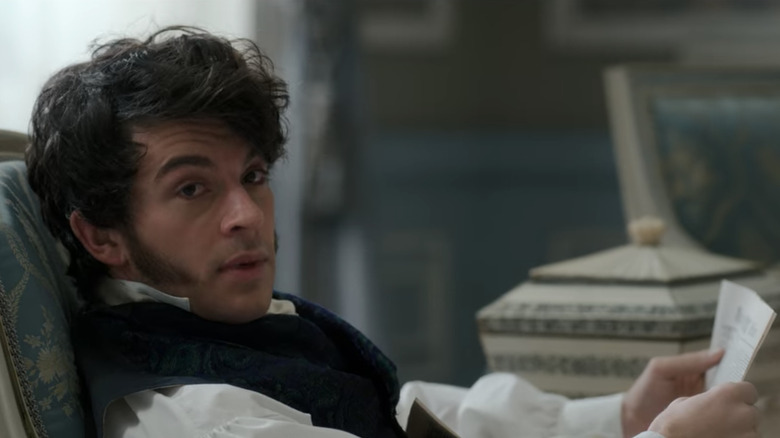 Netflix
We might as well deem Bridgerton Pall Mall the 1814 Olympics. There are competitive family games, and then there is this family's ruthless version of croquet. It only follows one fundamental rule — send Anthony into the lake. The first season even hints at Pall Mall when the youngest of the siblings, Hyacinth, asks Anthony if she can "join in on the fun this summer" to which Anthony replies yes, so long as she stays clear of his lucky mallet. His lucky mallet, as fans know, equates to the "black mallet of death," which Kate unknowingly chooses to use, forcing him to play with the pink one remaining. 
Pall Mall is both entertaining as a chapter and a complete game-changer for Kate and Anthony — though they don't realize it then, it's where the attraction between them becomes undeniable. Anthony even admits years later in the novel's second epilogue that he fell in love with her then. Simon, the Duke of Hastings, is also present during this game, but on account of Regé-Jean Page not returning to the series, perhaps Hyacinth can play. Or, if the series chooses to continue evolving Colin and Penelope's friendship, she can be the player who fills the slot. Regardless of how it happens, so long as there is plenty of bickering and Kate Sharma conquers the game (hopefully by sending Anthony into the lake), it's a win for all.
Flashbacks with Edmund Bridgerton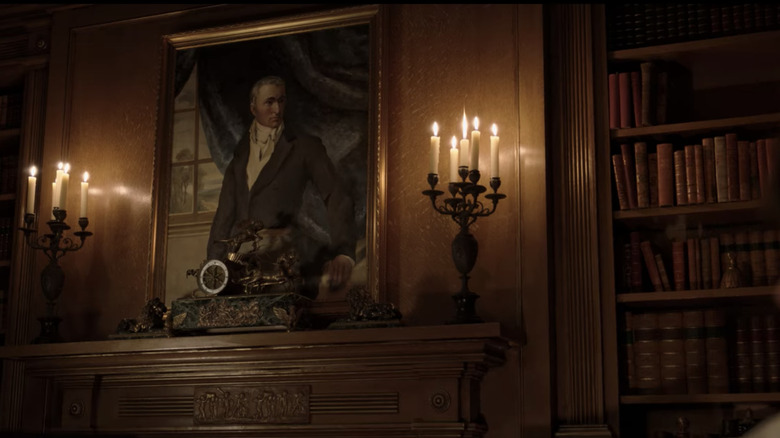 Netflix
Knowing that Rupert Evans will bring the late Viscount, Edmund Bridgerton, to life, seeing any flashback involving Anthony or even at their ancestral home of Aubrey Hall is crucial to fans. Whether it's the dreadful moment when he tragically passes on his 38th birthday, or perhaps a happier memory with the kids when they were younger, whatever is in store for Edmund will likely contribute to the eldest Bridgerton's character development.
The first season showcases just how much Anthony misses his father. For fans who hadn't read the books, seeing flashbacks of the late viscount could illuminate the amount of trauma the entire family carries because of the loss. While he is only in the prologue, Edmund is a presence throughout the novel, and more flashbacks could contribute to character development for all the Bridgerton siblings. If the TV show keeps the detail that Eloise Bridgerton witnessed their father's death, it could make for a great moment of vulnerability with Anthony since the first season hardly delivers scenes with them.
The lightning storm at Aubrey Hall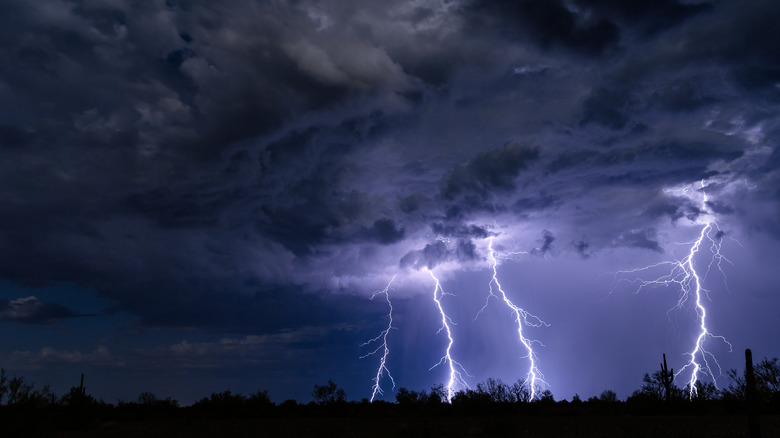 John D Sirlin/Shutterstock
The storm at Aubrey Hall is a beloved part of the series — the "hurt/comfort" trope we see there marks the heart of Kate and Anthony's story, and it's the scene that makes it indisputably evident just how kindred their spirits are. As readers learn during that night in the library, Kate dreads storms and severely panics through them. Anthony chooses to soften his edges for her in a heartwarming attempt to comfort her through her paralyzing fears. He opens up a bit about his childhood. It's one of the first moments in the book that shows readers precisely who he is and subtly discloses the fact that he cannot stomach watching another suffer.
This is also the scene that layers Kate beautifully by continuing to add realistic traits. Kate is brave, bold, and fearless when fighting for what she believes in, but the library scene illuminates that behind her bravery is vulnerability. And it's that same bravery Anthony falls in love with, because what he sees is in her is an equal who fights through terrors alone out of the fear of burdening others. Both are stubbornly wrong in that way, but as Anthony comforts her and she sees his kindness, the profound connection blazes through between the formerly known "enemies."
Sheffield (Sharma) family's closeness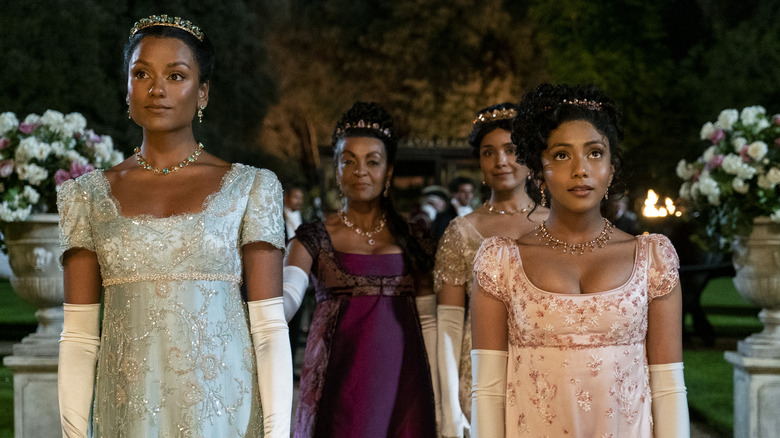 Netflix
The relationship between Kate and her younger sister Edwina is one of the most refreshing aspects of "The Viscount Who Loved Me." Frequently, half-sisters in fiction aren't as close as those two, and seeing their relationship brought to life is something the fans have always wanted. Kate's loyalty and love for her younger sister are also defining features in her character. Although Kate is the wallflower and Edwina gets all the attention, there is never any jealousy. Kate knows Edwina is worthy of the attention she commands, and even though she has her insecurities, she only ever wants the best for her sister. Additionally, Mary, Edwina's mother, and Kate's stepmother loves Kate fiercely as if she were hers. This dynamic, much like the Bridgerton family's, adds emotional layers to the story that readers of the genre adore — especially with these characters. The platonic love stories in this book are as vital as the romantic ones.
Furthermore, Kate's adoration for Edwina and the lengths she is willing to go to protect her sister parallel Anthony's loyalty to his family, further demonstrating similarities between the two long before they realize it themselves. Kate's closeness to her sister and stepmother creates a different arc than Simon's rift with his father. The drama that could then follow will not be external, but it could focus on grief and the darkness that it leaves behind. No one wants to see women pitted against each other for unnecessary reasons.
Anthony gives Kate a tulip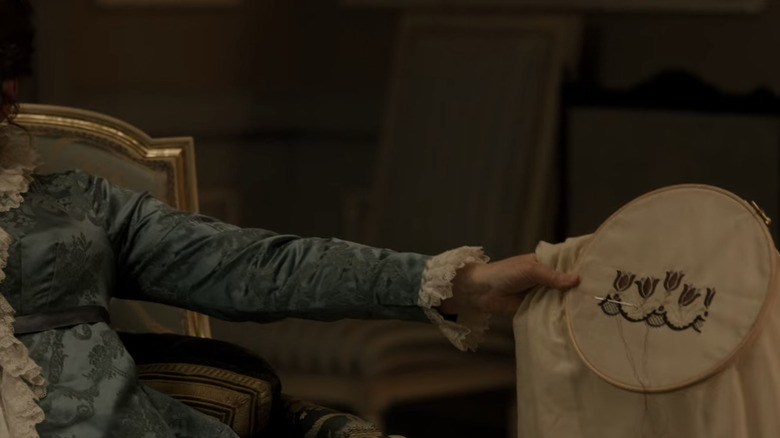 Netflix
Fans immediately caught the Easter egg in the first season when Violet mentions whether Anthony's bride would also like a "tulip" embroidery. While tulips aren't the first flowers Kate receives from Anthony, they are more notable in meaning. As Violet states, they represent passion — but beyond this symbolism, when Anthony picks the flower for Kate at Aubrey Hall, he does so because he understands that she deserves the same kind of attention Edwina does. 
The scene isn't about the flower as much as it is about the specialty that when she is speaking, Anthony is listening carefully. Though there is significant tension between them, and they bicker more than they get along, at this moment, Anthony chooses to get to know the real Kate. He chooses to watch her closely as she marvels at the sight of seeing tulips grow from the ground. And since he initially seeks her out to apologize, the decision to give her the tulips also backs his words with action.
Kate and Anthony's first kiss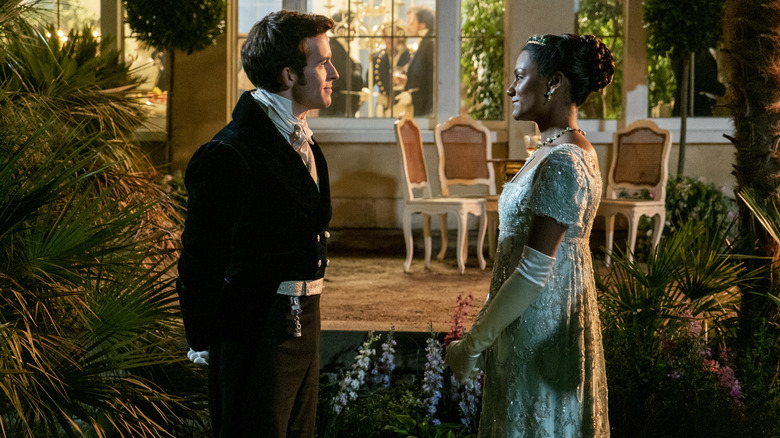 Netflix
In a romance, the first kiss is everything. It's the moment where fans replay over and over again. In this case, more than anything, it's about the fact that amidst all their denying, Kate and Anthony couldn't resist each other. And with their first kiss especially, it happens in a moment that ultimately solidifies that Anthony cannot stop thinking about the woman he claims he cannot stand. It happens inside of his study, where he finds her crouched like a frog under his desk just as he's about to conduct his liaisons.
Anthony is with his opera singer mistress at the time, and seeing that Siena dumps him in the Season 1 finale, "After the Storm," it'll be fascinating to see who's in the scene as it touches on Kate's insecurities while solidifying her beliefs that Edwina isn't right for him. That's a large part of the reason why their first kiss is so integral to the story — because though neither expects it to happen, it changes everything with them because of the "damnable spark." The very spark that's missing from his interactions with Edwina makes Kate and Anthony's "enemies to lovers" tension that much more exhilarating. It also establishes the tulip scene as special because Anthony sets out to apologize for pushing past boundaries.
The bee sting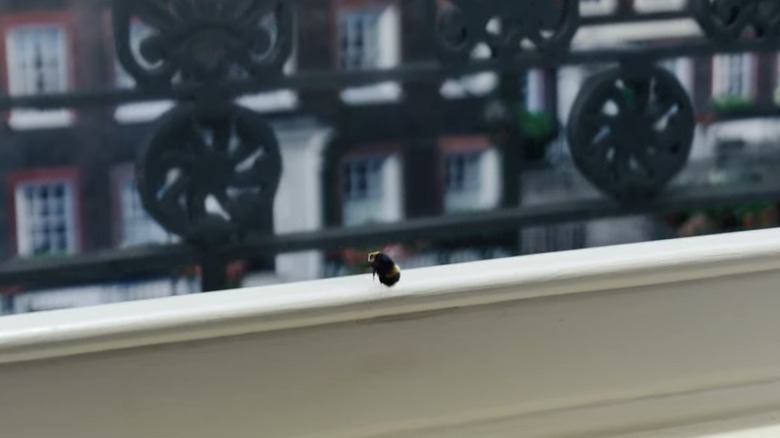 Netflix
Even non-book readers will notice that in the first season of "Bridgerton," the cinematography focuses on bees. Because their father dies from a bee sting at age 38, Anthony harbors tremendous fears of them — so much so that he firmly believes he will also die young. And while fans aren't sure if this detail will remain in the show, a hasty, forced marriage is a crucial element in Kate and Anthony's story. As "enemies to lovers," the two would never marry by choice, thus, a compromising situation is the primary way to go for them despite their protests.
And the protest is part of the fun — specifically because the bee interrupts Anthony just as he is about to respond to Kate finally giving her his blessing to marry Edwina. Is that truly what he wants? Is Anthony ready to let go of Kate even though he keeps dreaming about her? We never learn what he's about to say in the books, but we realize that the contentment he feels with Kate is lacking everywhere else. Like Colin Bridgerton and Newton, fans joke that the bee is yet another "shipper" pushing the two together. 
Lady Whistledown's June 10th column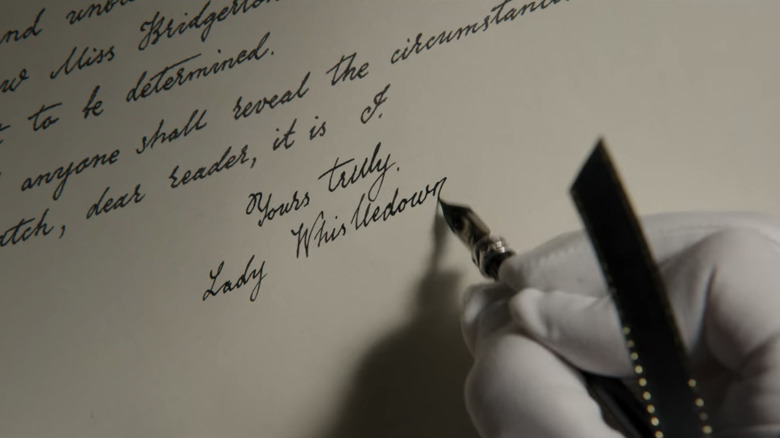 Netflix
Lady Whistledown's June 10th, 1814 column is one of the most popular articles in Kate and Anthony's story. It is what boldly affirms that theirs is a love match. In particular, with this column, as much as people want to hear Dame Julie Andrews narrating the very words, actually seeing the written statements come to life would be delightful. Anthony pushing people away to get to Kate chaotically cements the viscount's feelings for his wife.
Each of the books contain columns catering to the primary love story. Since a few lines from "The Viscount Who Loved Me" are present in "Bridgerton" Season 1, fans are hoping the entirety of this column makes it into "Bridgerton" Season 2. And knowing the show is excellent at montages, this is the perfect way to paint their earlier days of marriage. Moreover, because viewers know Lady Whistledown's identity, it could be interesting to see how her friendship with Kate kicks such declarations into motion. Does she know more than she lets on?
Multiple dances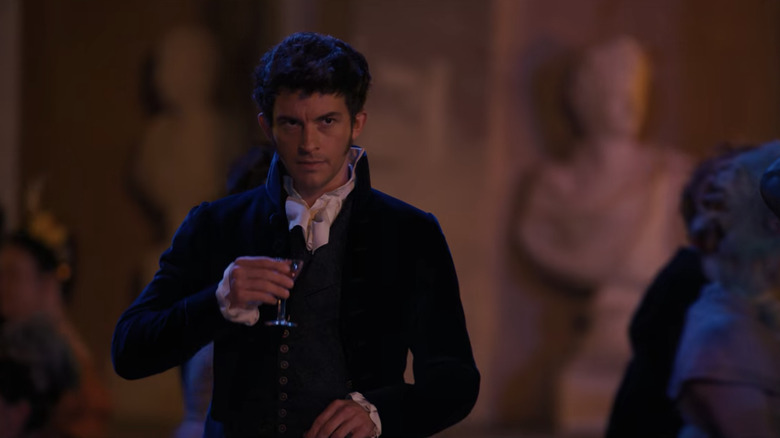 Netflix
Anthony is the only one of his brothers who does not dance in the show's first season. Given that, per Lady Whistledown's column, he told Sienneo Rossa that he won't be anywhere near the dance floor to his mistress, fans want to see the viscount dance more. While he'll likely be dancing a lot with other debutants (and Edwina Sharma, because he is firmly on a quest to find a wife), it's the multiple dances with Kate that matter most.
Their first dance, where she steps on his toes, is what makes them "enemies to lovers." Their banter is top-notch during that dance, and the visceral frustration they both share for one another, is so deliciously palpable. Watching them go from terrible dances to more tender ones will bring their story to completion. Plus, the balls are some of the most beautiful parts of "Bridgerton," and considering how sublime the music was in Season 1, more of it in Season 2 will \elevate the story further. Truthfully, no one would miss Anthony begrudgingly lurking in the corners of a ballroom, and he could use the serotonin from a good dance or two.
Anthony rescues Penelope from Cressida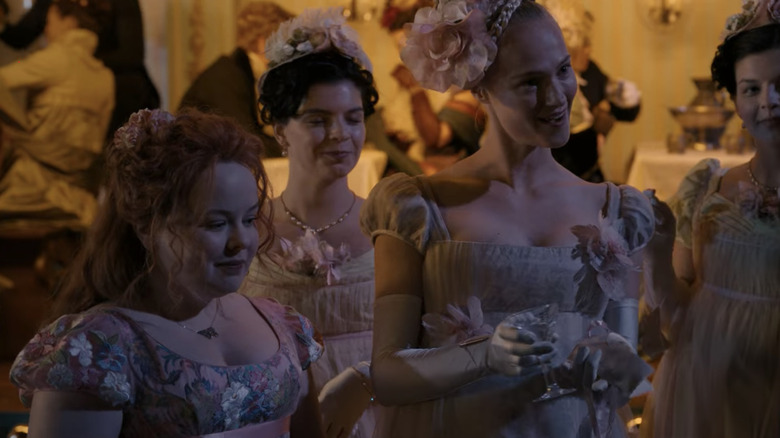 Netflix
During a night at Aubrey Hall, Anthony swoops in and walks Penelope Featherington to the dinner table, just as regency mean girl Cressida Cowper was mocking her. In the books, this is the moment where Kate sees Anthony as more than just an arrogant nobleman, and it is the moment where she believes she fell in love with him. Though a version of this scene is in the first season as Colin asks Penelope to dance when Cressida spills a drink on her, fans are still hoping that something similar happens in "Bridgerton" Season 2.
Whether it is Anthony saving Penelope again, or perhaps Kate seeing him step in for his younger sisters, watching his kindness in action is essential. Moments like this showcase that, contrary to the acts they put up, the Bridgerton men carry themselves with grace when need be. None of them could stand a bully, and Anthony's act of heroism is a pivotal occasion for Kate — one where she understands that she might have judged him too harshly. 
Newton the corgi and the serpentine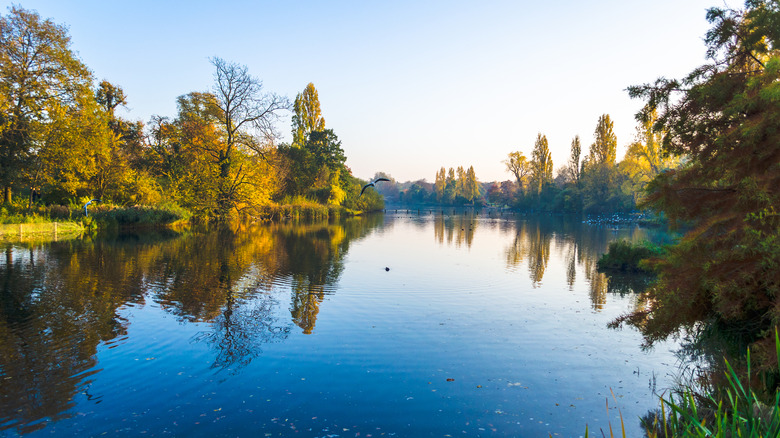 Tim M/Shutterstock
Newton, Kate's pet corgi, and Anthony's nemesis will be crucial to "Bridgerton" Season 2. Newton leads them on a merry chase during a walk, and Anthony jumps straight into the Serpentine. Twitter user @melwoof_conty writes: "I love that we as fandom as always share one brain cell and ask for the same thing. Anthony doing a full Darcy on the lake during pall mall or the Serpentine." Romance fans know exactly what picturesque Darcy scene this is referring to, and Newton making it happen would make him a hero to all.
There is a similar scene in "The Duke and I" where both Anthony and Simon fall into the lake, but because that's missing from the first season, fans are hoping this means Newton gets his moment to shine. Because every color looks stunning on Simone Ashley, it's hard to believe Whistledown could call her a "singed daffodil." Since she will need biting things to say, her pet's behavior could give her a reason to question decorum. If nothing else, then at the very least, an adorable corgi will merely grace our screens, and no one would object to that.
Benedict and Colin mocking Anthony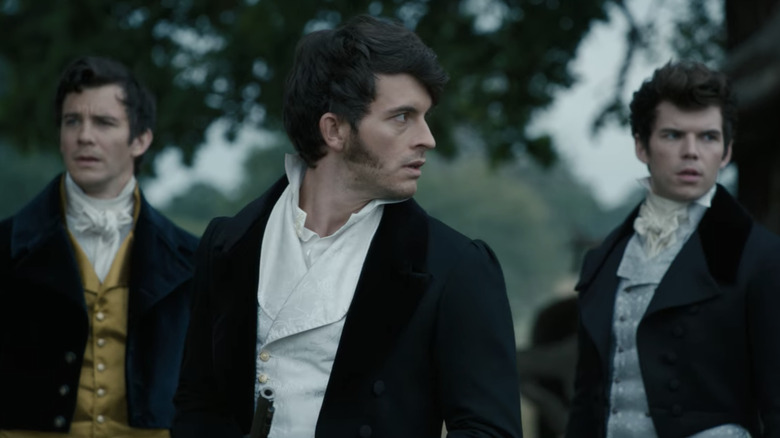 Netflix
We don't see much of the eldest Bridgerton brothers bonding in the first season, and fans are hoping it's because we'll see more of them in "Bridgerton" Season 2. They're also hoping for a specific scene where Benedict and Colin mock Anthony tirelessly, while he's drinking his days away instead of going home to Kate. Additionally, considering Colin plays a large part in initiating Kate and Anthony's meeting, fans want to see him meddle in their relationship until the two realize that they are in love with each other.
As fans put it, Anthony's clownery is one of the best parts of "The Viscount Who Loved Me." He strictly tells Kate theirs won't be a love match, and yet he proceeds to do everything a man in love does. As Twitter user @katiectalksalot puts it, "Anthony really thought he could marry a beautiful smart badass lady he cares a lot for and her family and like... not fall in love with her.... straight up clown." Whether it's physically pushing people aside to get to her at balls, drinking way too much tea solely so he could move her without breaking the cups, or finding himself bored with anyone but her, Anthony is a clown through and through. And nothing would be better than his younger brothers lovingly calling him out on it. 
Colin was quieter in the first season than he is in the books, and thus, fans are hoping that his trip to Greece gives him the confidence to come back in full force, ready to be the MVP in everyone's story. If "Bridgerton" Season 2 explores the fact that Kate is enjoys painting, they could also establish a friendship between her and Benedict, which would probably frustrate Anthony and make all of their scenes that much more delightful. On a more serious note, there are various angles the second season could choose to explore with Anthony's grief, and involving his brothers in the healing process would also work to strengthen their relationships while allowing them to grow individually.
Anthony realizing he's in love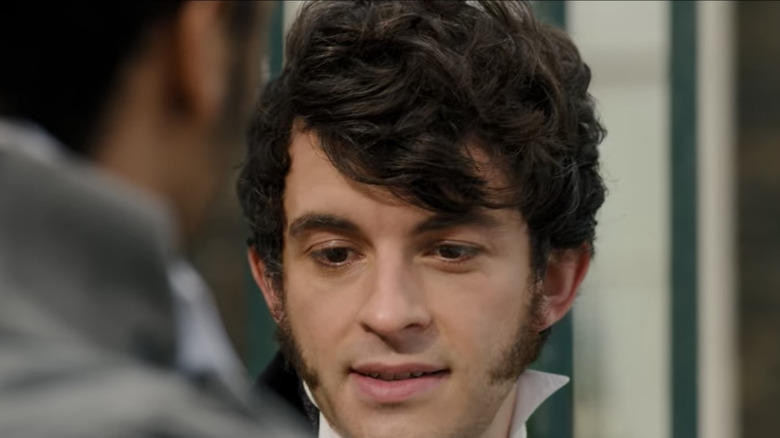 Netflix
In the final moments of Season 1, Anthony claims that eliminating love from the equation will make his quest to find a wife easier. But that is not what "Bridgerton" is about, and that's certainly not what the viscount wants. Both in the books and the show, it's perfectly evident that fear and trauma consume him. And fans not only want to see Anthony fall in love, but the way to see him heal from everything that weighs heavily on him. In the same way that the show explores Simon's issues with his father, fans want to see both Kate and Anthony overcome their fears by opening up to each other. Anthony falling in love and actually uttering the words aloud is essential for his character considering where we leave him in the finale.
Also, because the audience got glimpses into his desires for a deeper human connection, removing more of his layers with Kate is the very kind of healing fans want to see. There's a lot of discourse about "Bridgerton" being "raunchy," but ultimately, the show caters to the female gaze more than anything else — and during its sex scenes, it establishes heart and the intricacies of finding a true partner.