The Bridgerton Season 1 Scene That Went Too Far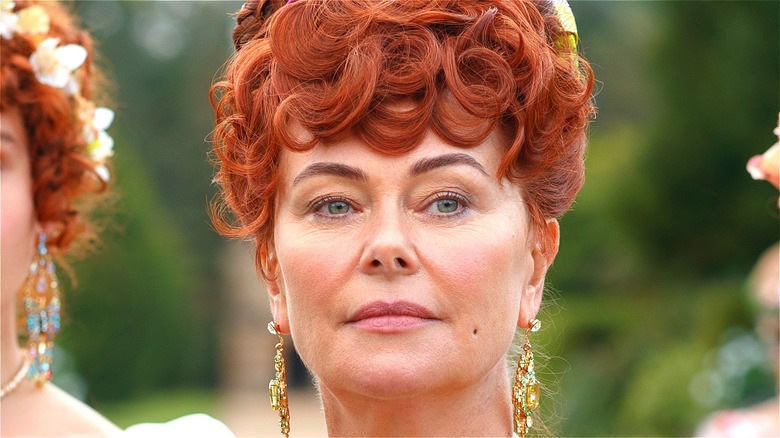 Nick Briggs/Netflix
From the scintillating drama to steamy sex scenes, there is no doubt how Netflix's period drama "Bridgerton" gained such a massive following. Based on the series of books by Julia Quinn, "Bridgerton" follows the eponymous family and their bid to find suitable matches. With eight children and each book following a different sibling, there is much opportunity for scandal, deceit, and — of course — love.
The series contains all the hallmarks of a classic romance, including the fake dating trope. The first season follows Daphne (Phoebe Dynevor), the first daughter officially presented to society in order to find a husband. Daphne has the inspired idea that if she and the Duke of Hastings, Simon Basset (Rege-Jean Page), pretend to be courting, she will get more suitors. Of course, this all culminates in them actually falling in love. 
Though the series is "delightful trash" as Vanity Fair states, not everything is a hit with fans. Depicting a time in history where the system was rigged to ensure women were not equal to men, there are of course problematic situations that arise. But one shocking scene was beyond the pale and set the internet ablaze when it aired.
Daphne's assault of the Duke is in the books and the series
"Bridgerton" stays relatively close to the source material, though fans cringed at one incident in particular. In the books, the relationship between Daphne Bridgerton and the Duke of Hastings takes a dark turn when Daphne resorts to assaulting her husband. The new Duchess is desperate to get pregnant and is devastated to learn that the Duke lied about not being able to have children. Instead of communicating like a healthy couple, she instigates a sexual encounter where she forces him to climax to impregnate her. Before the show even aired, fans on Reddit were concerned about the scene.
"I fully enjoyed most of the 'Bridgerton' book series but what Daphne did to Simon in the first book — when she 'took advantage of him' (ahem) in order to get pregnant— really disturbed me," wrote u/TiaLou. "I am excited about this series but I wonder how this particular plot point will be addressed." They were right to be concerned. The scene aired as it was depicted in the book. "Unfortunately they left the scene in," stated u/Lexie811. "Shame on [Shonda Rhimes] for adding it in."
For a show focused on the sexism of the time, many fans thought this was a baffling decision to make.
If you or anyone you know has been a victim of sexual assault, help is available. Visit the Rape, Abuse & Incest National Network website or contact RAINN's National Helpline at 1-800-656-HOPE (4673).
Many agreed that there was no justice for the Duke
The main issue of the series is that it does not appear that this scene is viewed as an assault. In an article for Vox, Aja Romano points out that the show spins a narrative that is not about the assault, but how the Duke of Hastings was not honest with his wife. "The incident doesn't seem to impact Simon's ability to trust Daphne in bed. Instead, the show turns toward Daphne's distrust of him for lying to her, dwelling on Simon's need to win her forgiveness," Romano wrote.
Daphne shows no understanding that what she did was assault, but focuses on how angry she is that the Duke lied to her. Not only that, but she is ultimately rewarded. Daphne becomes pregnant and she reunites with the Duke in a romantic moment in the rain. This also somehow makes the Duke realize that he does want children after all, and that all his trauma from his abusive father has just gone away.
Recently, Julia Quinn has stated that the scene in question initially had a different response. At the time that it was written, the narrative for consent was different, and many even accepted the scene as empowering. But as the book was adapted for modern audiences, some believe this should and could have been taken into account.