The Surprising Way Bridgerton's Love Scenes Were Filmed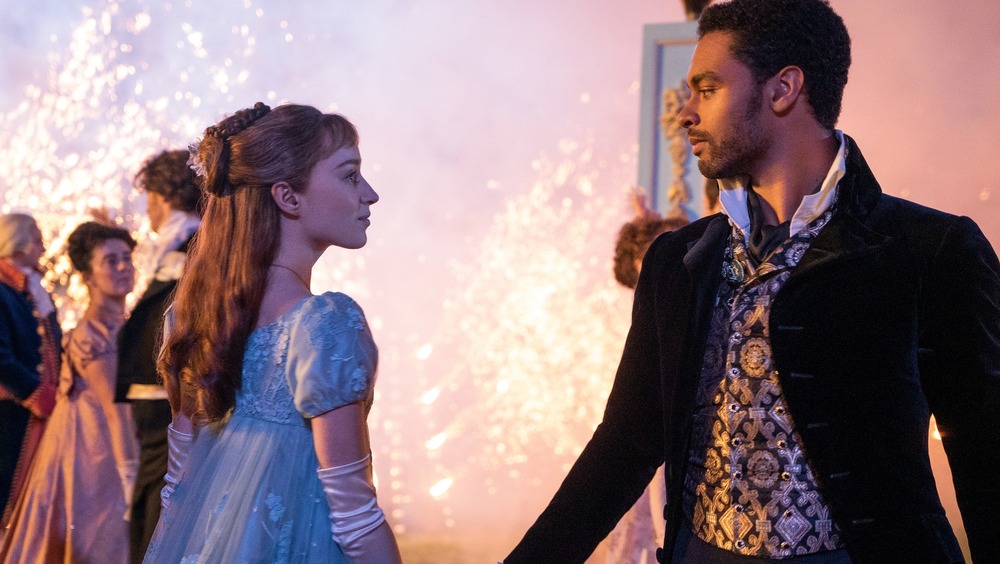 Netflix/Liam Daniel
It shouldn't come as a surprise that Netflix viewers are tuning in to watch the latest Shonda Rhimes produced series Bridgerton in droves. The show, which was created by Chris Van Dusen and based on a novel series of the same name by Julia Quinn, is set in the height of England's Regency Period, also known as Jane Austen's heyday. In typical Shondaland fashion, the characters are winning, the plots are delightfully soapy, and lust is in the air.
Now, it would be a lie to say that viewers are only tuning in for the lavish sets and costumes or all the wonderful social maneuvering. The show also delivers plenty of steamy love scenes that help make it a true escapist romantic fantasy. If you're watching the show, then you already know that, whether it's an intimate scene between lovers or a fun roll in the proverbial hay, the series has clearly taken great care to make sure all the 19th century canoodling feels genuine.
The high quality of those scenes is no accident. Bridgerton employed an intimacy coordinator for its production, something that one of its stars, Phoebe Dynevor, told Grazia Daily made shooting the scenes feel "safe and fun." Like a stunt coordinator, an intimacy coordinator's job is to make sure that the love scenes on a production are well choreographed, accurate to the characters and time period, and purposeful for the story. They also make sure that actors have an advocate on set who can help facilitate the scenes in a way that is comfortable and respectful, according to guidelines put out by Intimacy Coordinators International.
And while Bridgerton isn't the first series to hire somebody for such a role, it's still a relatively new position in show business.
The surprising history of intimacy coordinators on film and TV sets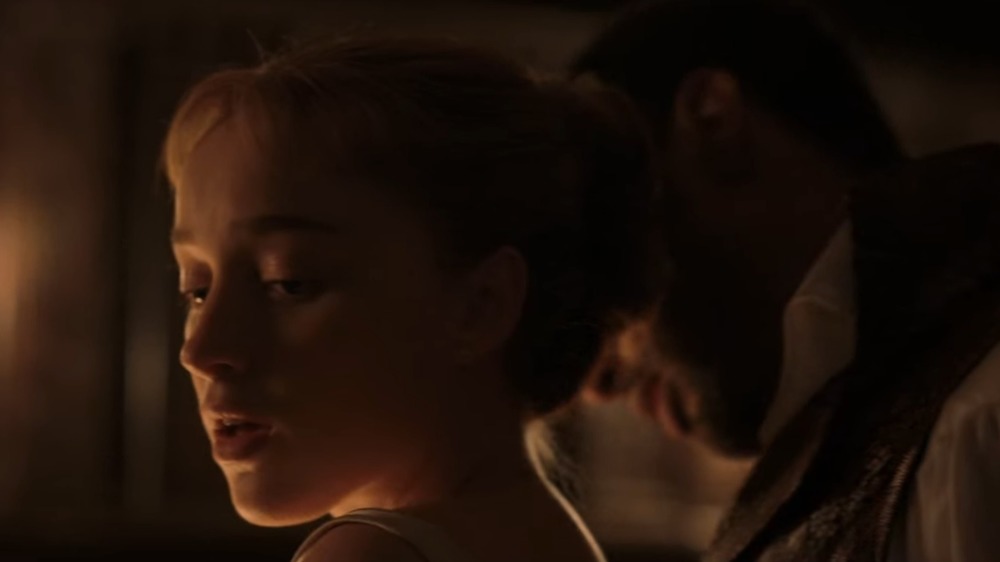 Netflix
The role of an intimacy coordinator, at least as we recognize it today, came to prominence as part of the entertainment industry's recocking with the #MeToo movement. According to an article by Breena Kerr in Rolling Stone, use of intimacy coordinators has become more common in film and TV productions, thanks in part to HBO and one of the co-stars of The Deuce, Emily Meade.
Meade approached network executives and asked that someone be hired to help ensure that the series' many scenes simulating sex work were filmed in a way that ensured the physical and emotional safety of the actors. For Meade, one of the big issues was that there were many tasks she felt compelled to take on herself to make filming such scenes more comfortable, one example being that she brought her own undergarments that would allow her to give the illusion of nudity, while maintaining some modesty on set.
In bringing an intimacy coordinator onto the production, she told Rolling Stone, "It's not the things [an intimacy coordinator does] that are so radical. It's just having someone other than yourself to think about it [...] But to have someone do it at all — the gesture of it — it helps."
This change to the set helped cause a ripple effect that led to HBO — who had previously faced harsh criticism for Game of Thrones' over-reliance on sexual assault as a narrative device — mandating that all of their productions moving forward would hire intimacy coordinators. Although this shift only happened a few years ago, now that we're seeing other shows such as Bridgerton following suit, it appears that a larger change is on the horizon.
According to fans of Bridgerton, it makes a big difference.
What fans think of Bridgerton's love scenes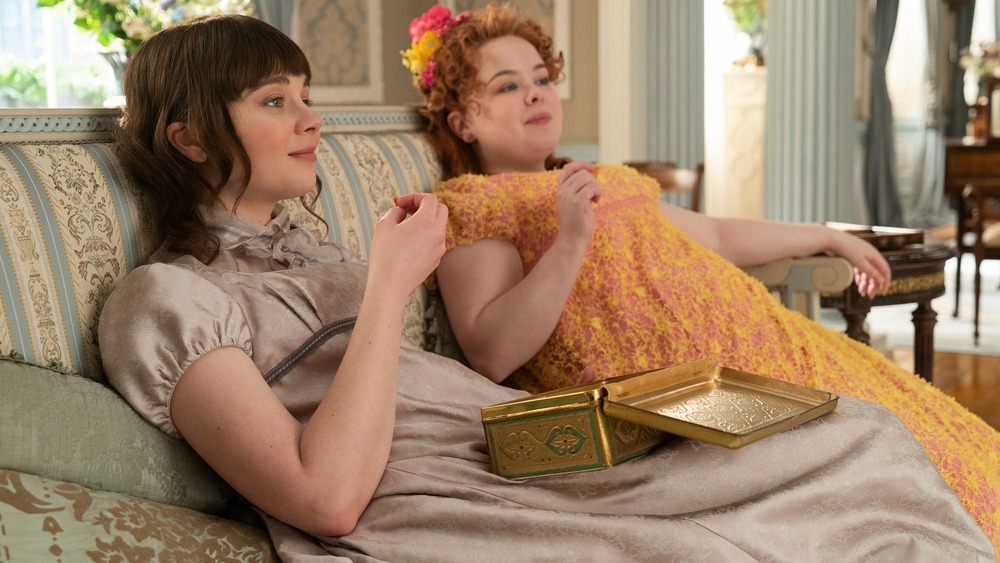 Netflix/Liam Daniel
On Bridgerton's subreddit, user 3_1415926535898 started a thread to discuss the series' use of an intimacy coordinator. They kicked off the discussion by writing, "I must say, it's such a worthy investment! From the subtle glances to the full-on sex scenes, it was perfection. I hope more romance films and shows utilize such a team." In response, User Time-Ad-5038 voice their full agreement, writing, "some of the best intimate moments I've seen on TV in awhile," and praising the tone and tenor of the scenes as "really true to the books."
Yet another user, MiikaRaavan, echoed the sentiments that the intimacy scenes were setting a new bar for TV. They also wrote, "They had great chemistry, they seemed so in tune with each other, and I'm guessing that intimacy coordination makes actors more relaxed since they probably choreographed every single move, touch, moan, etc."
That guess was spot on. In an interview on the History Film Club podcast, Bridgerton's intimacy coordinator Lizzy Talbot spoke about her role on the show. As a trained movement and fight director, she approaches her job not just through a lens of making the performers feel comfortable, but also as someone who helps make the scenes themselves feel more accurate. She described her thinking about the role as similar to how she thinks about movement or fight choreography: "We could solve the problems of: 'What does a scene look like? What are the skills needed? What are the techniques needed to accomplish the scene?'" 
You can judge for yourself by checking out season 1 of Bridgerton, now streaming on Netflix.