James Gunn Wants To Talk About Those Guardians Of The Galaxy Prequel Rumors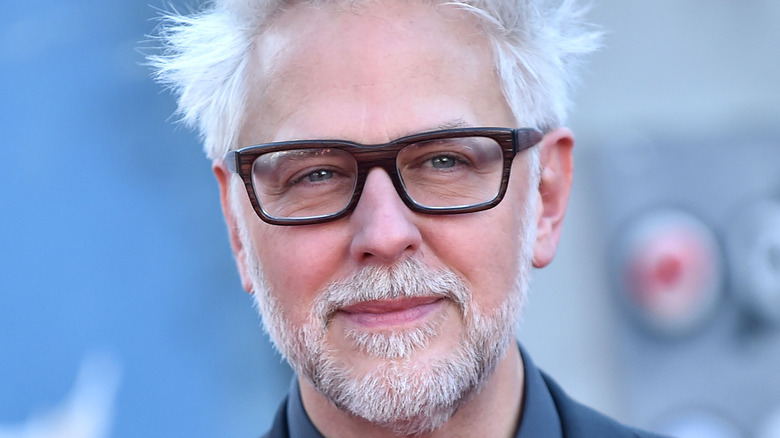 DFree/Shutterstock
It's been a long road for writer-director James Gunn in the Marvel Cinematic Universe — including a couple of detours to DC — but the upcoming third film in the "Guardians of the Galaxy" trilogy definitely appears to be his last. Gunn, of course, brought his unique brand of humor to the MCU with the first "Guardians" in 2014, earning a smashing $773 million at the box office worldwide (via Box Office Mojo). Its 2017 sequel had an even bigger global box office take of $863.7 million (via Box Office Mojo), creating a burning expectation for "Vol. 3" of the series.
Gunn's plans were waylaid after he was fired from "Vol. 3" in 2018 over a controversy surrounding some of his old tweets. Before the filmmaker was rehired for the project by Disney and Marvel Studios, Warner Bros. seized the opportunity to bring Gunn over to direct a DC film with "The Suicide Squad," which after pandemic-related delays, was released in 2021. Seeing the potential for a spinoff series, Gunn created "Peacemaker" for HBO Max, and following its success on HBO Max, he has another based on "The Suicide Squad" in the works.
First, though, Gunn needs to finish up his last "Guardians" film with "Vol. 3," and more than a year ahead of the film's planned May 5, 2023, release date, rumors are already flying about a "Guardians of the Galaxy" prequel movie. Gunn, however, has finally made it clear whether those rumors have any weight.
Gunn says the rumors of a Guardians prequel are false
Part of the sprawling "Avengers" and "Guardians of the Galaxy" storylines is that two of the Guardians — Gamora (Zoe Saldana) and Nebula (Karen Gillan) — are the forcefully adopted daughters of the Avengers' arch-enemy Thanos (voice of Josh Brolin). So, with Thanos a goner going forward, the only way to reunite the forced family would be in a prequel. The rumor, according to a tweet by Moth Culture, was that the prequel would be produced by Disney+.
Gunn quickly put an end to the rumor, though, tweeting (via CBR): "lol no – he tortured them, not exactly a 'family-like' relationship."
Given the success of "Peacemaker" and the commitment of Disney+ to Marvel Studios spinoff series, don't be surprised if some sort of "Guardians" spinoff show will be considered at some point. In a new interview with Jake's Takes, Saldana admitted she was interested in her character's origin story, which was briefly explored in a flashback scene in "Avengers: Infinity War."
"I feel like that taste made me incredibly curious to know what that planet was like, what her species was like because they were completely wiped out of existence," Saldana told Jake's Takes. "She carries such a big weight on herself, and to get know why and where that comes from was really great."
Fans shouldn't get excited about that prospect just yet. In addition to Gunn's tweet, Saldana previously hinted in an interview with Empire (via /Film) that she will likely be done with playing Gamora after "Vol. 3."