Robert Pattinson's Favorite Batman Villain Will Crack You Up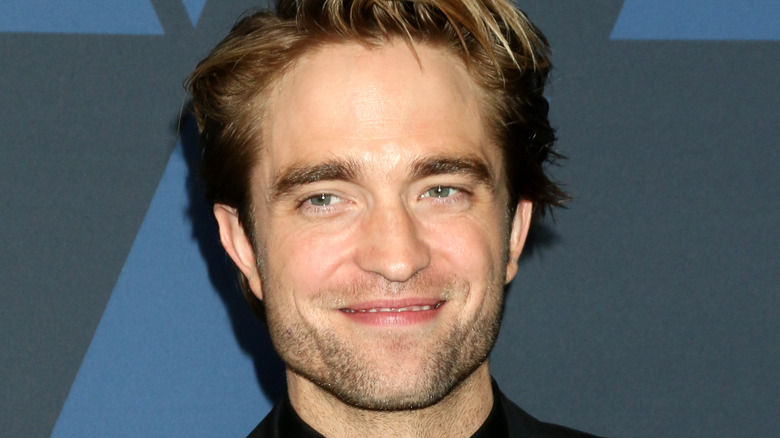 Kathy Hutchins/Shutterstock
Matt Reeves' "The Batman" introduces a brand new version of the Dark Knight, played by "Good Time" and "Tenet" star Robert Pattinson, as he defends Gotham's streets in his second year of crime-fighting. It's fair to say that the film didn't have an easy production, as the ongoing pandemic caused havoc for the cast and crew (Pattinson himself reportedly got COVID-19 while filming), leading to various release date delays. But the 2022 movie has finally arrived in theaters, and it has been met with plenty of love from DC fans, earning itself an 89% audience score on Rotten Tomatoes.
It's clearly also a box office hit, as it raked in over $128 million in its opening weekend (via Box Office Mojo) — which is a pretty good sign that Warner Bros. will give Reeves the green light to come back for a sequel. For the moment, it's not quite clear what a second film could look like, although the Riddler himself recently teased that Two-Face might come to Gotham City in the future. On top of that, Reeves recently told Collider that he has an idea for a "grounded" version of Mr. Freeze that he'd love to do. However, there's nothing to say that the icy villain can't make his way to the Penguin or Arkham Asylum spin-off shows that are in the works at HBO Max.
On that note, Pattinson recently revealed his favorite Batman villain, just don't expect to see them in live-action any time soon.
Robert Pattinson's favorite Batman villain is Condiment King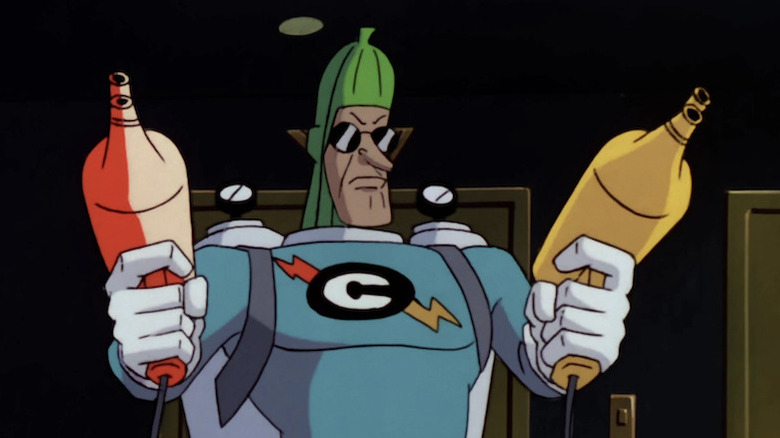 Warner Bros.
Yes, you read that right — Robert Pattinson's favorite Batman villain is Condiment King. This particular villain squirts ketchup and mustard at people using handguns which are attached to tanks on his back that are filled with the sauces. Brilliant. Pattinson made the surprising confession during an interview with Brut México, saying, "There's a bad guy in the animated series called Condiment King..." which led his co-star Zoe Kravitz to jump in and ask, "You're really sticking with this?" with a grin on her face. Clearly, they've had this conversation before. Pattinson then doubled down, adding, "I just think it's the greatest idea, he's a guy who sprays mustard and ketchup at people ..."
The star thinks it's "such a great idea for a bad guy," although he points out that the Condiment King's victims "just get covered in mustard" rather than having any serious consequences or injuries. It's a far cry from Paul Dano's Riddler in "The Batman," whose sadistic crusade leads to the horrifying deaths of Mayor Mitchell (Rupert Penry-Jones), Police Commissioner Savage (Alex Ferns), and District Attorney Gil Colson (Peter Sarsgaard). Barry Keoghan's mysterious creep in Arkham Asylum would also probably scoff at the Condiment King.
That's not to say the Condiment King isn't a great part of the Batman mythos, he just wouldn't fit into Matt Reeves' dark and dingy version of the DC universe. He's a perfect callback to the fun, silly nature of the 1960s live-action series starring Adam West. But who is the villain, and where did he come from?
Who is Condiment King?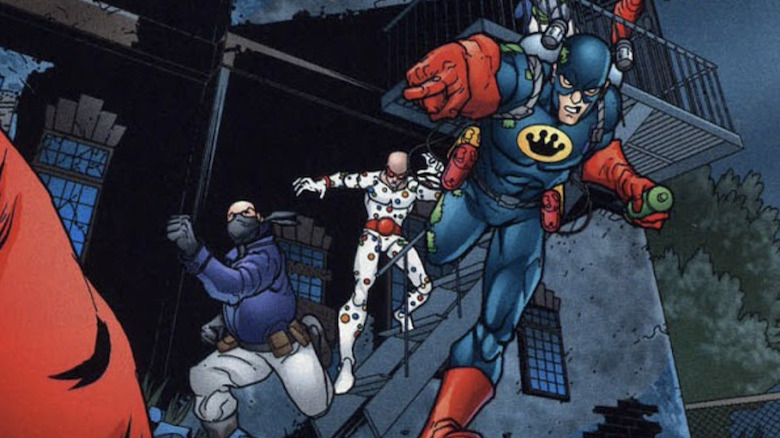 DC Comics/Freddie Williams II
So, who is the Condiment King anyway? As Robert Pattinson points out in the interview, he was originally created for "Batman: The Animated Series" by Bruce Timm and Paul Dini. The villain makes his debut in Season 2, Episode 18, "Make 'Em Laugh," which sees Batman (Kevin Conroy) and Robin (Loren Lester) go up against a horde of bizarre villains across Gotham, including Condiment King. It's later revealed that the Joker (Mark Hamill) has brainwashed a group of famous comedians after they laughed him out of the yearly Gotham Comedy Competition. The Clown Prince of Crime just wasn't funny enough. Condiment King is one of those comedians, whose actual name is Buddy Stanler.
From there, he was introduced into the comic's timeline as a man named Mitchell Mayo, first appearing in "Batgirl: Year One" (via DC Comics). The Condiment King character made a handful of appearances throughout the DC Comics world, eventually being killed off in "Final Crisis Aftermath: Run!" volume #14. Although, after DC rebooted the continuity back in 2016 with "DC Rebirth," the villain is alive and kicking again — he even briefly cameos in Tom King and Mitch Gerads' "Batman" volume 3 issue #14.
In recent years, the Condiment King has had a few appearances outside of the comics, showing up in the likes of "The Lego Batman Movie," and the "Harley Quinn" TV series. They're proof that the character's inherently comedic nature is still welcome in the wider DC universe. He works perfectly in those types of worlds that acknowledge how superheroes and supervillains are bizarre concepts that audiences have come to love. But because of that, he probably isn't going to show up in the dark and gritty cinematic world of Matt Reeves' "The Batman" anytime soon.