Batman Fans Just Got Exciting News About The HBO Max Penguin Series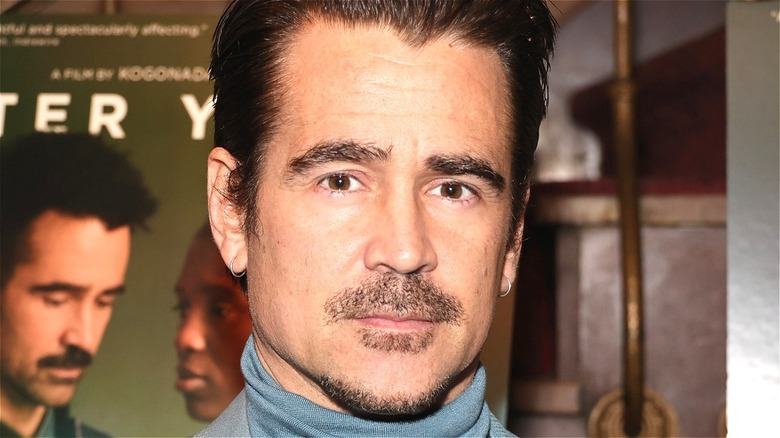 Theo Wargo/Getty
DC fans were promised to get a radically different Batman film and they were not disappointed. Matt Reeves' film "The Batman" premiered earlier this month to rave reviews. Starring Robert Pattinson and Zoe Kravitz as the dark knight and Catwoman respectively, "The Batman" honored the character's noir background, depicting a seedy and horrifying version of Gotham. Pattinson portrays a moody Batman who is driven to action after the Riddler (Paul Dano) strikes in a series of disturbing murders. The characters that populate this version of Gotham are larger than life, and none so more than Colin Farrell's depiction of the Penguin.
Oswald Cobblepot is a mainstay in Batman lore, a gangster notable for his umbrella and use of tuxedos. Though he contrasts greatly from Tim Burton's terrifying version of the character (played by Danny DeVito) in "Batman Returns," the Penguin of Reeves' universe is still impossible to look away from. Farrell underwent hours of prosthetic make-up for the role and fooled even his own co-stars, as he confessed on "The Late Late Show." The Penguin may not be the main villain of the film, but that doesn't mean he's gone for good. Fans may see Farrell reprise the role sooner than they think.
The Penguin is returning in his own series for HBO
In light of the success "The Batman" has received, it should come as no surprise that the world is being further explored. Farrell's incredible transformation only amounts to a few scenes in "The Batman," but is primed for more appearances. According to The Hollywood Reporter, HBO has greenlit a limited series featuring the well dressed villain, meant to flesh out the character further.
​​"The world that Matt Reeves created for The Batman is one that warrants a deeper gaze through the eyes of Oswald Cobblepot," Farrell stated. "I couldn't be more excited about continuing this exploration of Oz as he rises through the darkened ranks to become The Penguin. Will be good to get him back on the streets of Gotham for a little madness and a little mayhem." After the high-intensity sequence where Batman chases down Cobblepot in "The Batman," the character is only seen at the very end of the film. It hints that he is moving up in the world and will be a bigger presence down the line.
As Farrell states, this is a perfect opportunity to showcase the character again. With a limited series, viewers will be able to experience more of the world of Gotham as well as Farrell's heightened interpretation of the character. The series will be produced by Reeves and Farrell himself, promising more enthralling content following the film.