The One Regret Isabel May Still Has About Yellowstone's 1883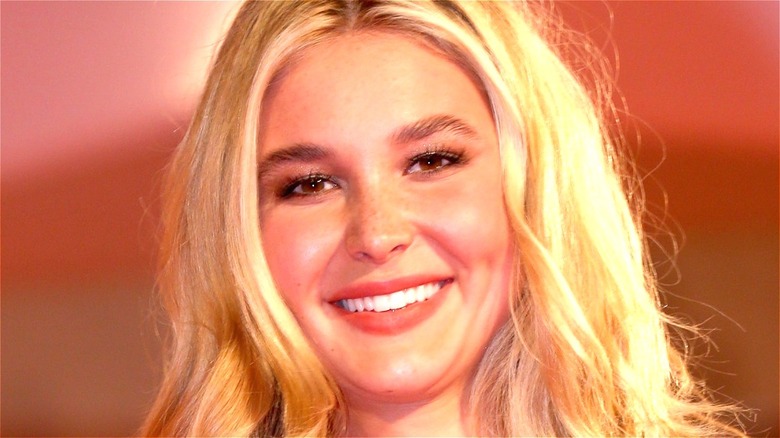 Franco Origlia/Getty
During the first season of "1883," actor Isabel May played an integral role on the "Yellowstone" spinoff series, serving as both its narrator and main protagonist Elsa Dutton. But there was one major regret that May had following her run on the show, which has the young star feeling "pissed" at herself. 
"It was probably a giant mistake that I sort of regret deep down," May said during a January 2022 interview with The Hollywood Reporter. "I'm a little pissed at myself."
You see, while filming Paramount's "1883," May wound up missing out on a really big opportunity that came up on set during the show's production. As fans know, the new series has a lot of celebrity and Hollywood firepower. There's May's fictional parents, Tim McGraw and Faith Hill, along with Western acting legend Sam Elliott. And, of course, the privilege of getting to work with and see "Yellowstone" creator Taylor Sheridan in action. But all of those things and stars ultimately pale in comparison to the two people that May wanted to meet on set, but didn't get to, thanks to a now-regretful decision she made. 
May didn't come to set of 1883 on days where Tom Hanks and Bill Bob Thornton were shooting
It was a choice that Isabel May regrets wholeheartedly, but one that she ultimately stuck by due to an old acting rule of hers. "I have this weird thing where if my character is not in it, I don't want to be there," she told The Hollywood Reporter of her decision to skip out on Tom Hanks and Billy Bob Thornton's "1883" filming days. 
"In the moment, you make decisions that you regret," May said, noting how she wishes she could "turn back the wheel of time" but can't. "I did get to meet Billy Bob and Tom very briefly, and they're both lovely people," May added. "I just wanted to see their performances onscreen and not watch them behind a monitor."
Hanks' and Thornton's appearances on "1883" come at different points throughout the first season, with Thornton playing the ruthless Marshal Jim Courtright and Hanks showing up in a Civil War flashback as General George Meade. Since May's Elsa Dutton was killed off at the end of Season 1, it makes her decision to not see Hanks and Thornton in action even worse. "I know, I know, I'm terrible," she told THR. As of right now, a second season of "1883" has not been officially ordered up, but Paramount does plan to put out a supply of additional episodes sometime in the future, likely at the end of the year.