The Unbelievable Way 1883's Isabel May Was Cast In The Yellowstone Prequel
Ethan Miller/Getty Images
"1883" is expanding the history and world of "Yellowstone," introducing fans of the latter series to the members of the Dutton family that paved the way for their descendants to become the modern-day power players viewers know them to be. Leading the charge in "1883" is James Dutton (Tim McGraw), the great-grandfather to Kevin Costner's John Dutton. The "Yellowstone" prequel series follows James and his family as they set out together in the hopes of establishing new roots for themselves somewhere in the untamed West.
As the show's premise suggests, McGraw's James is very much at the forefront of "1883," but he isn't the only notable member of the Dutton clan that the series is shining a spotlight on and illuminating. Faith Hill's Margaret has also emerged as a strong figure in the series, as has her and James' daughter, Elsa Dutton (Isabel May). The latter character is actually at the center of one of the most moving and heartbreaking storylines in "1883," and to her credit, May has more than managed to match the talents and charisma of her fellow cast members.
What "Yellowstone" and "1883" fans might not know about May though, is that she didn't get the part of Elsa Dutton by actually auditioning for the role.
Isabel May didn't originally audition to play Elsa in 1883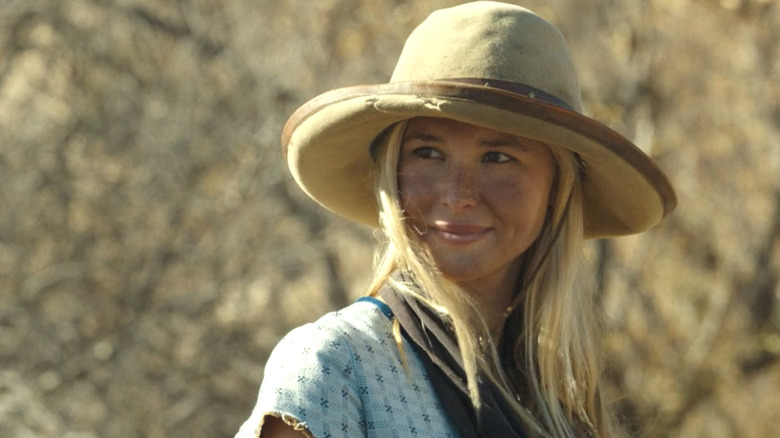 Paramount+
In an interview with The Hollywood Reporter, "1883" star Isabel May revealed the surprising story of how she was cast as Elsa Dutton in the "Yellowstone" prequel series. According to the actor, she actually got her "1883" part by auditioning for a role in "Mayor of Kingstown," the Jeremy Renner-led TV series from "1883" creator Taylor Sheridan, which premiered on Paramount+ in November 2021. "I was the only person to audition for Elsa," May said. "Taylor was doing another project called 'Mayor of Kingstown,' and in March 2021 ... he flew three girls out to Texas, including myself. So I auditioned for that."
May went on to reveal that her "Mayor of Kingstown" audition did not go well, with the actor noting that she was "terribly wrong" for the part she wanted to play. However, despite the audition not going as well as she had intended, May revealed that something about her and Sheridan's meeting convinced the "Yellowstone" creator that she was the right actor to play Elsa in "1883."
"[Taylor Sheridan] called two weeks later and said, 'You're Elsa Dutton. I want you to be Elsa Dutton. Please be Elsa Dutton,'" May recalled to THR. "I said, 'Well, of course, I'll be Elsa Dutton because you're Taylor Sheridan and it's my dream to work with you.'"
In other words, it looks like "1883" fans have "Mayor of Kingstown" to thank for May's casting as Elsa Dutton. Based on the performance she has given as the character, it's clear that Sheridan made the right choice when he decided to get back in touch with May too.