Matt Reeves Went To Extreme Lengths To Avoid Spoiling That Cameo In The Batman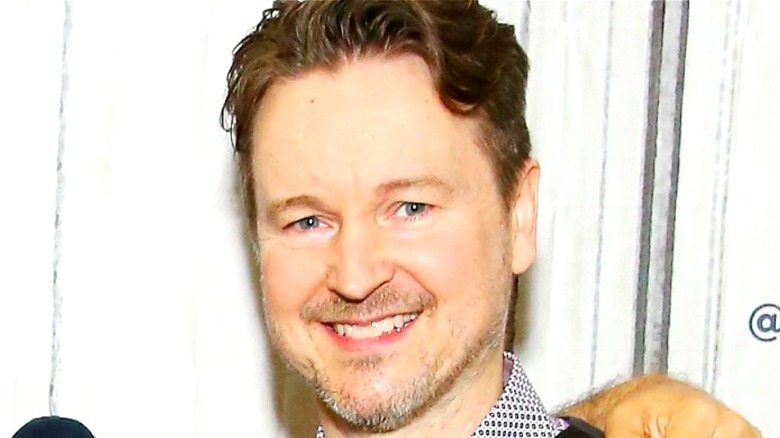 Monica Schipper/Getty
Contains spoilers for "The Batman"
Matt Reeves' "The Batman" was finally released this past weekend, and the months of excitement and speculation have been put to rest. The film, which focuses on a younger Batman and his detective skills, also managed to have the second-best pandemic-era opening, behind "Spider-Man: No Way Home."
The new iteration features Robert Pattinson playing a young, brooding Batman, complete with black eye makeup beneath his cowl and "edgy" lines like "I am the shadows." Along with him, Zoë Kravitz's Selina Kyle, aka Catwoman; Andy Serkis' Alfred Pennyworth; Paul Dano's Riddler; Colin Farell's Penguin; John Turturro's Carmine Falcone; and Jeffrey Wright's Lt. James Gordon all leave their mark on the film.
Apart from being a gritty introduction to the new Batman, the movie also delivered some sequel-setting moments that caught the eye of fans. One of the most prominent among them was the short interaction between the Riddler and the Joker at Arkham State Hospital. Apart from giving fans hope that the two might unite against the caped crusader in a sequel, the scene also confirmed the rumor that Barry Keoghan is Reeves' Joker. But Reeves sure didn't make it easy for fans to figure this out in the months leading up to the film. Let's take a look at all of Reeves' ploys to keep the identity of his Joker hidden.
Reeves had several tricks to mislead fans about the Joker
The Joker, one of Batman's most dangerous nemeses, has a special place in Gotham City lore. After being worn by celebrated actors like Jack Nicholson, Heath Ledger, and most recently, Joaquin Phoenix, the clown suit has been passed on to Barry Keoghan. Matt Reeves wanted to keep that detail under wraps until "The Batman" was released. Back in 2020, at the DC FanDome event, the movie's trailer description credited Keoghan as Officer Stanley Merkel, Lt. Gordon's first partner (via IGN).
To solidify this ruse, Reeves also had Keoghan dress as a cop on set and leaked pictures from the set as "proof." In a recent interview with IGN, Reeves revealed that he wanted to retain "some level of surprise" when the audience watched the movie and avoid speculations about the Joker. "We started thinking what we could do to throw people off that scent. This idea of making him Stanley Merkel was exactly that, because the police force is actually a big part of the story so it seemed credible that we could be doing that," Reeves said.
The only kink in Reeves' plan? Keoghan's brother took to social media announcing the big news. Although it was never confirmed, the rumor spread like wildfire. And now fans have another potential film they can speculate about.