The Batman Movie That Robert Pattinson Calls A 'Masterpiece'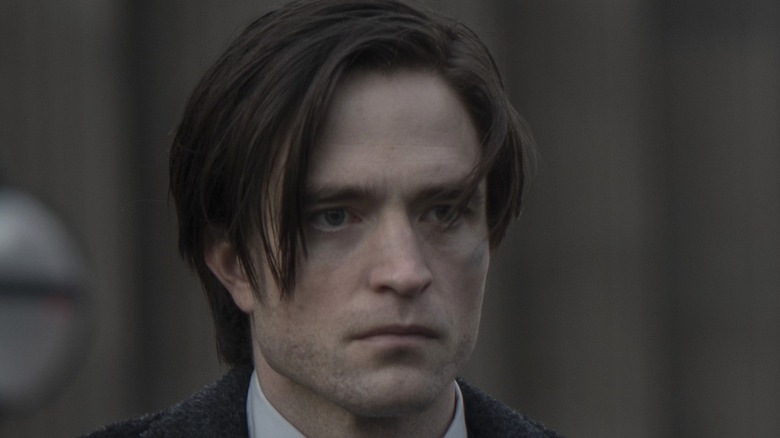 Jonathan Olley & DC Comics/Warner Bros./DC Entertainment
The world has a new version of Bruce Wayne on its hands in the form of Robert Pattinson, with the actor becoming the latest in a long line of performers to put on the cape and cowl. Matt Reeves' "The Batman" has finally debuted in theaters, bringing with it a younger, darker, and more grounded Caped Crusader than many of the previous versions of the character. Largely inspired by 1990s grunge and Gothic aesthetics, "The Batman" presents audiences with one of the moodiest, most volatile Batmen audiences have seen yet.
The movie follows Bruce (Pattinson) on a mission to untangle a conspiracy that is deeply rooted in Gotham City's infrastructure, a conspiracy that possibly involves his own parents. At the same time, the younger Batman also crosses paths with Catwoman (Zoë Kravitz), The Riddler (Paul Dano), and Penguin (Colin Farrell). 
"The Batman" debuted in theaters on Friday, March 4, and has thus far earned strong reviews and many rave reactions from DC fans who have had a chance to see it. With all of that in mind, the Reeves-directed feature seems to show that Pattinson has done his homework for the role. In fact, the British actor has made it quite clear that he is incredibly familiar with the previous on-screen "Batman" films, and he has formed some interesting opinions about the movies that preceded his own, including the ones headlined by "Batman" legends Michael Keaton and Christian Bale. Specifically, the actor recently opened up to discuss one very fascinating installment in the "Batman" franchise that he thinks is a "masterpiece."
Robert Pattinson thinks Batman Returns is a 'masterpiece'
In an interview with BBC, Robert Pattinson discussed the various incarnations of Batman who have previously appeared on the big screen, and he called out Tim Burton's "Batman Returns" as one he liked and admired most. In his remarks, Pattinson said, "'Batman Returns' is a masterpiece ... I remember watching as a little kid, even watching it now it's one of the most disturbing things I've ever seen. It's like a little risqué as well."
Like "The Batman," "Batman Returns" sees Michael Keaton's Batman dealing with Oswald Cobblepot, aka Penguin (Danny DeVito), and Selina Kyle, aka Catwoman (Michelle Pfeiffer). In that film, the disfigured Penguin emerges from the sewers and partners with Max Shreck (Christopher Walken) on a mission to become Mayor of Gotham City and take down Batman. Meanwhile, Selina embarks on a quest for revenge after Shreck attempts to murder her and leaves her for dead. The feature has arguably some of the most grotesque imagery ever seen in a "Batman" movie, like Penguin continuously spitting black bile in several sequences.
Compared to many other on-screen incarnations of The Caped Crusader, "Batman Returns" features a notably grim and stylishly dark depiction of Gotham. That said, Pattinson clearly seems to appreciate the Gothic horror of story, as well as the sexiness of the dynamic between Batman and Catwoman. Calling out specific elements, he even noted some of his favorite on-screen "Batman Returns" moments, including Catwoman whipping the heads off of mannequins during the feature's department store sequence and DeVito's overall performance.
Batman Returns was (and is) incredibly divisive
Robert Pattinson's thoughts on "Batman Returns" put him on one side of a notable debate that has persisted among fans of The Dark Knight for some time. This is because Tim Burton's second "Batman" movie was wildly divisive upon its release in 1992, and it remains one of the more polarizing "Batman" films (see Rotten Tomatoes for further proof). At the time of its release, the movie was criticized for its violence and dark tone. In fact, in 2014, Burton reflected on the release of "Batman Returns" in an interview with Yahoo! Entertainment. The director noted that the scary tone of the movie caused friction with vendor partners, such as McDonald's, making toy sales difficult. As a result, Burton never made another "Batman," and the franchise pivoted to the more kid-friendly (albeit still risqué in some spots) Joel Schumacher movies.
Many fans of "Batman Returns" (Pattinson included) praise the film for those things that set it apart. In 2017, Fandom even argued that "Batman Returns" is the best "Batman" film to date, in large part due to the way the film balances expressionistic surrealism with strong character and script work. Moreover, as the newest Bruce Wayne actor made clear in his own comments about the film, "Batman Returns" is arguably a testament to how far an artist can stretch the concept of Batman. The debate surrounding "Batman Returns" persists to this date and will likely continue. It represents a unique moment in the on-screen history of Batman — something Pattinson seems to appreciate.