This Academy Award-Winning Actress Almost Became The First Female Doctor Who
Short of a regrettable 16-year absence between 1989 and 2005, the BBC sci-fi fantasia "Doctor Who" has been on the air — in some form or another — since the early 1960s. And over that stretch, there's very little the series hasn't done, with creators mining every corner of the sci-fi realm to bring the thrilling tales of the good Doctor and his companions to life on the small screen. 
Given that the series has more or less been on the air for roughly five decades, quite a number of talented actors have understandably needed to step into the iconic role. Part of the genius of "Doctor Who" is, of course, that the look of central character actually changes by design, allowing different actors to step in and play the part. To date, 13 actors have taken control of the Tardis as the Time Lord. However, only one of them has been a woman, with Jodie Whittaker shattering that particular glass ceiling in 2017 when she signed on to play the Thirteenth iteration of the Doctor. 
It seems, though, that a certain Oscar-winning actor almost beat Whittaker to the punch nearly a decade before she landed the role.   
Catherine Zeta-Jones almost played the Doctor years before Jodie Whitaker did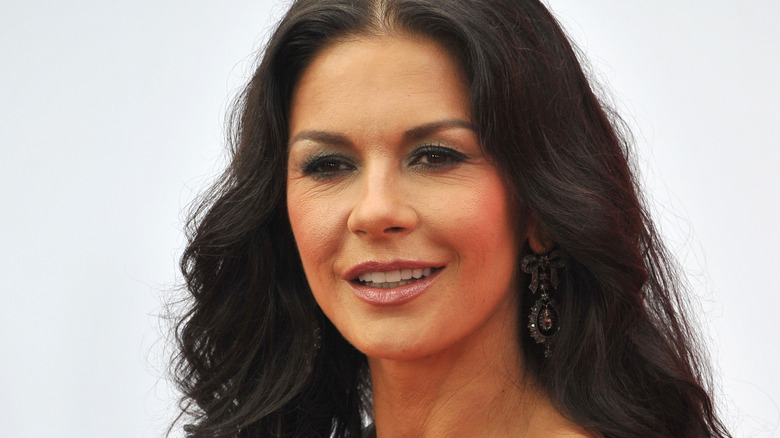 Jaguar PS/Shutterstock
The Best Supporting Actress winner in question is none other than Catherine Zeta-Jones, who sang and danced her way to winning the coveted statue in 2003 for her show-stopping performance in Rob Marshall's blockbuster musical "Chicago." Though her star has arguably faded a touch of late, the Welsh-born actor was one of the most in-demand talents in Hollywood through much of the 2000s, appearing in hit films like "The Mask of Zorro," "High Fidelity," "Traffic," and "Intolerable Cruelty," among others. At the time this was all being talked about, her casting would've been a major coup for the "Doctor Who" team.
Looking back, it's not entirely clear how close Zeta-Jones' actually came to playing the first female Doctor on "Doctor Who." Her name was, however, bandied about for the role as early as 2008, when then "Doctor Who" boss Russell T. Davies mentioned Zeta-Jones (along with Lesley Sharp) as an ideal candidate to take over the role from departing Doctor David Tennant (per The Guardian). Unfortunately, that casting decision was not Davies' to make, as he was departing the series along with Tennant.
Matt Smith was ultimately cast as the 11th Doctor, and played the part for three seasons before Peter Capaldi took on the role for a three-season run himself, before Whittaker stepped in. While those "Doctor Who" stars were beloved in their own right, it really would've been fascinating to see what Zeta-Jones might have brought to the role ... and now, we want to fire up the Tardis to go back and make that happen.