The Transformation Of Jodie Whittaker From Childhood To Doctor Who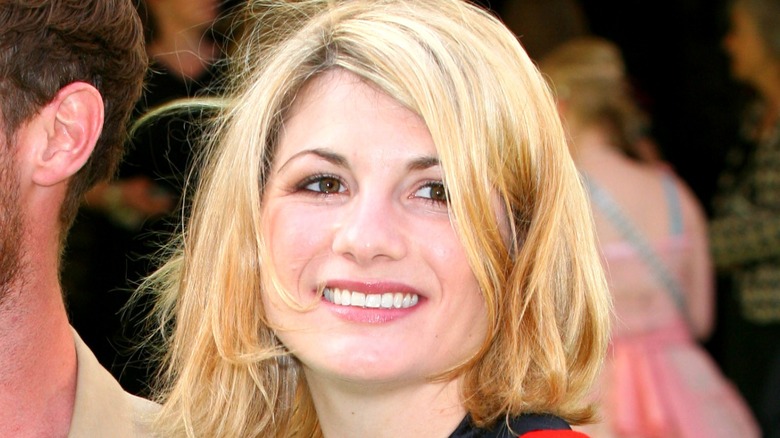 Shutterstock
Many people will recognize actress Jodie Whittaker from a number of her past roles, but she's most well-known for playing the Doctor in "Doctor Who," the first woman to take on the ever-changing role. Of course, this didn't just happen out of nowhere. Whittaker, who was born and raised in West Yorkshire, had a normal, low-key childhood, with a cricket-obsessed father and older brother, and parents who strongly supported her acting dreams (The Independent). When it came time to go to university, Whittaker pursued her passion and was accepted at the Guildhall School of Music and Drama in London, England.
During her final year there, Whittaker was also awarded the Gold Medal for Acting. According to Martin Connor, the Head of Acting Studies at the school, Whittaker "was very versatile as an actor, playing roles as diverse as Mary Magdalene ('Play Called Corpus Christi') and Cressida ('Troilus and Cressida') and Rose Alverez in the musical 'Bye Bye Birdie.' She has great generosity of spirit and consistently brings a huge sense of humour to her work" (GSMD). Before even finishing her program, Whittaker left school to debut as a professional actor at the Shakespeare's Globe in the production of "The Storm" in 2005, acting opposite Mark Rylance (The Guardian). It turns out that it was the right decision, as just the next year, Whittaker booked her first major on-screen role in the film "Venus."
Here's the transformation of Whittaker from her early days in West Yorkshire to her history-making role in "Doctor Who."
Jodie Whittaker burst onto the scene in Venus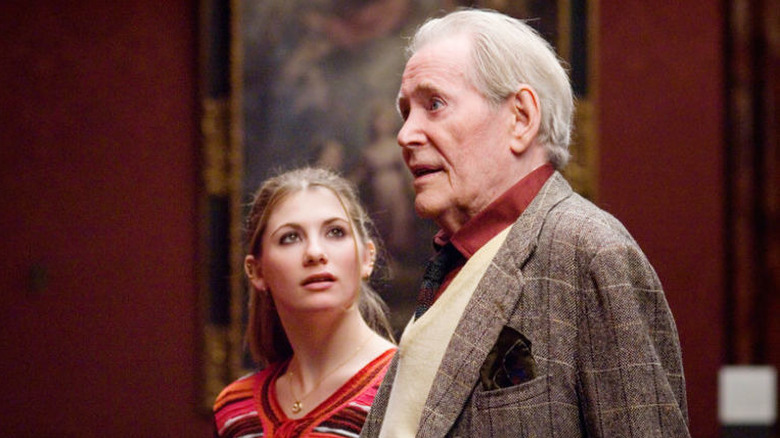 Miramax
In 2006, Whittaker hit the jackpot when she nabbed the role of Jessie in the indie film "Venus," acting opposite the award-winning actor Peter O'Toole. The film focuses on O'Toole's character Maurice, an old man dying of prostate cancer who finds a kindred spirit in his friend's grand-niece, Jessie. When the two meet, Maurice is warned by his friend that Jessie is a "troublemaker," as her family looks down on her promiscuous lifestyle. But Maurice doesn't seem to care, and Jessie likes that about him. They start hanging out together, forming a strange yet touching relationship. While Maurice is open to Jessie about his attraction to her, he eventually settles for a close, trusting friendship in his final days.
O'Toole's performance in "Venus" earned him many award nominations, including Best Actor at both the Academy Awards and the BAFTAs, though he unfortunately didn't win. As for Whittaker, the young actress made a huge impression on audiences, and she was repeatedly nominated for various Best Newcomer awards and a few Best Actress categories. Despite being so new to the game and with such little experience, Whittaker held her own with some of Britain's top actors, and it helped to really kick start her acting career.
She gained recognition with roles in sci-fi hits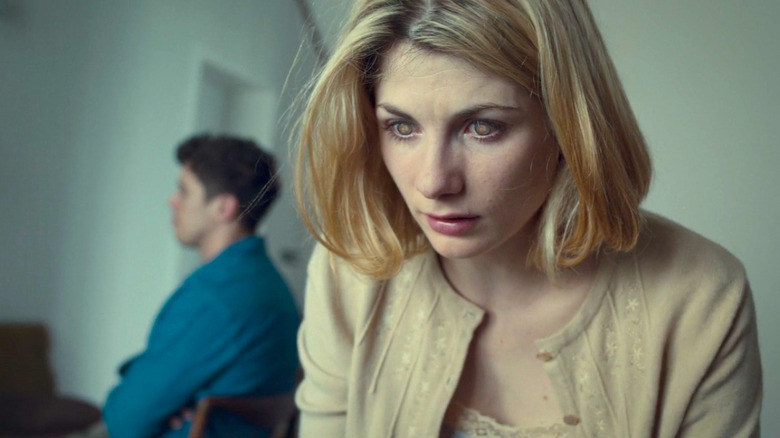 BBC/Netflix
Whittaker had steady work for the next handful of years, working on various British films like "Perrier's Bounty" and "Ollie Kepler's Expanding Purple World," along with other short films and small TV parts. Then in 2011, Whittaker stole the spotlight in two different sci-fi projects — "Attack the Block" and an episode of "Black Mirror" called "The Entire History of You." In "Attack the Block," which was also a breakout role for John Boyega, Whittaker plays a nurse in training named Samantha who is mugged by a group of South London teenagers one night. She becomes fed up with the neighborhood, but when strange, killer alien creatures start attacking the apartment building, Samantha must team up with the same kids to save everyone and stop an alien takeover. The film won many awards and is consistently named one of the best sci-fi horror films out there.
The same year, Whittaker also starred as Ffion in the third episode of "Black Mirror" Season 1, "The Entire History of You." Whittaker's episode explores a possible future in which most people have an implant that records all of their memories, making it so that they can watch old memories over and over and never forget someone's face. Like with all the other episodes in the science-fiction anthology series, "The Entire History of You" takes on the dark side of the hypothetical technology, showing how advanced reliance on technology, so much so that it's a part of the body, can warp people's way of thinking and ruin the idea of intimacy. Toby Kebbell plays Ffion's husband, Liam, who starts going over all his past memories to try to figure out if his wife is having an affair.
Whittaker transitioned to star in major British dramas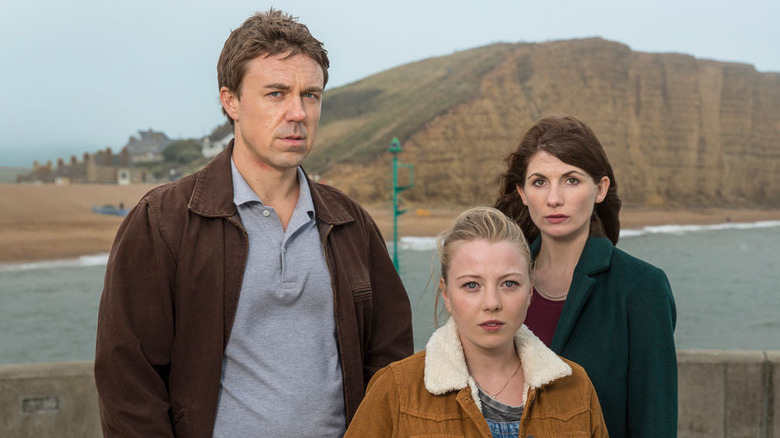 ITV
Starting in 2013, Whittaker starred in a series of British crime dramas, starting with the award-winning series "Broadchurch." Starring David Tennant as DI Alec Hardy and Olivia Coleman as DS Ellie Miller, the show is set in a fictional beachside town called Dorset in England. When an 11-year-old boy named Danny Latimer (Oskar McNamara) is murdered, police detectives Hardy and Miller must work together to find the killer as the crime rocks the small town. Whittaker stars as Beth Latimer, Danny's mother and a close friend of Miller. The drama series aired three seasons and won many awards, including a few BAFTAs.
While working on "Broadchurch," Whittaker also filmed a handful of other TV roles. The first of these was "The Smoke" in 2014, about a group of London firefighters. "The Smoke" was cancelled after one season, leading Whittaker to grab another lead role soon after in "The Assets." An eight-episode miniseries on ABC, "The Assets" is based on the book "Circle of Treason: A CIA Account of Traitor Aldrich Ames and the Men He Betrayed" by former CIA agents Sandra Grimes and Jeanne Vertefeuille. Unfortunately, this series was also a bust, cancelled before the whole season even finished airing.
Whittaker started having better luck again in 2017 when she was cast as the lead in the medical drama "Trust Me," about a nurse named Cath Hardacre (Whittaker) who takes on the identity of her friend who's a doctor after she loses her job due to whistleblowing. The show got a 73% on Rotten Tomatoes, with many praising Whittaker's "magnetic" performance.
She is the first woman to be The Doctor in Doctor Who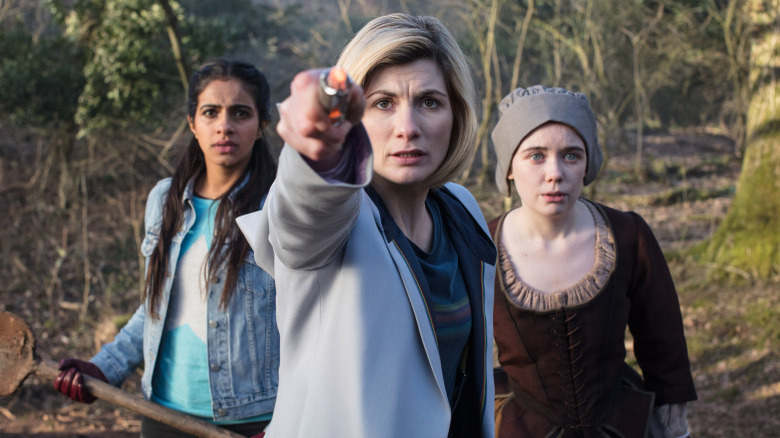 BBC One
The same year that "Trust Me" Season 1 came out, it was announced that Whittaker would be taking over the role of the Doctor in "Doctor Who" from Peter Capaldi. Whittaker became the thirteenth Doctor and the first time the character is regenerated as a woman. Although there was some sexist backlash, the outgoing showrunner Steven Moffat blamed the media for the narrative that many fans were against the new casting, stating that most people were positive about the change (Business Insider).
Even if some were wary when her casting was first announced, Whittaker has definitely won everyone over, with her first season (the show's 11th) getting a resoundingly positive 90% on Rotten Tomatoes. Overall, any faults found with Whittaker's episodes are usually attributed to poor writing, and never poor acting on her part. Now starting her third season as the iconic character, Whittaker's been wholly accepted and made her own mark on "Doctor Who."
But what's next for Whittaker? While there were rumors that she would leave "Doctor Who" before her appearance in Season 13 was confirmed, it's unclear what might happen with Season 14 and beyond. Although there's nothing else on her schedule — at least none that are publicly announced — Whittaker has a very bright future ahead of her, and fans are eager to see what she does next.