Matt Smith Weighs In On The Current State Of Doctor Who - Exclusive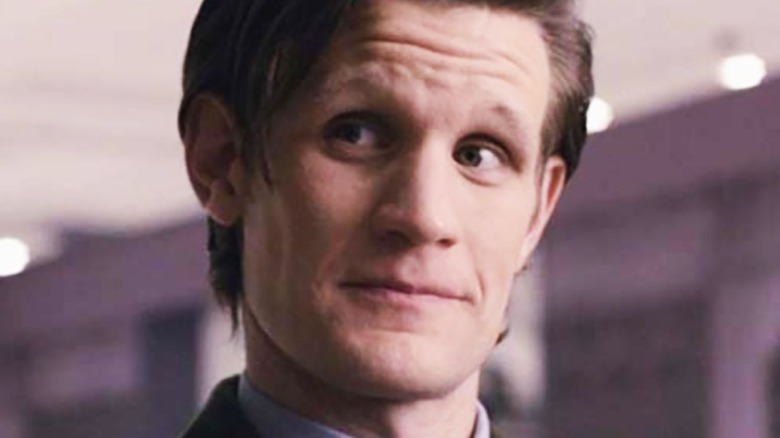 BBC Worldwide
It was October 2008 when David Tennant announced that he was leaving his post as the 10th Doctor on the legendary BBC series "Doctor Who." Tennant had brought the series to new heights of popularity during his three-season run, and speculation about who would replace him ran rampant. The suspense ended in January 2009 when it was announced that Matt Smith would regenerate as the 11th Doctor.
The initial response was, ironically, "Who?" Smith had only a handful of theater and TV credits to his name when he landed the prestigious role of the Time Lord in the iconic British sci-fi series. Even though he was the youngest actor to ever play the role (he was 26 when he landed the job), Smith became nearly as popular as his predecessor and is now regularly ranked as one of the best Doctors in the show's nearly six-decade existence.
Following a loose tradition, Smith turned in the key to the TARDIS in 2013 after three seasons and 46 episodes. He was replaced by Peter Capaldi, who himself was succeeded in 2017 by the first woman in the role, Jodie Whittaker. With Whittaker herself now about to depart, along with current showrunner Chris Chibnall, former head writer Russell T. Davies — who ran "Doctor Who" during the Tennant years — will return to oversee the show and introduce the 14th Doctor.
Looper recently had the chance to speak with Smith about his starring role in the new psychological horror film from director Edgar Wright, "Last Night in Soho," and couldn't resist asking him for his thoughts on the latest "Doctor Who" news, with Smith acknowledging, "It's always exciting to think that there's a new Doctor coming."
What Matt Smith thinks of Doctor Who today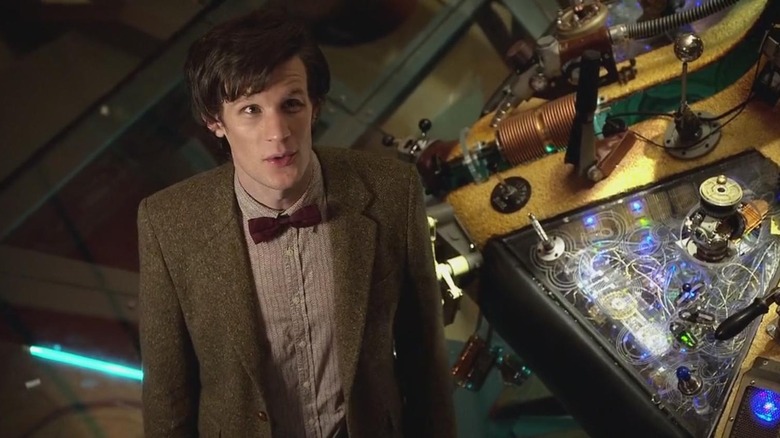 BBC Worldwide
Although "Doctor Who" will always hold a special place in Matt Smith's career and heart, he does admit that he hasn't kept up with the show since departing eight years ago. "No. I must confess, I haven't seen a lot of Doctor Who of late," he says. "So I'm not really equipped to talk about that really."
In terms of the show's next incarnation, however, Smith does have a few opinions. "I think it's exciting for the show that Russell Davies is back," he remarks. "I think Chris Chibnall and Jodie did a wonderful job, but now it's exciting to look forward to a new era under Russell, who I think is a phenomenal writer and particularly brilliant at delivering that show. I think he totally gets what it is and I'm sure they'll just choose a really exciting new Doctor. It's always exciting to think that there's a new Doctor coming."
Smith himself has stayed solidly in the public eye since leaving the Doctor behind, with a high-profile two-season stint on "The Crown" and upcoming featured roles in the Sony/Marvel movie "Morbius" and the HBO "Game of Thrones" prequel series "House of the Dragon." The actor says that playing the alien traveler from the planet Gallifrey is always going to be something with which people associate him.
"I think 'Doctor Who' is its own unique thing," he reflects. "When you've played the Doctor, you're part of a very select family of 13. So that comes with its own history and association and I'm obviously very proud to have played the Doctor. It's one of the great parts out there in TV, I think."
"Last Night in Soho" is in theaters and will be available on demand starting November 19.