Why Teela From Masters Of The Universe: Revelations Sounds So Familiar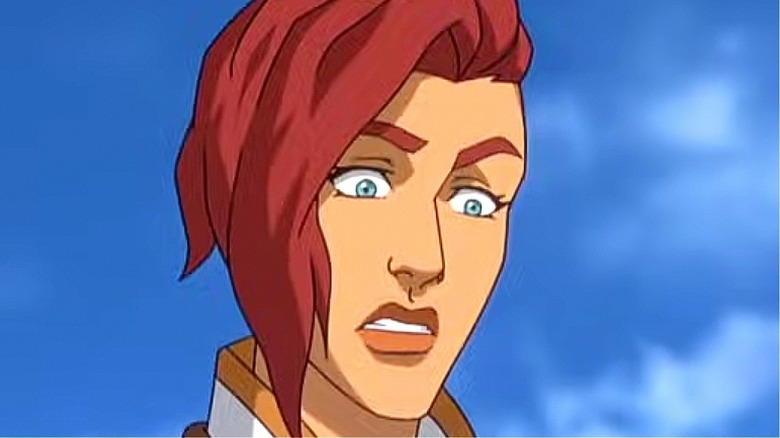 Netflix/YouTube
"Masters of the Universe: Revelations" has provided audiences with a delightful return to the long-dormant "He-Man" franchise. Created by Kevin Smith, the Netflix series is a semi-sequel to the continuity of the original 1980s series, continuing that timeline and pushing the story to new, darker and surprising areas, earning a storm of positive reviews in the process. Moreover, "Revelations" has brought back and deepened the characterization of many of the franchise's most beloved figures, including He-Man, Orko, Skeletor, King Randor, and Teela.
Those who have watched "Masters of the Universe: Revelations" may find Teela's voice somewhat familiar, and there's a good reason — because she is voiced by none other than Sarah Michelle Gellar, most famously known for her iconic role in "Buffy the Vampire Slayer." Even aside from her live-action performances, though, Gellar has also amassed quite a resume of voice acting roles in a number of major properties. With that in mind, let's break down some of her biggest and best voiceover roles to date.
Sarah Michelle Gellar voiced the Gwendy Doll in Small Soldiers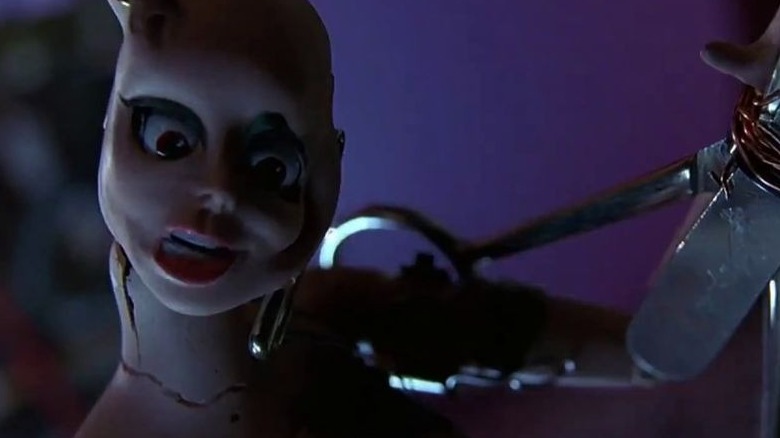 DreamWorks
One of Sarah Michelle Gellar's earliest voiceover roles came with the release of the 1998 sci-fi action film "Small Soldiers." Directed by "Gremlins" filmmaker Joe Dante, the movie follows a group of kids and adults forced to face off against militarized toys when the toy manufacturer assembles their new line of soldier toys with military-grade microprocessors. "Small Soldiers" features three factions of toys — the villainous Commando Elite, the heroic Gorgonites, and the corrupted Gwendy Dolls, voiced by both Gellar and Christina Ricci.
The Gwendy Dolls are a mid-movie addition to the "Small Soldiers" conflict. Engineered by the Commando Elite using spare chips, they go from Barbie-esque dolls aimed towards young girls to hideous machines of war with an appearance that is reminiscent of something from Sid's room in "Toy Story." "Small Soldiers" was not well-received by critics at the time of its release, but it has been reevaluated by many in recent years, finding new audiences as a movie to watch at home instead of theaters.
Sarah Michelle Gellar befriended the Teenage Mutant Ninja Turtles in the animated TMNT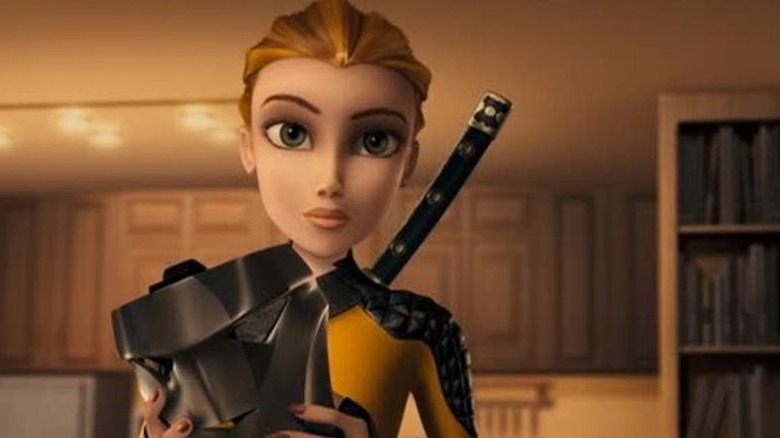 Paramount
One of the most notable heroines who Sarah Michelle Gellar brought to life occurred in 2007, when she stepped in as the voice of April O'Neil in "TMNT," a computer-animated sequel to the original live-action "Teenage Mutant Ninja Turtles" film from 1990. This particular iteration of April O'Neil had moved on from her role as a news reporter and instead operated a shipping company to acquire relics for collectors. Moreover, at the start of the movie, she is already dating Casey Jones (voiced by Chris Evans).
"TMNT" debuted to the number one spot at the box office upon its release in 2007. However, the reviews of the film did not live up to the opening weekend numbers, with "TMNT" ultimately landing with a 34% on Rotten Tomatoes. As a result, sequel plans were ultimately scrapped, and the Teenage Mutant Ninja Turtles would go on to be rebooted yet again ... with yet another reboot currently in development as well.
Sarah Michelle Gellar has made frequent appearances on animated sitcoms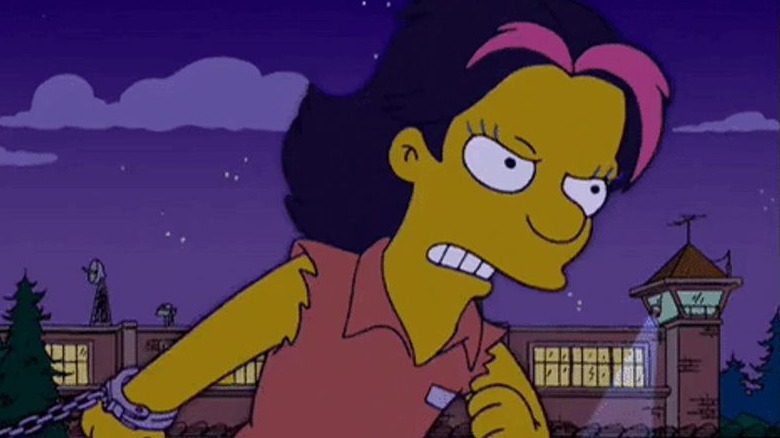 Fox
Sarah Michelle Gellar has been a consistent presence in the world of animated television over the years, providing her voice to numerous long-running shows. Arguably one of the most memorable of the bunch is her role as Gina Vendetti in "The Simpsons." Making her first appearance in the 2004 episode "The Wandering Juvie," Vendetti is introduced as a rival (and then love interest) for Bart Simpson during their respective stints in juvenile hall. Gina Vendetti would go on to make multiple appearances across "The Simpsons" canon, returning in the 2012 episode "Moonshine River" while also appearing in "The Simpsons: Tapped Out" mobile game.
Gina Vendetti is far from the only notable character who Gellar brought to life in the world of TV animation. Even aside from her role on "The Simpsons," she has also voiced characters in similar animated sitcoms such as "American Dad" and "King of the Hill." However, her time on "The Simpsons" (short as it may have been, relative to the overall length of the series) has arguably been the most impactful of these roles.
Sarah Michelle Gellar played a villain on Star Wars: Rebels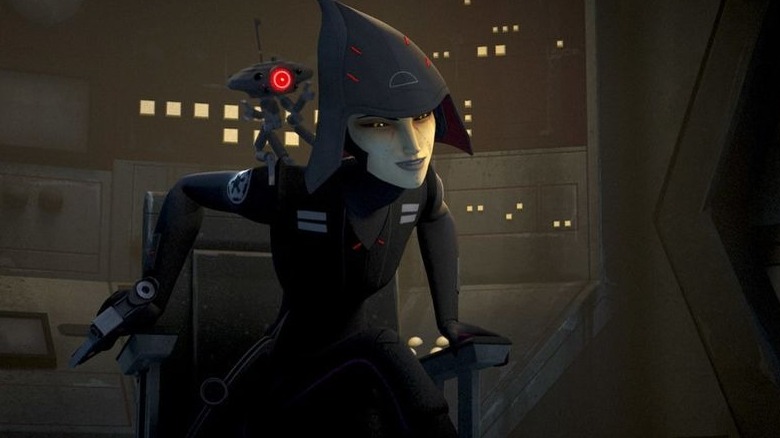 Disney XD
Sarah Michelle Gellar — along with her husband, Freddie Prinze Jr. — has become an iconic voice actor in the Dave Filoni corner of the "Star Wars" universe. Specifically, the actress is most notable for her performance as the Seventh Sister inquisitor in "Star Wars: Rebels." As depicted in animation, the Seventh Sister is a notorious Jedi hunter working in the service of the Galactic Empire.
The popularity of the Seventh Sister has led many "Star Wars" fans to wonder when she may potentially appear in live-action. It has been revealed that at least one Inquisitor will appear in the upcoming "Obi-Wan Kenobi" series on Disney+, but there has been no confirmation as to if that will be Seventh Sister. That said, it remains entirely possible that Disney could go to the source and have Gellar reprise her role in live-action. There is already a precedent for this, as Katee Sackhoff started her "Star Wars" journey as Bo-Kataan in animation but eventually made her way to live-action — but on the other hand, it went differently for Ahsoka Tano, who was voiced by Ashley Eckstein before being brought to the non-animated world of "The Mandalorian" by Rosario Dawson.
Sarah Michelle Gellar was a frequent voice guest on Robot Chicken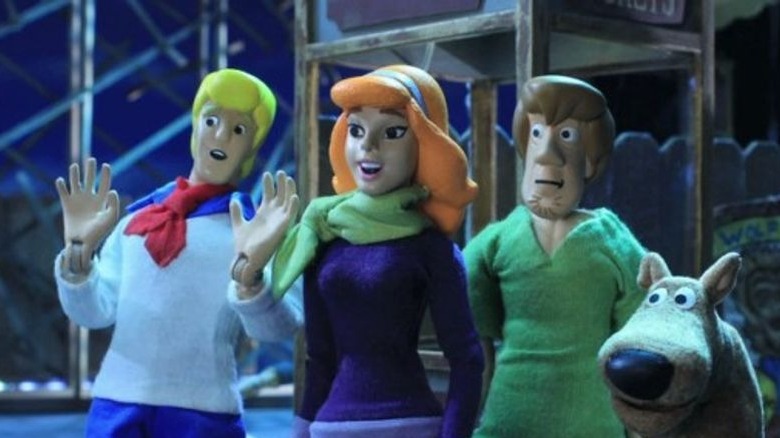 Adult Swim
Adult Swim's "Robot Chicken" has been a staple of the network's late-night alternative comedy block for two decades. A stop-motion series parodying anything and everything pop culture, the series has long been able to lock down some incredibly notable guest stars to do small voice roles. In fact, actors who have provided their incredibly talented and recognizable vocal chops to "Robot Chicken" episodes include Rachael Leigh Cook, Katee Sackhoff, Seth MacFarlane, Mila Kunis, Mark Hamill ... and, of course, Sarah Michelle Gellar.
Gellar has become a frequent guest star on "Robot Chicken," having made 15 guest appearances between 2005 and 2018. She has voiced numerous characters, including Sarah Connor, Holly McClane, Ellen Ripley, and Bambi's Mother, just to name a few. Perhaps her most notable roles on the series, though, have been the instances where she reprised some of her most famous live-action parts, including Buffy Summer (obviously) as well as the teenage Scooby Gang detective Daphne Blake, who she played in Raja Gosnell's 2002 "Scooby Doo."