Here's Where You Can Watch Every Episode Of 9-1-1: Lone Star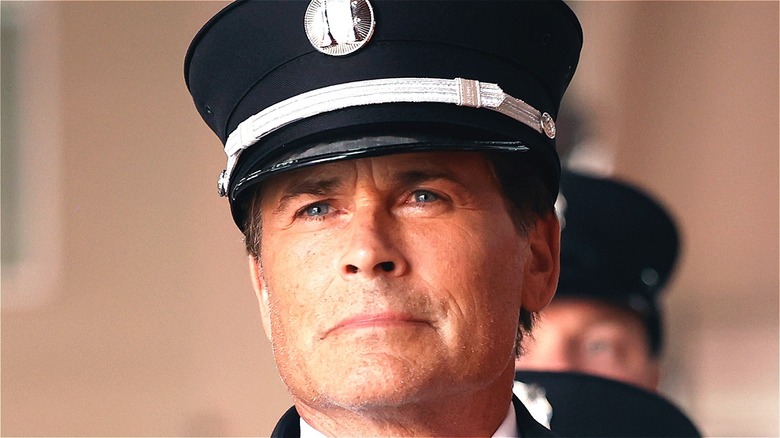 Jordin Althaus/FOX
As far as small screen ventures boasting the name of Ryan Murphy go, Fox's "9-1-1" is arguably not the most highly touted. It's a safe bet, in fact, that many viewers don't even realize the man behind "Nip/Tuck," "The Politician," and the "American Horror Story" franchise is also bringing the Los Angeles set first responder drama to the airwaves. And yet, "9-1-1" has become another bona-fide hit for Murphy that is now well into its fifth season on the air. Ditto for Murphy's "9-1-1" spin-off series "9-1-1 Lone Star," which transports the action from the mean streets of L.A. to the sun-baked vistas of Austin, Texas to tell more dramatic tales of firefighters, police officers, and emergency medical professionals doing their duty both on and off the job.
The spin-off series is largely centered around Rob Lowe's firefighter Owen Strand, and the fictional 126 company he's brought from New York to Texas to help rebuild. Now three seasons into its own run on Fox, "Lone Star" continues to build its fanbase, with Lowe wowing viewers in one of his strongest TV roles to date. If you've missed out on "9-1-1 Lone Star" so far, and are dying to catch up on it — or are just thrilled by the idea of watching the seemingly ageless Rob Lowe suit up as a firefighter, in general — you can indeed catch every episode of "9-1-1 Lone Star" in the streaming realm. Here's where you do it.
Hulu is your one-stop-shop for every episode of 9-1-1 Lone Star
As noted, "9-1-1 Lone Star" is currently airing its third season on Fox. But unlike many shows, "Lone Star" doesn't go the 22-episode season route, with Seasons 1 and 2 keeping to a far more palatable 10 and 14 episodes respectively. Season 3, however, earned a super-sized 18-episode order, with those episodes being added to Hulu the day after they make their Fox debut. So with Seasons 1 and 2 already available on Hulu in their entirety, and the new season not yet to the halfway point, there are — as of this writing — a total of 31 episodes ready to binge on the platform.
If you've ever seen a promo for "9-1-1 Lone Star," you know it's very much an action-forward drama, and the series boasts some of the biggest set pieces you'll find in the small screen realm. The show also, of course, is quite the melodramatic spectacle with heaping doses of good, old-fashioned character-driven drama, as Lowe's Captain Strand has to deal with the perils of the job, a recent lung cancer diagnosis, and a firefighter son (Ronen Rubinstein) with his own set of personal problems.
That duo is surrounded by a solid cast of supporting players as well, with the likes of Liv Tyler, Billy Burke, Gina Torres, Lisa Edelstein, and more joining the series at one turn or another. So, if you want to see them all in action, add "9-1-1 Lone Star" to your Hulu queue today.