Here's Where You Can Watch Every Episode Of 9-1-1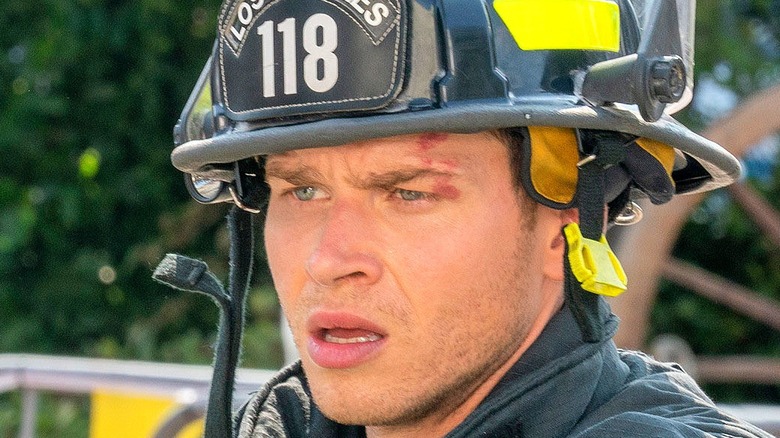 Jack Zeman/FOX
We may receive a commission on purchases made from links.
"9-1-1" is Fox's hit procedural drama that gives a fast-paced and thrilling look into the career and personal lives of paramedics, firefighters, dispatchers, and police officers. During its run, the series has featured everything from romantic entanglements and familial drama to disastrous earthquakes and explosions in Los Angeles. "9-1-1" also boasts an impressive roster of notable names in its central cast, including Angela Bassett as LAPD patrol sergeant Athena Grant-Nash and Jennifer Love Hewitt as 9-1-1 operator Maddie Buckley.
"9-1-1" has proved itself as a consistent enough hit on Fox to produce five seasons and a spin-off set in the Lone Star State. And according to Deadline, if the momentum keeps up for the franchise, fans could potentially be in store for an additional "9-1-1" spin-off in the future. 
If you are looking to start the show from Episode 1, catch up on the latest season, or do a rewatch, there are a few options for how you can stream "9-1-1."
9-1-1 can be streamed on Hulu and Fox
"9-1-1" has various streaming options, especially for those who want to test out an episode or two. If you're curious about the hit show and don't mind being introduced to the series via its latest season, then the best option for streaming "9-1-1" is on the Fox website or Fox Now App. As of the time of writing, the network has all ten episodes of Season 5 available to watch online. Some of the latest episodes of the season are completely free and don't require a premium subscription. The rest require users to sign up and provide proof of their TV provider. However, Fox also grants an hour-long preview pass for locked episodes. 
While keeping on the subscription routes, there's also the option to stream some of "9-1-1" on Hulu, as the streaming service currently offers the first three seasons. This is a great way to start the series from the beginning. For those looking to binge-watch all of "9-1-1," the best option is probably Amazon Prime, which has all five seasons available. But you'll have to pay, with prices starting at $1.99 per episode and $14.99  per season. You'll also have to buy per episode or season on other services like Apple+ and Vudu, but both streaming platforms have all of the episodes of "9-1-1" released so far.