Lupita Nyong'o Confirms What We Suspected About Letitia Wright's On-Set Behavior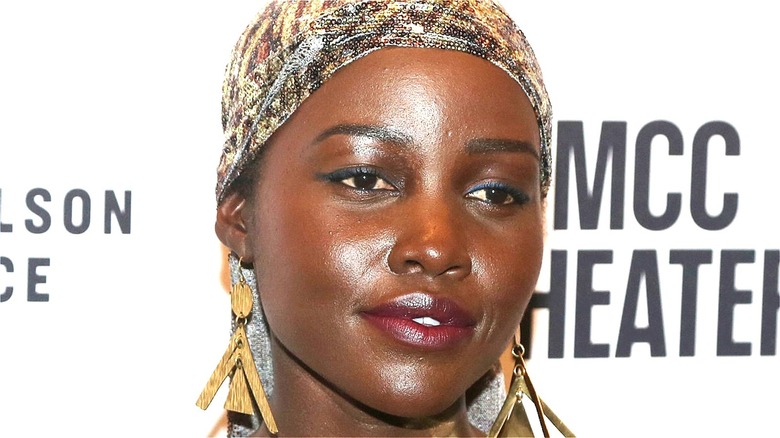 Bruce Glikas/Getty
2018's "Black Panther" still sits at the #1 spot amongst the entire Marvel Cinematic Universe according to critics (via Rotten Tomatoes). It serves as the first solo film for the character of T'Challa (Chadwick Boseman), who we were introduced to in "Captain America: Civil War" and whose story continues directly after the events of that movie.
During "Black Panther," we see T'Challa struggle with the challenges and responsibilities of being a king along with being the Black Panther, witnessing him nearly die and have to win the throne back from his cousin Erik Killmonger (Michael B. Jordan), who can be considered a product of King T'Chaka's prior actions. Erik is a complex antagonist filled with hatred and vengeance, but ultimately leaves a lasting effect on T'Challa, which inspires him to open the technology of Wakanda, overseen by T'Challa's sister Shuri (Letitia Wright), for the betterment of the world. T'Challa needed much help throughout the film from Okoye (Danai Gurira) and the Dora Milaje, along with Nakia (Lupita Nyong'o) and his sister Shuri. Both Nyongo's Nakia and Wright's Shuri served as incredible allies and provided necessary advice and support for T'Challa.  
During press for "Black Panther" back in 2018, it was clear that much of the main cast of the film had a great rapport, especially Nyong'o and Wright, as they even took to Instagram together to make a "Black Panther" rap (via Entertainment Weekly). Nyong'o also confirmed what we always assumed Wright was like on set, considering how fun the character of Shuri is.
Letitia Wright is like 'fresh air' according to Lupita Nyong'o
In a 2018 interview with Yahoo! News, Lupita Nyong'o addressed her thoughts on her "Black Panther" co-star, Letitia Wright. Nyong'o noted that Wright was "a ball of fire and fresh air" on the set of the film, professing her adoration for the young actor. She continued, "She has this ability to know who she is while asking questions about who she should become. It's so cool to have both of those qualities." The chemistry between the two actors is clear, especially when they interviewed each other in a Teen Vogue piece back in December of 2017, speaking on their first experiences getting the roles of Nakia and Shuri.
Both Nyong'o and Wright are set to return as their respective characters for "Black Panther: Wakanda Forever," with much fan speculation surrounding the idea of Wright's Shuri possibly taking over the role of the Black Panther from the late Chadwick Boseman. Either way, Wright specifically has faced challenges on-set this time around, including an on-set accident and resulting injuries and her personal issues with COVID-19 vaccine mandates. It will be interesting to hear both Wright and Nyong'o speak about their on-set experiences for the sequel film when the press for "Black Panther: Wakanda Forever" begins sometime before its scheduled release in November 2022.