The Audition Moment That Helped Laura Prepon Win Her That '70s Show Role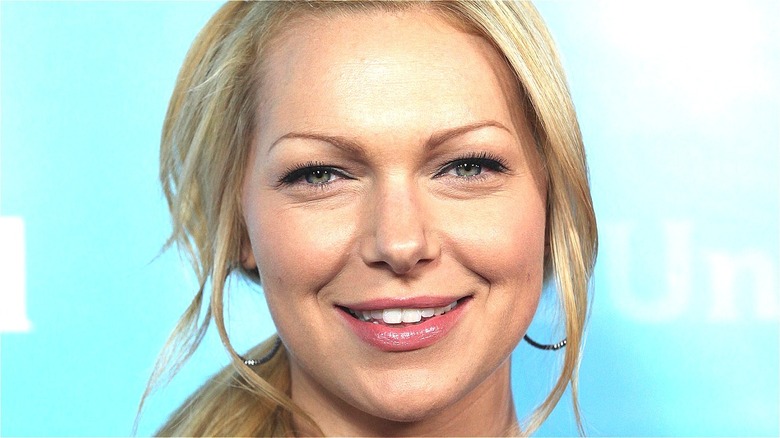 DFree/Shutterstock
"That '70s Show" was one of the most popular television series of the early 2000s. Although it began in 1998, it would run for eight seasons before airing its last episode in 2006. It served as a launching pad for many future stars, including Mila Kunis, Ashton Kutcher, "NCIS" actor Wilmer Valderrama, and Topher Grace. As we know, the show is based in 1970s Wisconsin, following the lives of a group of teenagers. Although "That '70s Show" focuses on a story about an entire group of friends with their own individual storylines, many fans of the show might argue that the focus of the story is on Grace's Eric Forman. His parents, Kitty (Debra Jo Rupp) and Red (Kurtwood Smith) are constantly involved in the plot, along with Eric's love interest, Donna Pinciotti (Laura Prepon).
For Prepon, "That '70s Show" also served as her breakout role and it was even her very first acting credit. After the series ended, like many of her co-stars, she went on to appear in very well-known television series and movies, including "House," "How I Met Your Mother," "The Girl on the Train," and "Orange Is the New Black."
Getting that first role is so important for aspiring actors and actresses, and getting the role of Donna on "That '70s Show" was certainly a life-changer for Prepon, who detailed her audition experience for the series in a recent interview.
Prepon said two words in her audition got her the role of Donna
In 2020, Laura Prepon was part of PeopleTV's Couch Surfing, where she reflected on milestones in her career in the entertainment industry thus far (via Entertainment Weekly). Speaking of her time with "That '70s Show," Prepon recalled her audition process for the role of Donna. She mentioned a story where she asked creators Terri and Bonnie Turner what landed her the part. They replied that as soon as Prepon walked in, they just knew immediately that she was the right person for the job. However, Prepon said that they explained that it was the end of her audition that truly sealed the deal. According to Prepon and the Turners, after her screen test, Prepon put her hands on the table, pushed her chair back, and asked, "We good?" to the crew. Apparently, those two words got her the role.
All things considered for what "That '70s Show" ended up becoming and how well it was received by audiences, this little bit of behind-the-scenes trivia is pretty cool. Hollywood is full of crazy audition stories from the most prominent actors in the business, and Prepon's is not so much crazy as it is a story of being the perfect fit for the character she would be playing. Prepon is rumored to be returning for the official continuation, "That '90s Show," which has no official release date yet but is confirmed to be filming.