Matt Reeves Weighs In On Superman Appearing In A Possible Batman Sequel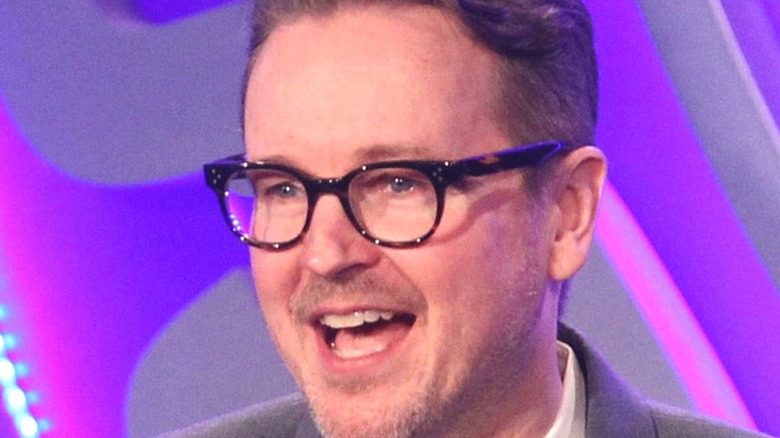 Tommaso Boddi/Getty
One of the biggest and most anticipated movies of the year drops on March 4 in the form of Matt Reeves' "The Batman." The film promises to bring a more grounded version of the Dark Knight and focus on Bruce Wayne one year into his time as Batman. The film stars Robert Pattinson as the titular vigilante, Zoë Kravitz as Selina Kyle/Catwoman, Andy Serkis as Alfred Pennyworth, and Jeffrey Wright as Batman's most powerful law enforcement ally, James Gordon. It follows Bruce as he faces villains Oswald Cobblepot aka Penguin (Colin Ferrell) and The Riddler (Paul Dano) while determining the trustworthiness of Selina.
Of course, thanks to the popularity and financial success of the Marvel Cinematic Universe and the DC Extended Universe, when Warner Brothers announced the film, it was only a matter of time before fans started asking when they would see other DC characters. With a wide range of possible characters the franchise could introduce, perhaps the most prominent character would be the Man of Steel himself, Superman. While fans have been begging for answers since the film was announced, the studio has been tightlipped on the future of the Reeves "Batman" franchise. However, the director himself has a few thoughts on the future of Superman in his world.
Superman is not Reeves' focus, but never say never
In an interview with Collider, Matt Reeves was asked if Superman existed in the universe or if he could appear in future installments. "I want it to feel emotionally real and to make everything feel very believable," he said about the possibility. "If suddenly in the Batman world, you discovered that there was an alien that was Superman, there'd be a lot of shock."
The director, known for his stellar work in the "Planet of the Apes" reboot, spoke about his desire to take one fantastical element and build everything around that. His approach to building that way keeps everything grounded and real. He continued to speak about the possibility of expanding beyond the Dark Knight. "But to be honest with you, that is not the intention at this point, to figure out how to make that come. Look, we should be so lucky that this is a world that people embrace and that they say, oh my God, we want to see what would happen when those things collide. I think if that challenge ever presents itself, it would be an exciting one to explore, but I'd have to try and do it through this lens. You know what I mean? And that is absolutely right, that at the moment, to me, this world is the place that I want to focus."
What does this mean? If you love Superman or the shared universe approach to cinematic world-building, you may have a bit of an uncertain wait ahead of you. If you are a Batman fan, you have a very focused director dedicated to bringing you a gritty and grounded masterpiece centered entirely on Bruce Wayne.