The One Thing Colin Farrell's Penguin Couldn't Do In The Batman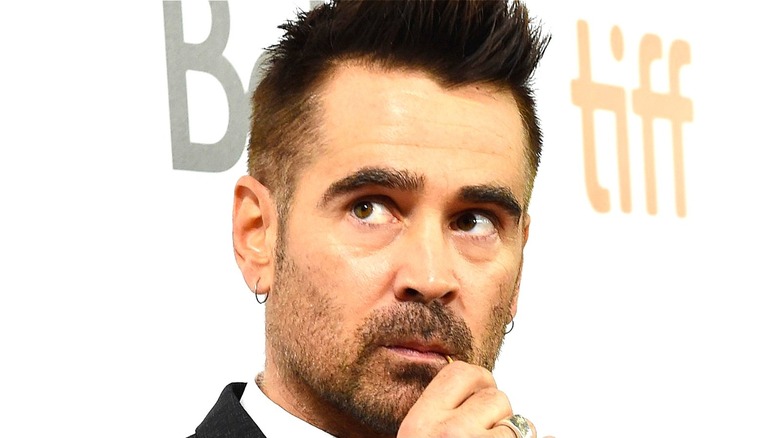 Kevin Winter/Getty
The imminent release of Matt Reeves' "The Batman" is sending ripples of excitement through the pop culture realm. The blockbuster is the newest chapter in Gotham cinematic history and marks the first time since Christopher Nolan's "The Dark Knight Rises" was released in 2012 that the famous Caped Crusader gets to appear in his own, solo live-action movie.
Starring Robert Pattinson as the Dark Knight himself, the highly anticipated movie features an incredible cast of supporting performers that includes Zoë Kravitz, Paul Dano, Jeffrey Wright, John Turturro, Peter Sarsgaard, Andy Serkis, and Colin Farrell, all of whom are playing iconic characters from DC Comics lore in "The Batman." Kravitz, for instance, is playing Selina Kyle AKA Catwoman in the film, while Farrell is set to appear as a truly iconic bad guy, Oswald Cobblepot AKA The Penguin.
Anyone who has seen Reeves' previous movies knows that he's the rare case of a blockbuster filmmaker who combines spectacle with thought-provoking storytelling. As a result, DC fans are hoping to see him bring those sensibilities to "The Batman" as well. However, it looks like not even a true auteur like Reeves, nor any of the talented cast members he assembled for "The Batman," are ever truly free of their studio overlords.
In fact, Farrell recently revealed that while he wanted to add one quirk he felt would enhance the character of The Penguin in "The Batman," the powers that be at Warner Bros. weren't willing to meet his small request.
Colin Farrell 'fought valiantly' for Cobblepot to smoke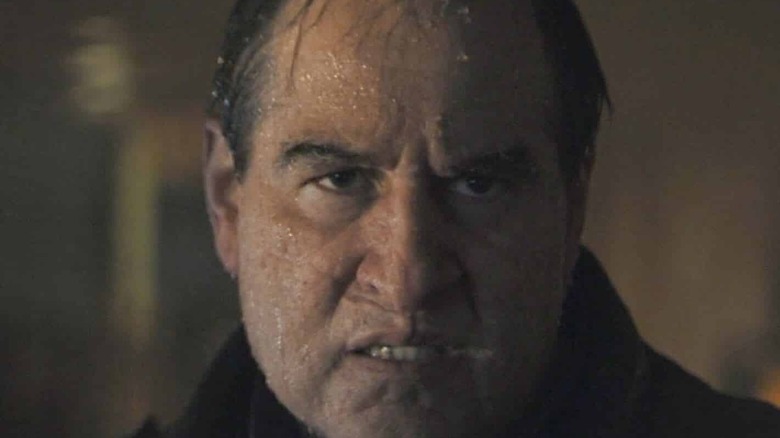 Warner Bros.
As Variety points out, "The Batman" is a PG-13 rated movie. As such, director Matt Reeves and his collaborators have to be careful about how much questionable content they show on the screen throughout the film. Now, while it remains to be seen just how much violence, naughty language, and edginess is in the final cut of "The Batman," parents can rest assured knowing that, according to Colin Farrell, the DC blockbuster won't inspire their kids to take up smoking.
In a recent interview with Jake's Takes, Farrell revealed that he wanted his version of The Penguin to smoke in the movie, as the character famously does in the comics (as well as in his prior cinematic appearance in Tim Burton's "Batman Returns"). Unfortunately, the film's producers weren't willing to negotiate with the Penguin actor, despite his willingness to compromise. "I fought valiantly for a cigar," the actor recalled. "At one stage I said, 'I can have it unlit! Just let me have it unlit.' They were like, 'No.'"
Obviously, Farrell wasn't happy with the decision at all. In fact, during the same interview, the "Batman" actor revealed that he doesn't buy into the idea of cigarettes and cigars, particularly when smoked by such a villainous character, having a negative impact on younger viewers. "[As if] a bunch of 12-year-olds are going to start smoking Cuban cigars because [the Penguin is smoking cigars in a movie]," Farrell remarked.
Farrell's Penguin will still be a force to be reckoned with
Colin Farrell may not have been happy about Warner Bros. turning down his cigar request on "The Batman," but that restriction doesn't seem to have softened his interpretation of The Penguin in any way. Not only do the layers of prosthetic makeup he's wearing in the film make Farrell totally unrecognizable, but early trailers for "The Batman" have also sold the character as being a much more grounded criminal leader than the version played by Danny DeVito in Tim Burton's "Batman Returns." Consequently, Farrell's Penguin is shaping up to be, much like most of the characters in "The Batman," a very different take on a familiar comic book figure.
With that in mind, the absence of the Penguin's usual cigars only further separates Farrell's Cobblepot from previous incarnations of the character. Indeed, it's clear that the lack of a cigar in his mouth didn't stop the actor from fully embodying his "Batman" character, someone he told MovieMaker Magazine reminded him of Fredo (John Cazale) in the "Godfather" films. "There's a certain amount of brokenness in Oz [Cobblepot] that, I think, as a reference, not for me performance-wise, but just emotionally, as a reference for Matt [Reeves] — I think Fredo from 'The Godfather' was a bit of a reference," Farrell revealed.
All of this is to say that Farrell and Reeves clearly didn't let their cigar concession stop them from bringing to life a version of The Penguin that DC Comics fans have never really seen on the big screen before. Of course, whether or not Farrell's Penguin is received well by comic book readers, remains to be seen.
"The Batman" hits theaters on March 4.