The Surprising Reason Zoe Kravitz Thought She'd Lose Her Role In The Batman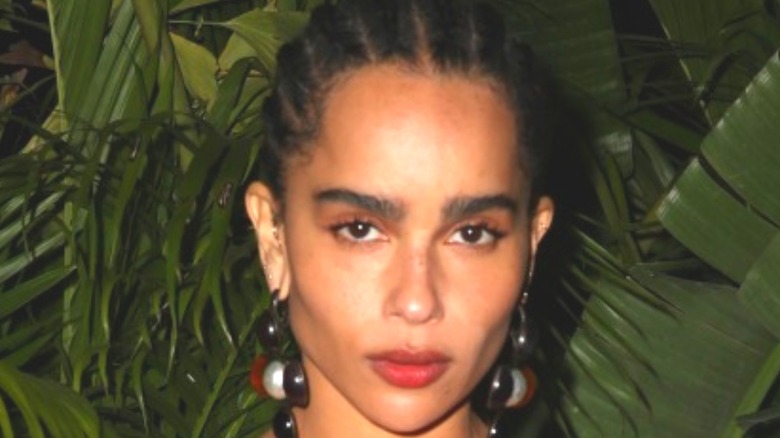 Alexander Tamargo/Getty
Next month, a handful of stars are going to be taking on some of the most iconic characters in comic book history, with Robert Pattinson leading the way as the new Dark Knight in Matt Reeves' "The Batman." Sneaking up behind the bat-to-be will be Zoë Kravitz as one of the hero's most duplicitous familiars in Gotham City, Selina Kyle, aka Catwoman. Following in Anne Hathaway's footsteps, as well as those of Halle Berry, Michelle Pfeiffer, and Lee Meriweather, Kravitz will bring DC's legendary thief to the big screen in her own way, and it already looks to be a ridiculously cool performance. The irony, however, is that Kravitz feared that that wasn't quite the case in her audition.
Given the incredible talent that had taken on the role in the past, the stakes were already high. However, it wasn't the character of Selina Kyle that Kravitz struggled with, but her actions. History has, of course, dictated that there are certain skills required to take on the role of Catwoman: handling a whip, looking good in a fight, etc. One thing audiences generally don't consider, though, is the proper removal of headgear.
Kravitz thought her taking off a bike helmet would cost her Catwoman
In the film's panel at DC Fandome 2021, Zoë Kravitz recalled how a dose of dread came in with one particular prop during her audition for the role. "I was really nervous, and I remember you gave me the hardest part of the audition, to be honest: the helmet," Kravitz recalled, fearing that it would be cumbersome. "They were like, 'Here's this helmet, and you have to walk out, and then you take the helmet off and you do the scene.'"
Kravitz's worry was that a potential struggle to take the helmet off would lead to a quick exit out of a role she was keen for: "It's sometimes really hard to look cool when you're taking [it] off; it gets stuck. And I was like, 'This is how I lose the part. I lose the part because I can't take off a helmet.'" Thankfully, Reeves reassured his star that it wasn't the case at all: "And it was just the opposite."
We'll see how she handles removing a helmet, and other minor issues (like playing Catwoman), when she and Robert Pattinson appear in "The Batman" on March 4.