Here's What Emilia Clarke Could Look Like As A Skrull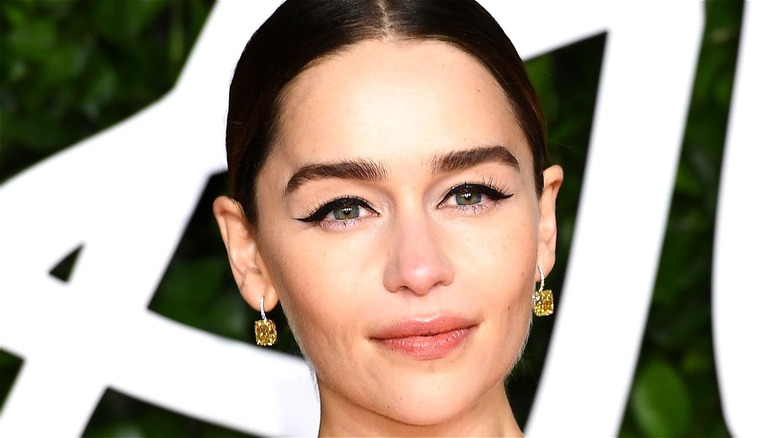 Jeff Spicer/BFC/Getty
For many viewers, Emilia Clarke will always be known best for her iconic turn as the fierce and fiery Daenerys Targaryen in HBO's "Game of Thrones." That said, ever since she made her breakout debut on "Thrones," Clarke has been steadily building an impressive and diverse screen career for herself. From her work in charming romantic comedies like "Last Christmas" and "Me Before You" to her performances in sci-fi blockbusters like "Solo: A Star Wars Story" and "Terminator Genisys," Clarke has proven herself capable of turning in strong work outside of Westeros — even when the projects she's involved in don't quite match her talent.
Now, Clarke is set to make her debut in the Marvel Cinematic Universe with a role in the highly anticipated Disney+ event series, "Secret Invasion." While her role in the show is being kept under wraps for the time being, that hasn't stopped fans from speculating about who she could be playing. In fact, some fans even believe that Clarke may have been cast as one of the central Skrulls in the Marvel TV series.
With that in mind, Instagram artist @arifinity_ recently shared a piece of artwork that gives Marvel fans everywhere a general idea of what Clarke could look like as a Skrull in "Secret Invasion."
Emilia Clarke may play a Skrull in Secret Invasion
The artwork by @arifinity_ does a good job of imagining what Emilia Clarke could look like as a Skrull, though, the image's actual design does differ a bit from the Skrulls we've seen in previous MCU films and TV shows. In specific, the MCU's Skrulls have all up to this point had bald heads and pointed ears in addition to the green skin and purple eyes Clarke has in the image. Therefore, while there's always a chance Marvel could choose to introduce some new Skrull designs in "Secret Invasion," fans should probably prepare themselves for the likelihood that Clarke will look more like the MCU's other Skrulls than this piece of art suggests.
That's assuming, of course, that Clarke is even playing a Skrull in "Secret Invasion," which has not yet been confirmed by the actor or anyone else involved in the show. The Disney+ series, which is expected to be an adaptation of the comic book storyline of the same name, will focus on a conflict that breaks out between humanity and the Skrulls when it is discovered that members of the shape-shifting alien race have been secretly invading Earth and posing as certain powerful figures and superheroes in the hopes of establishing total control over the planet.
Taking the show's plot into account, it's certainly possible Clarke is playing a Skrull in "Secret Invasion." If she is, this artwork gives fans their first real idea of what that could actually look like in the Disney+ series.
Marvel is being very secretive about Secret Invasion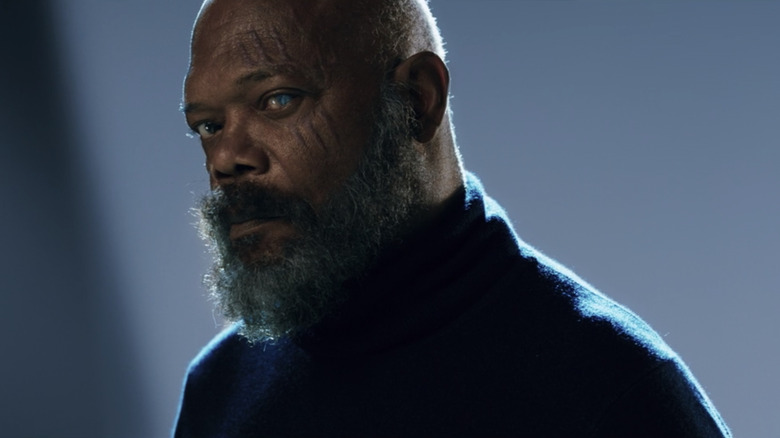 Marvel Studios/Disney+
Very little is known right now about "Secret Invasion." Indeed, outside of announcing that Samuel L. Jackson, Ben Mendelsohn, and Cobie Smulders will be reprising their MCU roles as Nick Fury, Talos, and Maria Hill, respectively, Marvel has avoided confirming the identities of any of the other characters in "Secret Invasion" (via IMDb). As a result, it's still unclear who Emilia Clarke, Olivia Colman, Kingsley Ben-Adir, Killian Scott, Carmen Ejogo, and Christopher McDonald are playing in the Disney+ series.
Additionally, as of this writing, the only "Secret Invasion" cast member Marvel fans actually know is playing a Skrull in the show is Ben Mendelsohn. Several of the series' other actors could also be playing members of the shape-shifting alien race, including Clarke, but it's impossible to know right now which of them may have been hired to fill out the show's Skrull ranks.
However, it's worth noting that even if Emilia Clarke isn't playing a Skrull in "Secret Invasion," that doesn't mean fans won't get to see the actor undergo a Skull transformation at some point in the series. The unique aliens are, after all, capable of impersonating any human beings they choose to disguise themselves as, which means fans may very well get to see certain Skrulls posing as everyone from Nick Fury and Maria Hill all the way to the MCU's most powerful heroes. All of which is to say that, when Skrulls are involved, the possibilities truly are endless.
Unfortunately, Marvel fans will have to wait a bit longer to find out which actors in the "Secret Invasion" cast are playing Skrulls in the Disney+ series, and which are playing characters that will probably have the unfortunate luck of being impersonated by members of the alien race.