The Big-Budget Sci-Fi Sequel Emilia Clarke Regrets Filming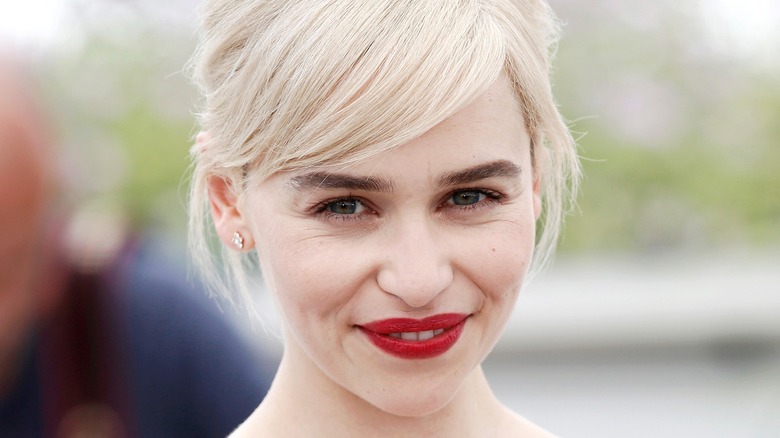 Andrea Raffin/Shutterstock
Emilia Clarke has built an impressive screen career for herself thus far. While most fans will probably best recognize her for her star-making performance as Daenerys Targaryen on HBO's "Game of Thrones," Clarke has also successfully made the jump from television to film. The actor hasn't limited herself to one genre or type of film either, which would have arguably been easy to do after appearing in a massive fantasy series like "Game of Thrones." Indeed, Clarke has appeared in everything from straightforward romantic dramas like "Me Before You" to thrillers like "Above Suspicion," and has even starred in some notable blockbuster franchise films, including 2018's "Solo: A Star Wars Story."
However, not every project that an actor takes on is going to work out the way they hope, and it seems only logical to assume that most thespians have a film or two they wish they hadn't made. At the very least, that's certainly the case for Emilia Clarke. In fact, the "Game of Thrones" actor has admitted that one of the most miserable experiences of her career involved filming a rather significant big-budget sci-fi film from 2015.
Emilia Clarke regrets starring in Terminator Genisys
During a 2019 interview with Vanity Fair, Emilia Clarke admitted that shooting 2015's "Terminator Genisys" was not a good time for her or anyone else involved in it. Clarke revealed that even director Alan Taylor, who helmed more than a few "Game of Thrones" episodes prior to making "Genisys," was not the same during the film's production. "He was not the director I remembered," Clarke said. "He didn't have a good time. No one had a good time." 
Clarke further admitted that she was actually relieved that the film wasn't a hit at the box office or with critics because it meant she didn't have to star in any potential sequels. Funnily enough, "Terminator Genisys" and director Josh Trank's critically maligned "Fantastic Four" were actually filmed in close proximity of each other, and according to Clarke, the latter film's crew had jackets made that read, "At least we're not on Terminator."
When it was released in 2015, "Genisys" grossed $440 million worldwide (via Box Office Mojo) and it currently holds only a 27% Tomatometer score on Rotten Tomatoes. Due to its lackluster financial and critical performances, all plans for sequels to it were scrapped. 2019's "Terminator: Dark Fate" was greenlit instead and ended up receiving a far more positive critical reception than "Genisys," though, "Dark Fate" also underperformed at the box office.