Fans Are Losing It Over Nick Fury's New Look In Secret Invasion
On November 12, 2021, Disney+ Day brought new and potential viewers many interesting and exciting revelations about the streamer's content plans for the not-too-distant future. As you might expect, at any Disney event, people tend to clamor for news of the House of Mouse's superhero branch. Disney+ Day gave precisely that with a neat "Marvel Studios' 2021 Disney+ Day Special," which starts with a fond glance at past MCU glories like "WandaVision" and "Falcon and the Winter Soldier," before transitioning into a look into all the cool, upcoming Marvel Cinematic Universe shows on the Disney+ slate. 
Though it's still a fairly long way away, many of the Disney+ MCU shows seem to be paving the way for "Secret Invasion," the presumably large-scale alien invasion show starring Samuel L. Jackson's Nick Fury, and Ben Mendelsohn's Talos. Fortunately, Disney+ Day offered the first glimpse of this show by giving you the first look at Fury ... and fans are promptly losing their minds over it. 
Fans are loving Nick Fury's new look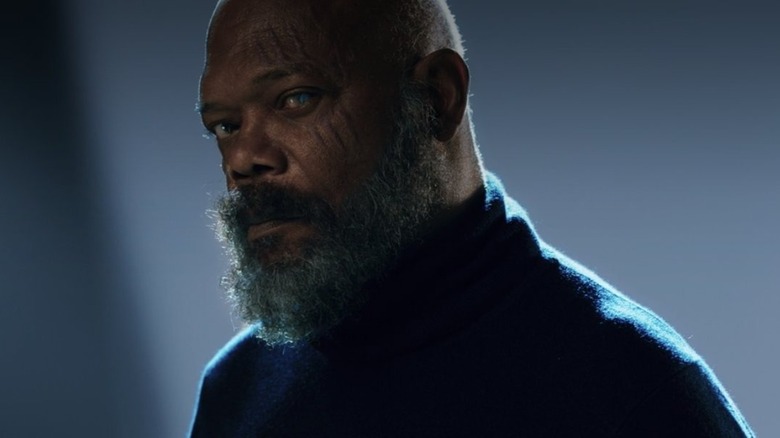 Marvel Studios/Disney+
The short clip of the usually suave and well-groomed Fury eyeballing the camera with a noticeably scruffy, grey beard — and without his signature eyepatch — has caught the attention of many fans, who are absolutely loving his new, ragged look. "I'm officially hype for Secret Invasion. I need older, crazier Nick Fury," @manny_NES tweeted. "Nick Fury is back, s*** is going down," @defaultbrekker commented Fury's grungy visage. Twitter user @MoviesThatMaher posted an image of Fury's traditional MCU design side-by-side with the spymaster's "Secret Invasion" look, and noted that it's a vast improvement. "Nick Fury Upgrade For Me," they wrote.
Since Talos already impersonated Fury — with the latter's permission — in "Spider-Man: Far from Home," some people have even toyed with the idea that this new, dangerous-looking Fury is actually the real version, and the eyepatch guy with the trimmed goatee might have been an impostor all along. "Imagine Nick Fury has been a Skrull this whole time and the real one is an Old Man Fury coming back to kick some ass," @MrTonyNacho wrote. 
It remains to be seen how many identity-themed twists and turns the plot of "Secret Invasion" will have, but one thing is certain: Fans are fully on board with this weathered, mean-looking version of Nick Fury.