Halyna Hutchins' Husband Finally Breaks His Silence On Alec Baldwin's Rust Shooting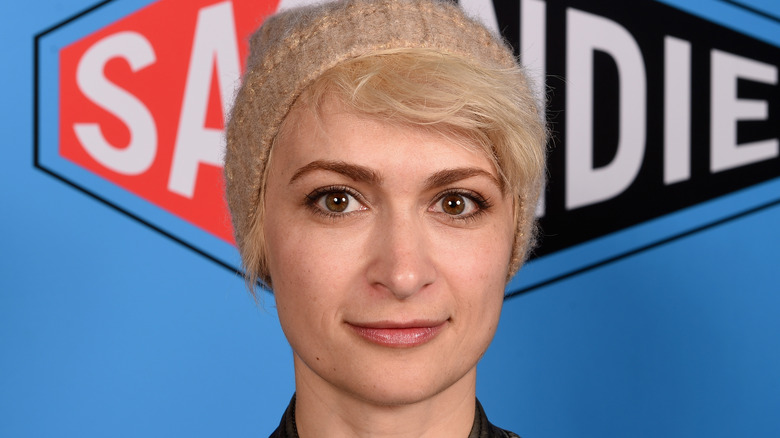 Fred Hayes/Getty Images
Halyna Hutchins' husband, Matt Hutchins, has broken his long-standing silence on the issue of his wife's shooting death, which occurred when a gun held by Alec Baldwin discharged and killed her on a New Mexico movie set last year. In a new interview, which will air tomorrow on NBC, the late cinematographer's widower challenged Baldwin's claims of innocence, saying he felt "so angry" watching the "30 Rock" actor's interviews in recent months.
Asked by interviewer Hoda Kotb whether blame for the death lies with Baldwin, Matt Hutchins said, "The idea that the person holding the gun, causing it to discharge, is not responsible, is absurd to me," as quoted by Entertainment Tonight. In an appearance on ABC in November, Baldwin discussed his perspective on the incident and claimed that he did not pull the trigger on the weapon which killed the 42-year-old Halyna, saying, "I would never point a gun at anyone and pull a trigger at them." What caused the gun to discharge is one of the central — and yet uncertain — facts around which the "Rust" investigation hinges.
In reaction to Baldwin's repeated claims of innocence, Matt Hutchins responded, "Watching him, I just felt so angry. I was just so angry to see him talk about her death so publicly, in such a detailed way, and then to not accept any responsibility after having just described killing her."
Alec Baldwin has staunchly maintained his innocence regarding Hutchins' death
The Hutchins family launched a lawsuit last week against Alec Baldwin and other members of the "Rust" production, alleging wrongful death stemming from "reckless behavior." Baldwin responded by blasting the suit as "false," reiterating that the death of Halyna Hutchins was a freak accident and that a gun containing live ammunition should never have been handed to him on set. It is a position he has held for months as law enforcement in multiple states investigates the circumstances surrounding the incident.
The Hutchins family lawyer is making the case that Baldwin and other producers on the film were responsible for ensuring on-set safety. Multiple reports in the immediate wake of the tragedy painted a picture of lax safety standards, including accounts of multiple prop weapon misfires. In his interview, Matt Hutchins made clear that he views other parties, not just Baldwin, as responsible for his wife's death, saying, "Gun safety was not the only problem on that set. There were a number of industry standards that were not practiced and there's multiple responsible parties." 
The Hutchins' suit is only the latest in a series of filings against the "SNL" alum.