Cassandra Freeman Explains How Bel-Air Explores Aunt Viv In 2022 - Exclusive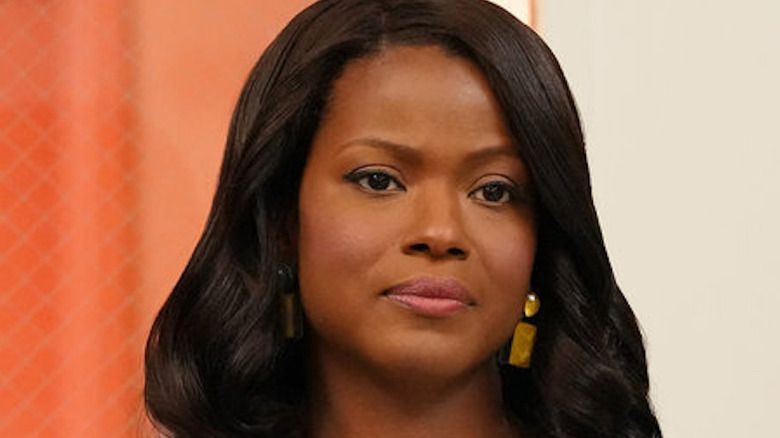 Evans Vestal Ward/Peacock
In the original sitcom, "The Fresh Prince of Bel-Air," we got to know Vivian Banks (played by Janet Hubert for the show's first three seasons and then recast with Daphne Maxwell Reid for the last three) as a steady presence in her family members' lives. Fierce and fabulous, she was a hardworking college professor who was also supportive but no-nonsense with her children and her nephew Will (Will Smith). Given what an inspiration the sitcom character continues to be, it would be understandable if "Bel-Air" — Peacock's dramatic reboot — didn't make many changes to the character. Yet, while the new series adheres to the basic template of the original version of Aunt Viv, it's also made some important distinctions that are perfect for the show's present-day setting.
The revamped Vivian Banks is an art history professor who gave up a promising painting career to support her husband's aspirations and raise their children. When the new show begins, she's starting to question the choices she made and wonder if it's time to rediscover her passions. Played with charisma and vitality by Cassandra Freeman, this updated version of Aunt Viv is still strong and smart but less certain than her sitcom counterpart — and in Freeman's hands, she has quickly become one of the most nuanced and fascinating characters on TV.
In an exclusive interview with Looper, Freeman discussed how "Bel-Air" reimagines Aunt Viv in 2022 and how she ensured her version of the character stood apart from that of the sitcom.
An updated Aunt Viv is rewriting the role of mothers on TV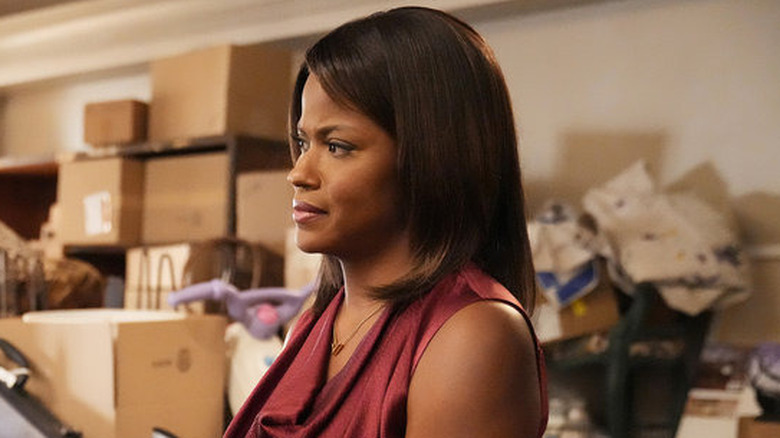 Greg Gayne/Peacock
One of the challenges of rebooting a show as iconic as "The Fresh Prince of Bel-Air" is that sometimes the new versions of the characters are too reminiscent of the original. To ensure that wouldn't happen here, the actors in the new "Bel-Air" (now streaming on Peacock) were given a very important note. "[Co-writer/executive producer] Morgan Cooper told us that we didn't have to fill the shoes, we got to make our own shoes," actress Cassandra Freeman (who plays Aunt Viv) revealed. "Because those shoes ... are so much a part of the culture, they're tattooed on our brain. It was much more about, 'Who are these people today in 2022?' A lot of things stay the same, and then some real big subtleties might change along the way."
For Freeman, bringing Aunt Viv into 2022 meant digging into the hopes and dreams she gave up when she decided to marry and have children, a highly relatable storyline that's rarely seen on TV and even more rarely seen in the context of the story of a Black family. As Freeman explained, "With her, it's about her art career — that was a big thing — and about what happens to a woman when she puts her career on the back burner to support her husband's dream and to support her kids. That's something that we all know about. I don't think we've seen it through the prism of someone who looks like me, necessarily."
Freeman added, "That's why [in] those first few episodes, Vivian looks the way she looks. She looks pretty cookie cutter, she looks perfect for the world of 'Bel-Air,' but who is she on the inside? You get to see that tension and what blooms out of the discovery of her maybe reclaiming her passion of art."
New episodes of "Bel-Air" are available on Thursdays on Peacock.