Bel-Air's Adrian Holmes & Cassandra Freeman Bring Uncle Phil And Aunt Viv To Life - Exclusive Interview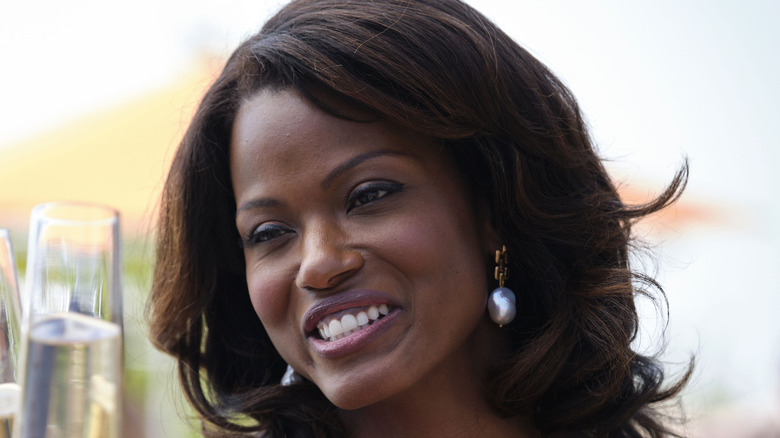 Adam Rose/Peacock
At its core, "The Fresh Prince of Bel-Air" was always the story of a family that loves and wants the best for each other. Setting that tone were the family's patriarch and matriarch, Philip and Vivian Banks. James Avery and Janet Hubert followed by Daphne Maxwell Reid left their indelible mark on Uncle Phil and Aunt Viv, respectively. Yet, in "Bel-Air," Peacock's dramatic reboot of the sitcom, Adrian Holmes and Cassandra Freeman make the characters their own. Holmes' Uncle Phil is a lawyer running for Los Angeles District Attorney, a campaign that forces him to grapple with how to connect with African Americans who aren't as well off as he is. Freeman's Aunt Viv is an artist who, after years of putting her husband and children's needs ahead of her own, is poised to get back to doing what she loves. 
Holmes and Freeman both have a long list of credits in TV and film. Holmes is known for roles in shows like "V-Wars" and "Arrow," while Freeman has made noteworthy appearances in series like "The Last O.G." and "Luke Cage." But, they're especially fun to watch as the leaders of the "Bel-Air" Banks family. Polished, smart, and always there for their children and their newly arrived nephew Will (Jabari Banks), Phil and Viv have a warm, supportive relationship that will surely resonate with viewers. And the drama of "Bel-Air" enables the show to explore these characters even more deeply than the sitcom. In just the first few episodes, Holmes and Freeman have started to reveal just how nuanced and layered their versions of the characters are.
In an exclusive interview, Looper spoke to Holmes and Freeman about the challenges of stepping into such well-known roles, how they ensured the Banks stayed sympathetic despite their enormous wealth, and how their real-life friendship helped them develop their onscreen relationship.
Paying homage and creating something new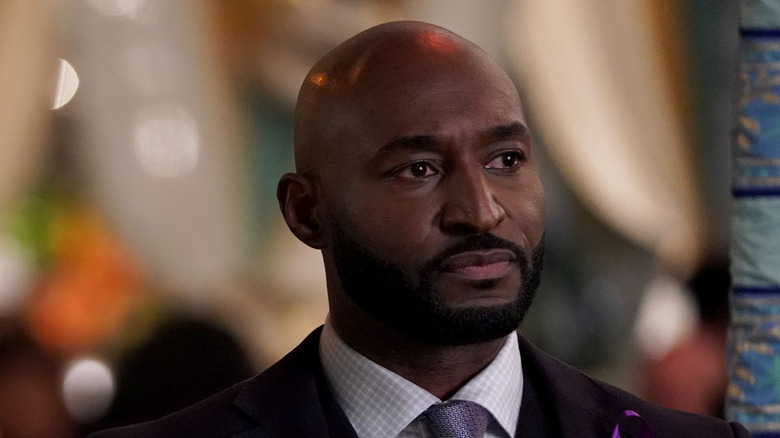 Tyler Golden/Peacock
You're both playing beloved characters that are embedded in the culture in a lot of ways already. Adrian, in particular, you're playing a character originated by the late, great James Avery. Did that add an additional layer of challenge in developing this version of Uncle Phil?
Adrian Holmes: Well, it made it that much more special because of what he did and the fact that he's not here with us anymore, unfortunately. I really wanted to make sure that I did it justice, that I was of service to this iconic role. I really wanted to be authentic, and tell my side of it, like how I saw the role. It's a tribute to him for me, giving back to him.
Cassandra, how did you go about differentiating your version of Aunt Viv from the versions in the sitcom?
Cassandra Freeman: [Co-writer/executive producer] Morgan Cooper told us that we didn't have to fill the shoes, we got to make our own shoes. Because those shoes, like you said, are so much a part of the culture, they're tattooed on our brain. It was much more about, "Who are these people today in 2022?" A lot of things stay the same, and then some real big subtleties might change along the way.
With her, it's about her art career – that was a big thing – and about what happens to a woman when she puts her career on the back burner to support her husband's dream and to support her kids. That's something that we all know about. I don't think we've seen it through the prism of someone who looks like me, necessarily. That's why [in] those first few episodes, Vivian looks the way she looks. She looks pretty cookie cutter, she looks perfect for the world of Bel-Air, but who is she on the inside? You get to see that tension and what blooms out of the discovery of her maybe reclaiming her passion of art.
A grounded exploration of class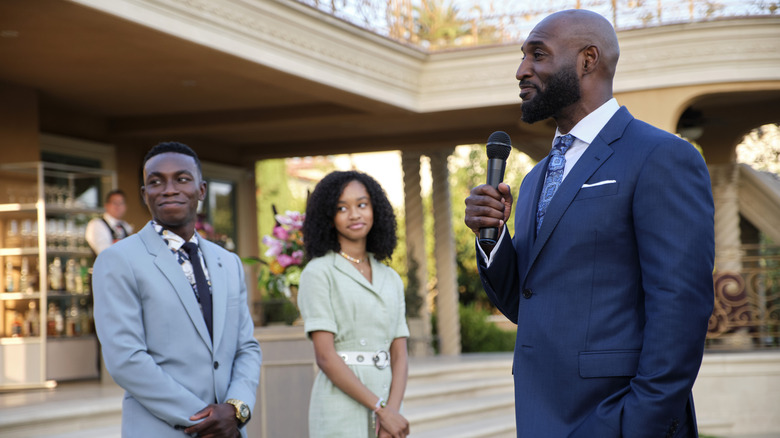 Adam Rose/Peacock
The show is a really interesting exploration of class. Often in TV dramas, the rich are glamorized or they're vilified, but this is a lot more grounded than that. How did you ensure that your characters were sympathetic even though they've obviously got remarkable wealth and resources?
Freeman: Wealth doesn't mean that you are without troubles. Maybe — I'm not the writer — but the journey that we've been on, I keep saying it's not so much about the currency inside your bank account as the currency of the family and the relationships that you build. The quality of your life is really built on the quality of your relationships, and this show really echoes that sentiment, [along with] trying to humanize a regular family and love. When you see it through Black people, it's almost like looking at it through an immigrant's experience of, "These are people who didn't come from money. These are people who came from North Carolina, who came from Philadelphia."
Holmes: Who worked hard. Yeah, yeah, yeah.
Freeman: That's true for a lot of people who are first generation wealth builders as they are.
Holmes: Wealth builders, yeah.
Freeman: That's the thing that you get to see in this. In some shows, they try to pretend like that doesn't happen and we're about the aspiration of the money, and instead, it's like, "What about the whole culture? What about the family?" In general, even our relationship to each other and to the family, it's a lot of subtle conversations that actually haven't been talked about before, and so it really means a lot to hear that you think it was grounded.
'Instant chemistry'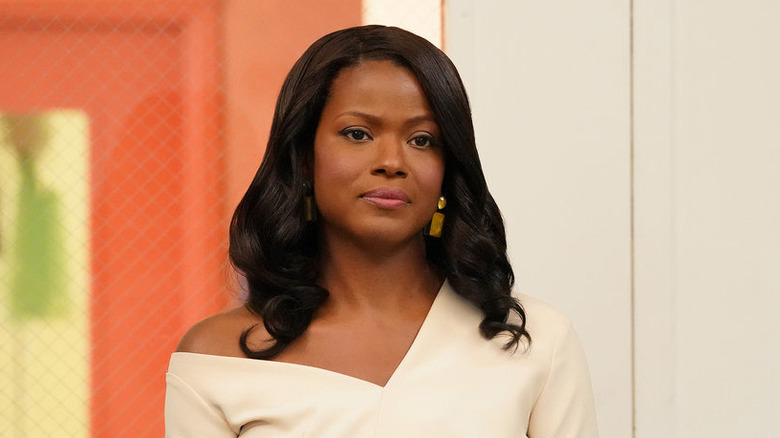 Evans Vestal Ward/Peacock
I loved the relationship between Aunt Viv and Uncle Phil because it's clear that they have a camaraderie and that they are a joint force in their kids' lives and in each other's lives. How did you develop that onscreen relationship together?
Holmes: Well, we're friends. We've known each other for years and we've worked on a couple other projects, so there was an instant chemistry and a safety there. We felt very comfortable. To have success, there has to be a united front, you two have to be in alignment with each other, and you have to have a respect for each other, and that's what Philip and Viv have. They have a lot of respect for one another.
Freeman: And we have that in real life.
Holmes: And we have that in real life.
Freeman: I'm his biggest fan, okay?
Holmes: And I'm her biggest fan.
Freeman: Okay.
Holmes: Life is imitating art in that way, where there's so much respect and care for each other.
Freeman: That's what the writers wanted to see too. You'll see them go through some things this season, but the way they deal with it, I'm so in love with. Listen, when you see some of these episodes, you're going to be like, "This is such adult content." You know, when I was a kid growing up, I loved "Thirtysomething," because I loved some of those adult conversations that they tried to wrestle with. This is us trying to do that, and we try to do it in our own way but with, if I dare say, a little bit more swag. [Laughs]
Holmes: Swag. [Laughs]

New episodes of Bel-Air are available on Thursdays on Peacock.
This interview was edited for clarity.