Why Catwoman From The Batman Looks So Familiar
"The Batman" gives audiences a brand-new version of Gotham City where the Dark Knight has already been operating for two years when the Riddler (Paul Dano) rears his head to root out the corrupt officials who take advantage of the power they have. The film also sees Bruce Wayne (Robert Pattinson) struggling with his parents' legacy when the Riddler's mission involves secrets from his family's past. It seems like this new take on the Caped Crusader will take a different approach to the classic story than the one fans are familiar with.
Pattinson recently opened up about the role to GQ, explaining, "He doesn't have a playboy persona at all, so he's kind of a weirdo as Bruce and a weirdo as Batman, and I kept thinking there's a more nihilistic slant to it." Thankfully, this weirdo has a few allies on his side to keep him on the straight and narrow when taking on the criminals of Gotham. Alfred Pennyworth (Andy Serkis) helps Bruce forge his Batman persona, aiding him in building his costume, the Batmobile, and the Batcycle. The vigilante also works closely with Lieutenant James Gordon (Jeffrey Wright) of the Gotham City Police Department.
But Batman has another frenemy on the scene, a mysterious cat burglar who has ties to the mob. Selina Kyle, aka Catwoman, is played by Zoë Kravitz, and here's why she looks so familiar.
Zoë Kravitz starts a band in Californication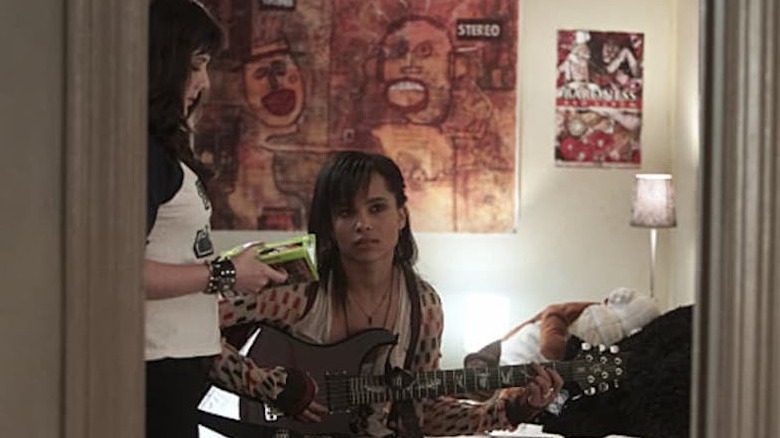 Showtime
Back in 2011, Zoë Kravitz joined the dramedy series "Californication," which stars David Duchovny as Hank Moody — a writer with a penchant for drinking, drugs, and numerous affairs — while trying to keep his daughter, Becca (Madeleine Martin), happy. Kravitz shows up in Season 4 as Pearl, the singer of an all-girl rock band called Queens of Dogtown — and she invites Becca to join the group. Pearl and Becca get up to plenty of mischief over the course of the series, even stealing Hank's Porsche in Season 4, Episode 9, "Another Perfect Day."
Kravitz's performance as Pearl shows she can have a lot of fun with a role, although the writers couldn't resist making a joke about her famous father, Lenny Kravitz. In the series, Pearl's dad, Ben (Michael Ealy), is dating Hank's ex-girlfriend, Karen Van Der Beek (Natascha McElhone) — but the troubled writer jokes that Ben is Lenny Kravitz. It's a meta-joke that most "Californication" fans will get a kick out of.
Zoë Kravitz becomes a mutant in X-Men: First Class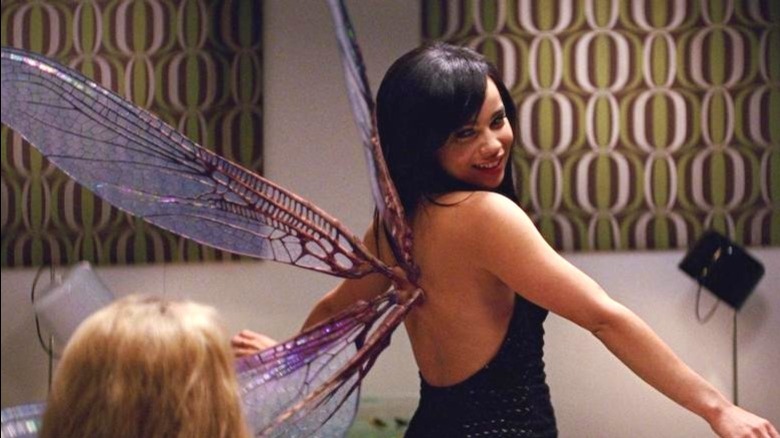 20th Century Studios
"The Batman" star's first comic book role came in 2011 when she starred in "X-Men: First Class," Fox's first mutant prequel. Zoë Kravitz plays Angel Salvadore — also known as Tempest in the comics — a mutant with insect wings and the ability to spit acid. She shows up midway through the film when Charles Xavier (James McAvoy) and Erik Lensherr (Michael Fassbender) offer her a spot on their mutant team. She's working as an exotic dancer when she meets the duo, although she's convinced by their proposal when she realizes they're also mutants.
Unfortunately, she decides to defect over to Sebastian Shaw's (Kevin Bacon) Hellfire Club after he attacks Division X. Angel even fights her former friends in the dramatic ending set during the Cuban Missile Crisis. It's a surprising move from Angel, who initially seems quite happy with their mission to help mutants. But Kravitz's work in the role proves that she can hold her own against other huge stars in a big-budget comic book movie. The star masterfully navigates Angel's moral ambiguity, which is definitely useful when it comes to playing Catwoman in "The Batman."
Zoë Kravitz joined the Wizarding World in the Fantastic Beasts series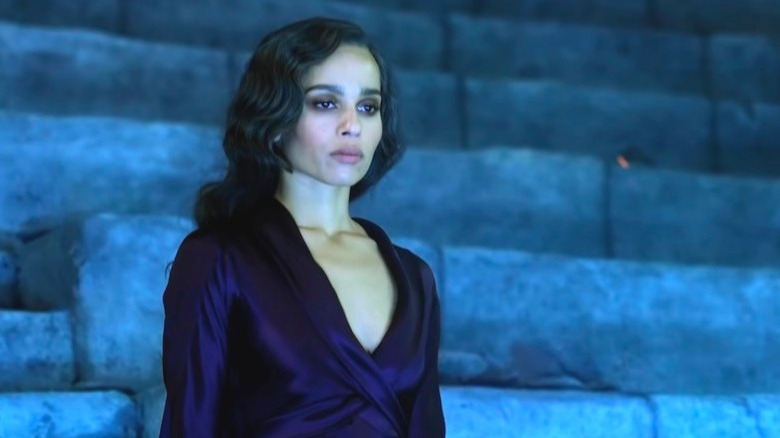 Warner Bros. Pictures
Zoë Kravitz once again proved that she can work well in a big franchise when she joined the Wizarding World, prominently appearing in the second film in the "Fantastic Beasts" series, "Fantastic Beasts: The Crimes of Grindelwald," as Leta Lestrange. That name should set off alarm bells among fans of the Wizarding World because she's one of Bellatrix Lestrange's (Helena Bonham Carter) ancestors. The star told the Los Angeles Times how much the role means to her in 2018, explaining, "This takes places [sic] in the 1920s, so what was it like to be a person of color in this world at this time?"
Kravitz suggested that Lestrange would have had a completely different experience in the Wizarding World than the likes of Harry Potter (Daniel Radcliffe) and his peers. "She might have been one of the only children of color in Hogwarts at that time. She's an outcast and whether it's spoken about or not, I associate that, of course, partly with what she looks like."
Unfortunately, it doesn't seem like Leta will return in future "Fantastic Beasts" films since she sacrifices herself to save her fiance, Theseus Scamander (Callum Turner), and her old friend Newt Scamander (Eddie Redmayne) from the Dark wizard Gellert Grindelwald (Johnny Depp). She's quickly burned to death by the villain's blue flames during his rally in Paris. Then again, this is a franchise all about magic, so it's not impossible she could return somehow.
Zoë Kravitz gets wrapped up in a murder in Big Little Lies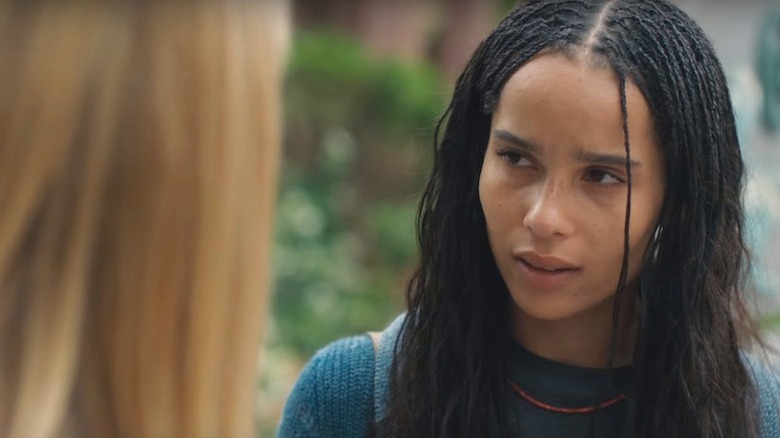 HBO
Zoë Kravitz recently showed off the true extent of her talent in HBO's buzzy drama "Big Little Lies," playing Bonnie Carlson opposite the likes of  Reese Witherspoon, Nicole Kidman, Shailene Woodley, and Laura Dern. In the first season, Bonnie is in the background of the show; she is quite happy in her marriage with Nathan (James Tupper) and gets on well with his daughter Abigail (Kathryn Newton). Unfortunately, as more secrets reveal themselves about the Monterey residents, Bonnie's life is turned upside down.
Kravitz's performance really excels after Season 1's shocking finale, which forces the Monterey Five to hide more secrets from the authorities to make sure none of them end up going to prison. Without getting into spoilers, the weight of Bonnie's turmoil causes her to push Nathan away, and she even lashes out at her mother (Crystal Fox) when she comes to Monterey to help her. Kravitz really shows her range in "Big Little Lies," and she'll bring that same complexity to Selina Kyle in "The Batman."