Timothy Spall From The Last Bus Shares A Heartwarming Tribute To Fellow Harry Potter Alum Alan Rickman - Exclusive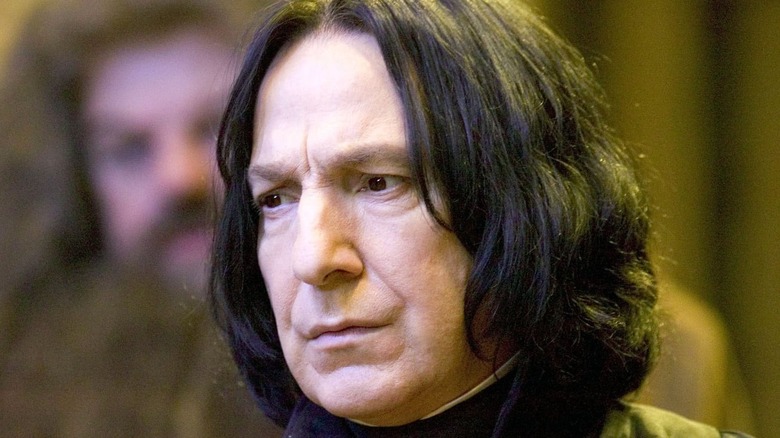 Warner Bros. Pictures
Alan Rickman is best known for his villainous roles like Snape in "Harry Potter" and Judge Turpin in "Sweeney Todd," yet in real life, the late actor couldn't be further from the often insidious characters he has played. If you ask any of his former cast mates what he was like in reality, they'll provide endless stories detailing Rickman's love of children and his deeply compassionate nature. Clearly, it takes a phenomenal actor like Rickman to act so believably sinister onscreen when he was nothing but lovely offscreen.
The year 2016 took too away too many legends including Rickman, Carrie Fisher, Gene Wilder, and Debbie Reynolds, and showbiz just hasn't been the same. While we miss seeing these icons grace our screens, what they brought to the world around them was far more valuable. And though they're not here with us anymore, their families and cast mates are here to carry on their legacy and share stories to the delight of many fans. That includes actor Timothy Spall who sat down with Looper for an exclusive interview, where he shared a heartwarming tribute to his "Harry Potter" and "Sweeney Todd" co-star.
Honoring the character of the legendary Alan Rickman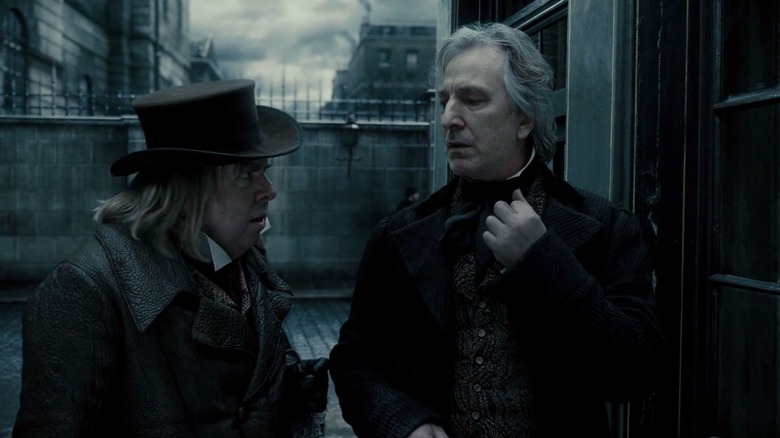 Warner Bros. Pictures
When it comes to working with Alan Rickman, co-star Timothy Spall said there have been so many fond memories. "The one thing I can tell you about Alan, considering that, apart from the tragedy of his loss and losing him at such a young age, really, in this day and age, he practically played so many sinister, rather formidable, terrifying characters — not always, but [he] was brilliant at it." Spall added that Rickman's lovely disposition was quite the opposite. "The man himself was so different, [he] was so warm, was so kind and genuinely kind. On 'Harry Potter,' even when he wasn't working, there wasn't a day when he wasn't coming in with a group of kids. There [were] always phone calls, 'Can I come on the set?' He'd be bringing friends' children to show them around."
Spall even has his own story about how Alan Rickman made his loved ones feel special. "On one occasion, he met my mother-in-law, who was with my wife. He wasn't used to meeting really anybody, apart from me, and he was absolutely charming with her," Spall recalled. "He was a really charming, very witty, and deeply intelligent and funny man, and also very, very bright — and actually one of the best actors of his time, really. We've had the privilege of having him and the tragedy of losing him. It was great to work with him." 
Working with Rickman and his 'favorite actors' on 'Harry Potter'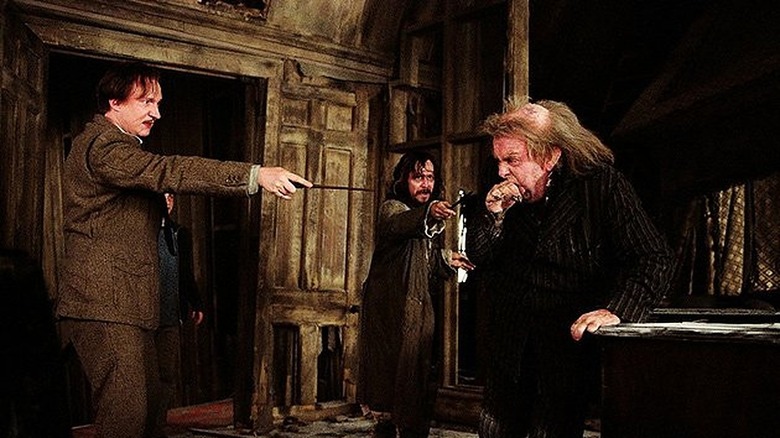 Warner Bros. Pictures
There are a number of sets that Timothy Spall and Alan Rickman shared in their careers, but one Spall is keen to reflect on is Scabbers' big reveal scene in the third "Harry Potter" film, "Prisoner of Azkaban," in which the actor plays Peter Pettigrew. As Spall recalled, "It wasn't until afterward that I realized there was Gary, there was David Thewlis, Gary Oldman, Alan [Rickman], and myself all of the same generations and with Daniel [Radcliffe] — and all funny — all playing public schoolboys, boys that go to paid school, but all from working-class backgrounds." He added, "All these actors that I think are amongst the best in Britain, so I was really rather delighted by that." Fans were, too.
Spall continued, "Also, the fact that these are three, and Daniel was a delightful boy, [a] young actor then, a young man and [an up and coming] actor, that these three are not only three of my contemporaries, but three of my favorite actors and three of the people I've always felt like, 'This is great.'"
Timothy Spall's latest project, "The Last Bus," is now available to rent on digital platforms.