The One Pop Culture Icon Harvey Guillen Wants To Appear On What We Do In The Shadows - Exclusive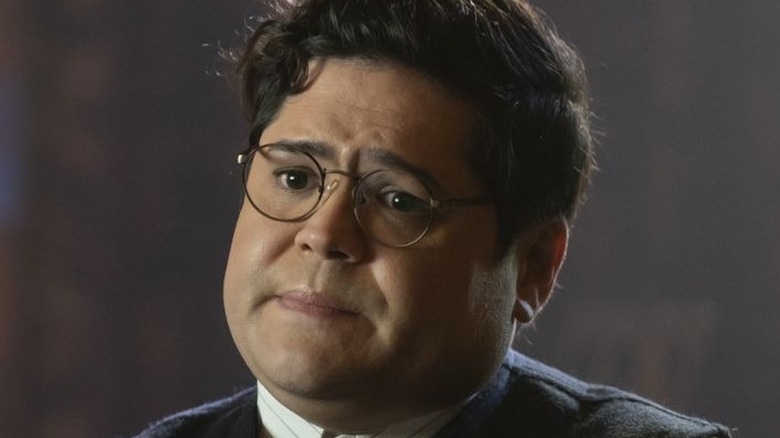 FX
We may receive a commission on purchases made from links.
Between Harvey Guillén's work as Jasper on "Reacher," George on "Zoey's Extraordinary Playlist," and Guillermo on "What We Do in the Shadows," the actor has played a wide range of characters in different genres. While Guillén admits he is pretty pop culture savvy, playing a character on "What We Do in the Shadows" constantly tests his TV, film, and music knowledge thanks to the endless number of deep-cut references he can uncover.
In fact, the actor has a particular talent for guessing the writer of each episode based on some of the pop culture nuggets they include, and the way in which each writer tackles Guillermo's scenes. Whether or not fans have noticed all of these references in the show is anyone's guess, but it makes for a delightful viewing experience.
Harvey Guillén spoke to Looper during an exclusive interview where he dished on his role in the lighthearted vampire series, revealing which pop icon he wants to appear in it in the future and discussed one of the show's most exciting references.
The queen of pop (and vampires)?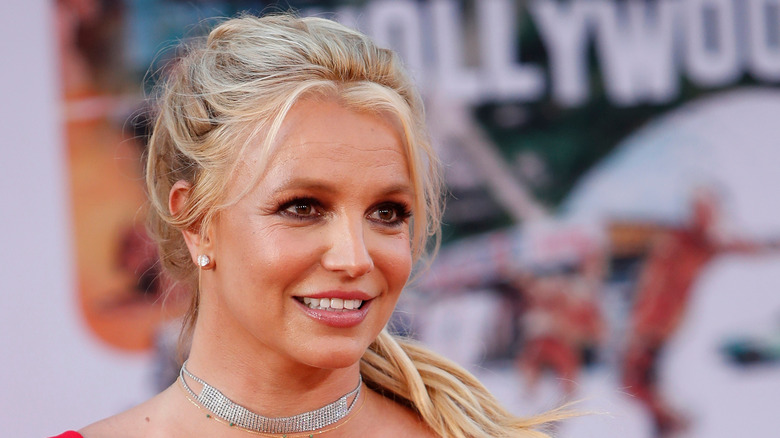 Kathy Hutchins/Shutterstock
Harvey Guillén has a few ideas when it comes to some of the pop culture icons he'd love to see make cameos on "What We Do in the Shadows." As he mused during a recent interview, "I would love to see Dorinda, from 'The [Real ]Housewives.' I would love to see Britney Spears come and knock on our door, and she's doing some kind of charity work."
Sharing a suggestion that Spears coming onto the show to teach the vampires how to do a music video for a Vampire Council promotion, Guillén said, "Yes, yes. I love that. Okay, yes. I'm putting it out into the universe. That's happening."
The actor added, "The stories are endless, but pop culture ... honestly, at this point, I'm obsessed down a rabbit hole with just the housewives. We could have any of the housewives come, and the closest one would be the New Jersey housewife. It would be Teresa, or Melissa could walk by. We might go to a store, go shopping for clothes at Melissa's shop. I'm getting excited thinking about it."
It's not the first time Guillén has paid tribute to Spears on TV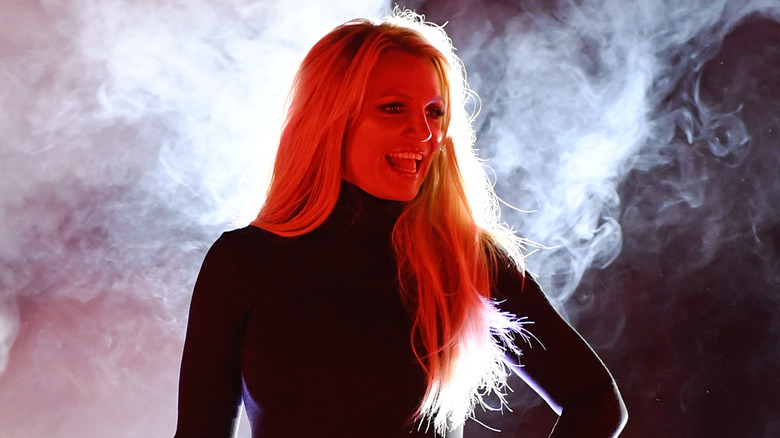 Ethan Miller/Getty Images
While not everyone may be up to date on Spears' incredible catalog of music, it's fun paying homage to her on "What We Do In The Shadows" nonetheless. As star Harvey Guillén explained, "Some people might not get it, because maybe they're not a Britney fan, but there [are] definitely pop culture references. I think, when [character] Colin Robinson says, 'In the words of my friend, Stefani Germanotta [Lady Gaga], it's like, 'I was born this way.'"
Guillén also admitted he's a big Spears fan. "Oh, I'm a huge Britney fan ... Britney, if you're [reading], come join us. Come join us in Staten Island," he said. "[It's] lovely what's happening, now that she's free to do what she wants, and all of that. I actually sing a Britney song in 'Zoey's Extraordinary Playlist,' as my farewell goodbye to the show. It was nice to get to sing Britney Spears on television." If you haven't seen Guillén's rendition of "Stronger" on that series, it's a must-see.
Harvey Guillén's latest show, "Reacher" is now streaming Season 1 on Prime Video.