Harvey Guillén Dishes On The Reacher Scenes That Made Him Queasy - Exclusive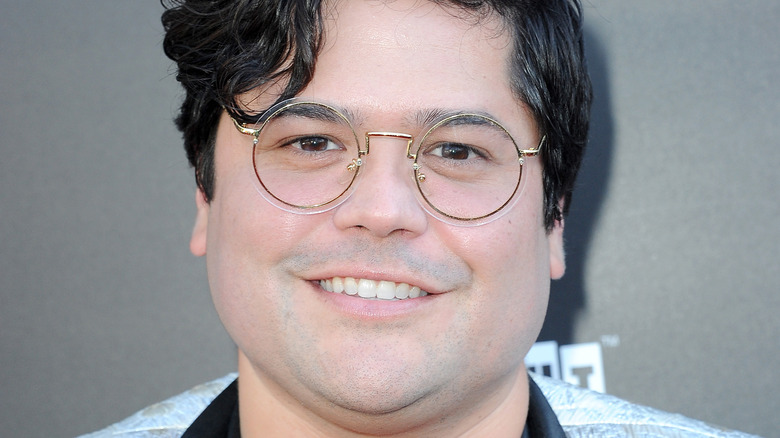 Albert L. Ortega/Getty Images
Gory TV and movie scenes may be difficult for fans to stomach, but just imagine how uncomfortable they can make actors in the moment. There's a reason the term "movie magic" is so prevalent in the Hollywood vernacular, and some of the best shows don't need CGI to make dead bodies and gory murder scenes look realistic. 
That was certainly the case for Harvey Guillén, who plays the medical examiner Jasper on the hit Prime Video series "Reacher." Of course, Guillén is no stranger to blood and guts, having three seasons of the vampire show "What We Do in the Shadows" under his belt. Still, gore doesn't come naturally to the actor. 
Looper spoke to Harvey Guillén during an exclusive interview, where the actor spoke about the "Reacher" scene that made him queasy and the most challenging aspects of being around fictional corpses. He also revealed what it was like working with Alan Ritchson as Reacher himself.
Blood, guts, and gore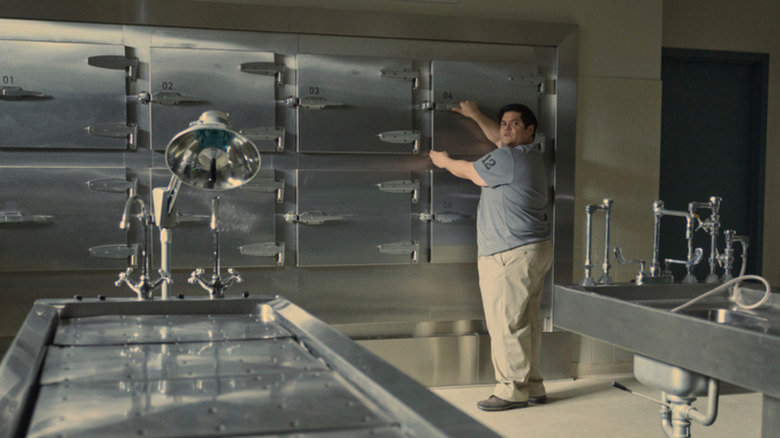 Prime Video
On whether or not the gory scenes in "Reacher" freaked Guillén out or made him queasy, the actor was quick to confirm. "No, it does. I'm really squeamish when it comes to blood. Here I am, doing a show as a medical examiner with bodies. Then, I also do '[What We Do in the] Shadows,' where I deal with blood all the time and corpses," he explained. Noting a particularly gruesome scene from "Reacher," Guillén added, "There was a scene where there was a body pinned to the wall, and it's cruising, and I [had] to examine it. Literally, that's the first joke that we have in the series, where I literally say, 'Holy s***, his balls are missing.'" 
Guillén noted about the line, "That was like breaking the ice. If you're going to make a ball joke, I guess that would be the moment. It looked so real. The body looked so real. The hair on the forearm, they did a fantastic job." Some might argue that they did too good of a job. 
Will the real Jack Reacher please stand up?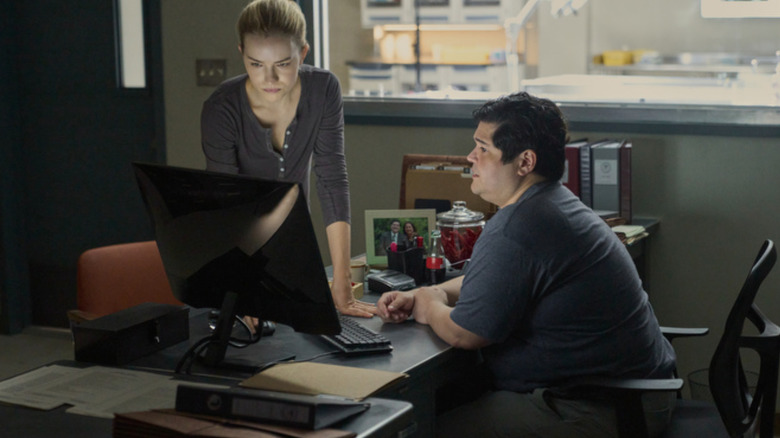 Prime Video
The body is so eerily realistic fans can't even tell it's synthetic, but Guillén confirmed the prop department's stellar work. He said, "Yes. I kept checking if it was. I was like, 'This isn't real.' They didn't tell me that they had animatronics attached to the back. At one point, the body was [moving] like it's a thing. I was like, 'No, no.' It was gruesome. I'll post a picture of it. I have some [behind-the-scenes] stuff." Could it possibly be creepier than the final product?
When asked about what it was like working with Alan Ritchson, Guillén said, "It was great. He was so in character. He is Reacher — the description of that character is Alan. It was perfectly cast ... Most of our scenes were with Willa, but we did a couple scenes with him, and he was so in character the whole time that it was like, he never broke character." He added, "It was great to see somebody from afar. It's like, 'Oh, he's in the moment, he's in this moment.' There [were] times when he would, during break or something, he would make a joke, but he was very committed to being Reacher." Well, that certainly plays out onscreen.
The first season of "Reacher" is now streaming on Prime Video.