The Best Jeff Bridges Movies Ranked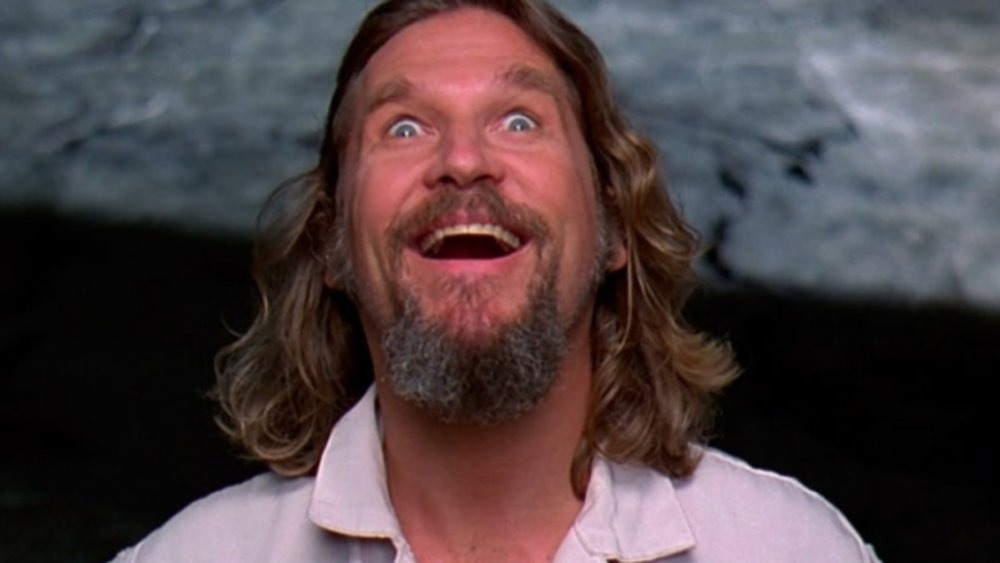 To many, Jeff Bridges will always be the stoner hero the Dude from the 1998 cult classic The Big Lebowski, but Bridges was making great movies long before he started arguing in bowling alleys with John Goodman. Bridges enjoys a long and distinguished acting career beginning in his childhood, when he made appearances alongside his father Lloyd and brother Beau on the action-adventure TV series Sea Hunt. He received his first Oscar nomination in 1972, though it would take a few decades for him to take one of the Oscars home. 
His time as an actor has afforded him the opportunity to play a wonderful variety of roles. He's played madmen, gunslingers, boxers, shock jocks, and lonely aliens. He's been a hungry entrepreneur, a victim of horrific trauma, and even a supervillain pulled straight from the comics. With his amazing talent, an unmatched acting range, and a heart open to every new kind of role he can find, Bridges' career has helped to build an impressive library of great films. To get to know them better, keep reading for the best Jeff Bridges movies ranked.
Jagged Edge (1985)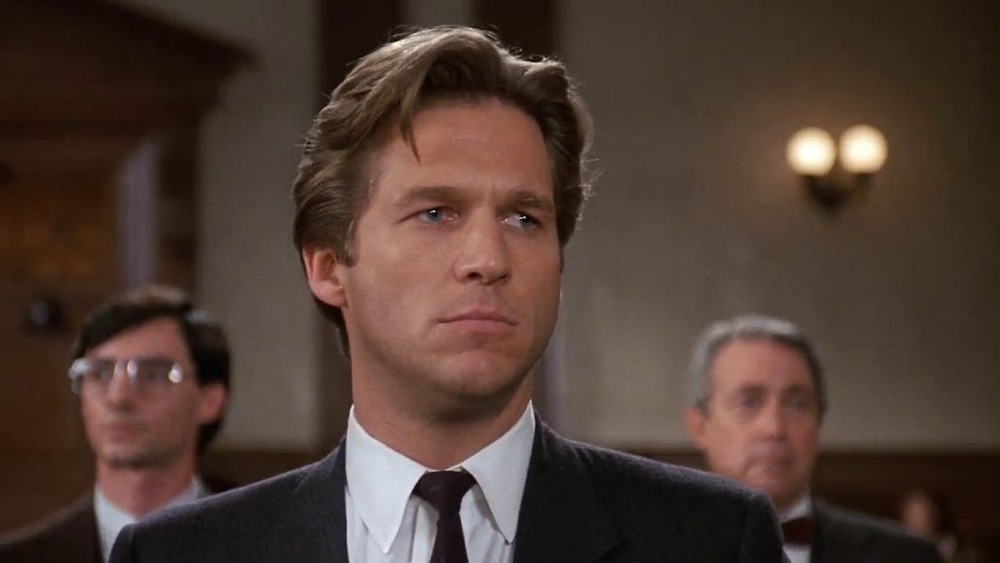 Considering all the school they have to go through, not to mention the grueling law bar exam, lawyers probably have a lot of rules they have to remember. Still, of all the guidelines you'd think wouldn't be that tough to memorize, "don't get romantic with your client" is probably pretty close to the top — particularly when you're a defense attorney and your client is on trial for murdering his wife. But that's the rule the hotly sought after attorney Teddy Barnes (Glenn Close) forgets when publisher Jack Forrester (Jeff Bridges) comes calling. Barnes wrestles with the question of Jack's innocence through the film, as well as whether their affair is real or just one more chess move from a master manipulator. 
Jagged Edge's harsher critics will tell you that not all of its compelling twist and turns really hold up to scrutiny, but even most of them will admit that if you can let go of the minutiae, it proves a splendidly crafted hardboiled mystery. As long as no one spoils the whodunnit, you'll be asking yourself the same questions Barnes asks about Jack's innocence and his motives — right up until the very last scene.
Tucker: The Man and His Dream (1988)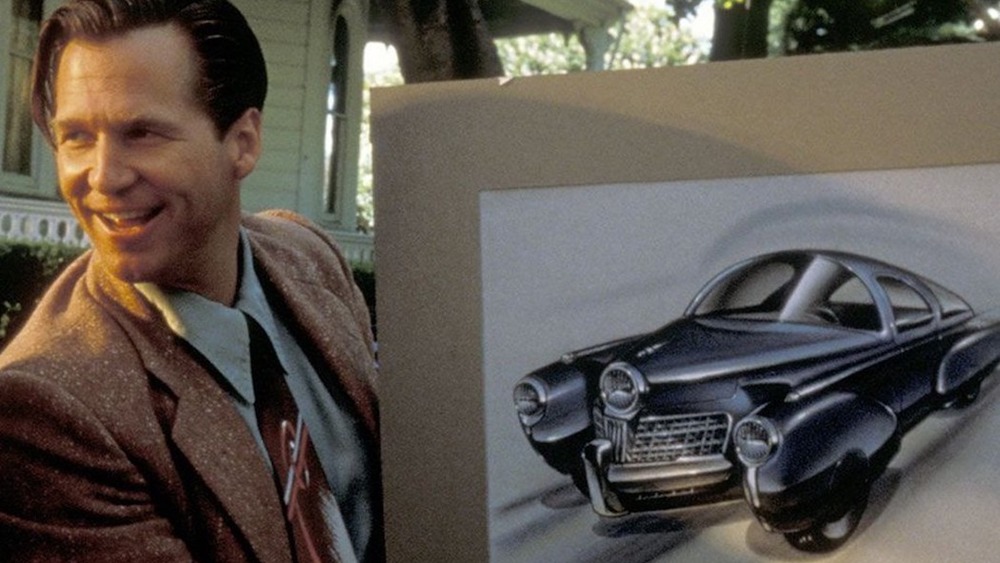 It's kind of funny that in 2008 Jeff Bridges played the villain of Iron Man, because 20 years earlier he played a character who has a lot in common with Robert Downey Jr.'s Tony Stark. Based on the real-life story of Preston Tucker, the 1988 biopic Tucker: The Man and His Dream chronicles the entrepreneur's struggles against an automobile industry that refused to see as far into the future as he could. Like Tony Stark, Jeff Bridges' Preston Tucker doesn't care about keeping his foot out of his mouth, he has no patience for those who can't see the genius of his designs, he fights against the government to keep its hands off his innovations, and he also likes driving cars a lot faster than what's generally advised — even once leading the police on a chase just for fun.
Directed by Francis Ford Coppola, Tucker is a wonderful kind of contradiction. While it's ultimately a tragedy — with its hero's dreams fated to be thwarted by much more powerful forces — there is no doom or gloom to Tucker. The film plays mostly as a hopeful dramedy that celebrates its hero's optimism, invention, and determination in spite of the Powers That Be aligned against him.
The Fisher King (1991)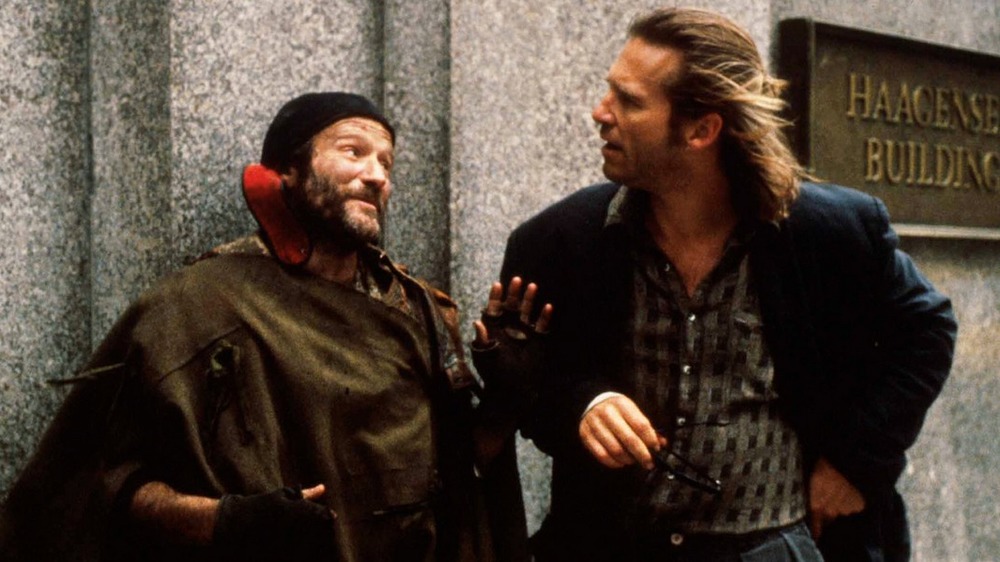 After New York City's most popular shock jock — Jack Lucas (Jeff Bridges) — says the wrong thing to an unstable fan, he unwittingly pushes his listener to go on a bloody rampage. In the aftermath, Lucas' broadcasting career is finished, and three years later he's close to rock bottom, drinking all day and wallowing in self-pity. One night while he's out on a bender, Jack is attacked by thugs and saved by the homeless and mentally ill Parry (Robin Williams), who sees himself as a medieval knight tasked to find the Holy Grail. When Jack learns he's partly to blame for Parry's insanity and sees Parry as the key to his redemption, his depression turns into action.
The Fisher King is a difficult film to nail down. Part fantasy, part drama, and part comedy, the story is served greatly by director Terry Gilliam, the Monty Python veteran known best for visually wild films like the dystopian Brazil and the drug-inspired Fear and Loathing in Las Vegas. The director's penchant for hallucinatory imagery is reined in more than usual, creating a more mainstream story and one in which Bridges and Williams shine. 
The Big Lebowski (1998)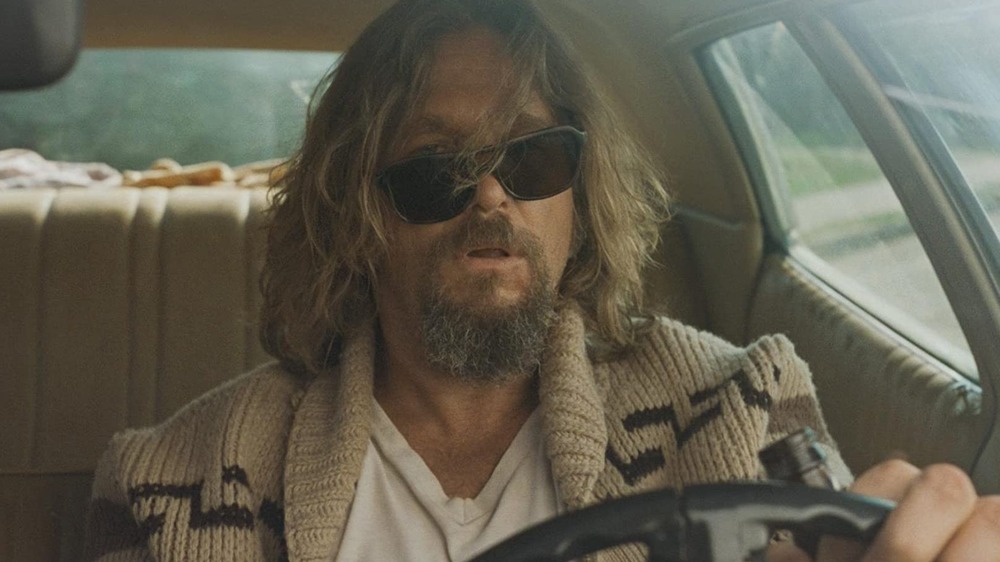 For better or worse, one of the roles for which Jeff Bridges is destined to be remembered is as the hapless hero of 1998's The Big Lebowski. Bridges plays Jeffrey Lebowski — better known as the Dude — who gets caught up in a bizarre plot involving the alleged kidnapping of a young trophy wife merely by virtue of sharing a name with a much wealthier Lebowski. An already bizarre situation is complicated by the Dude's friend and bowling partner Walter (John Goodman), the wealthier Lebowski's snobbish daughter Maude (Julianne Moore), and a trio of German nihilists who somehow manage to be even more clueless than the Dude and his allies. 
Imagine if you took a classic hardboiled noir mystery and replaced the street-savvy private eye in the fedora with a burned-out stoner who just wants everything to calm down so he can bowl in peace — that's The Big Lebowski. Along with Walter's infamous, profanity-filled outbursts and a wonderful ensemble cast, part of what makes The Big Lebowski so memorable is how embarrassingly easy it is to relate to the Dude. He doesn't care about any intellectually stimulating mysteries or battles for justice. He wants his Creedence tapes and the chance to bowl with his buddies, and everything else can go hang.

Starman (1984)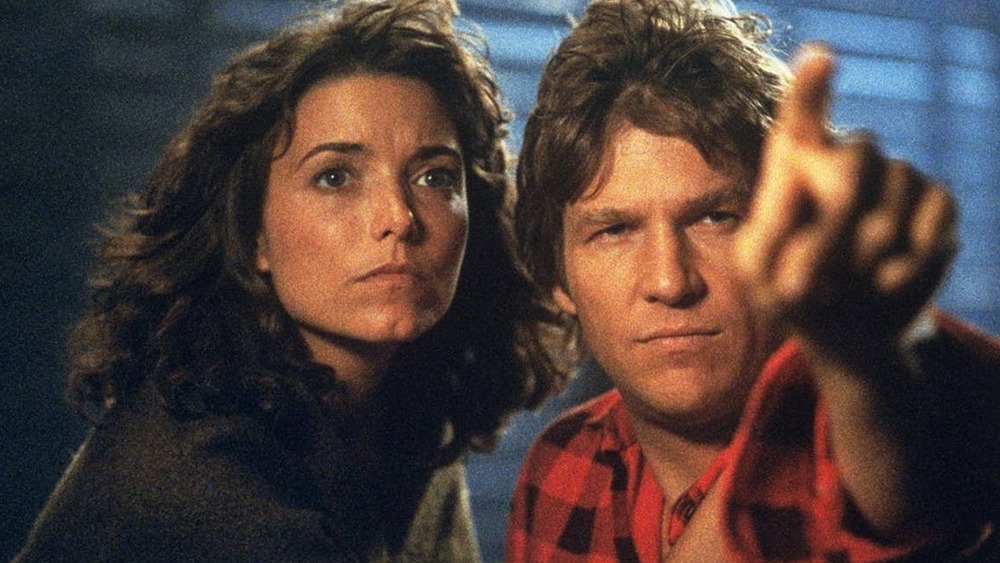 Two years after Steven Spielberg struck gold with E.T. the Extra-Terrestrial, Jeff Bridges played the titular alien in Starman, a somewhat different take on the idea of visiting aliens forming connections with humans. Bridges' character is the pilot of a scout ship, sent to Earth after his species encounters the Voyager 2 probe. Shot down and forced to clone the body of Jenny Hayden's (Karen Allen) dead husband, Starman wins Jenny's trust and the pair embark on a cross-country quest to reach Arizona — where Starman's alien brethren mean to rescue him.
The surprising directing choice for Starman is John Carpenter, who is known best for bloody thrillers and horror flicks like Halloween and Escape from New York. Unlike Carpenter's other work, Starman is a romance, and the director proves his versatile brilliance with the way he handles the relationship that develops between Jenny and her alien partner. Bridges and Allen both do marvelous jobs in roles that could, if handled with less skill and sympathy than the actors bring to bear, come off as a lot more ridiculous. Unlike E.T., Starman is a genre film for adults, with stakes and emotion that feel genuine every step of the way.
Fearless (1993)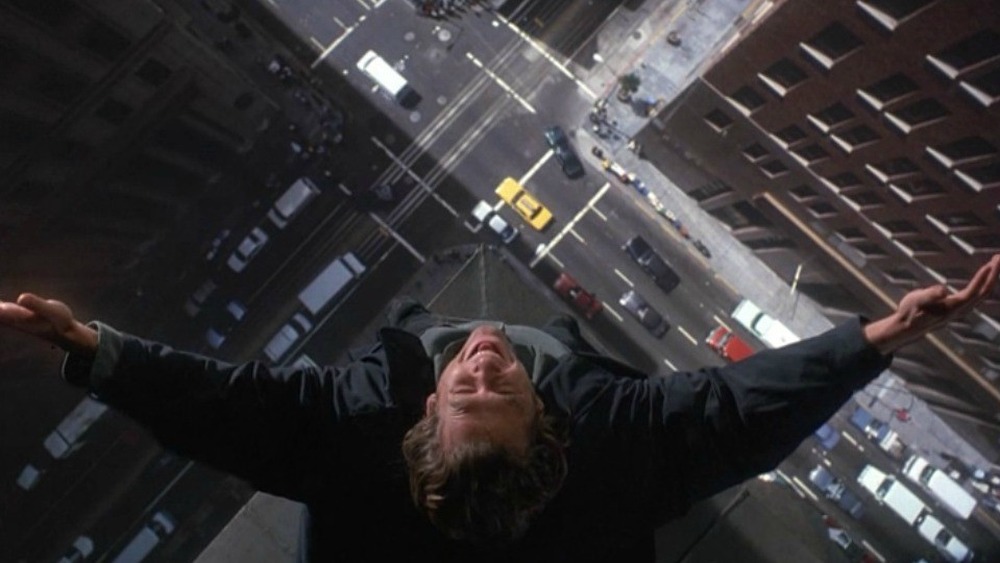 At first, there doesn't seem to be anything wrong with Max Klein (Bridges), the hero of Fearless. Sure, he acts weird — after surviving a plane crash that kills most of the passengers, Max simply walks away from the crash. He rents a car, visits an ex-girlfriend, and seems to have a new sense of love for the world. But as we soon come to learn, the trauma Max experiences in the crash leaves him a ticking time bomb. 
Max keeps pushing the limits — he eats strawberries even though he's been deathly allergic to them since childhood, and he walks along the ledges of tall buildings just to conquer his fear of heights. Toward the end of the film he drives his car full speed into a concrete wall in an extreme and dangerous scheme to prove to fellow survivor Carla (Rosie Perez) that she isn't to blame for her son's death. 
Directed by Peter Weir — known for great films like Dead Poets Society, The Truman Show, and Master and Commander: The Far Side of the World – Fearless is a brilliant and unique portrayal of trauma, and of how mental illness can sometimes feel like the exact opposite. 
Only the Brave (2017)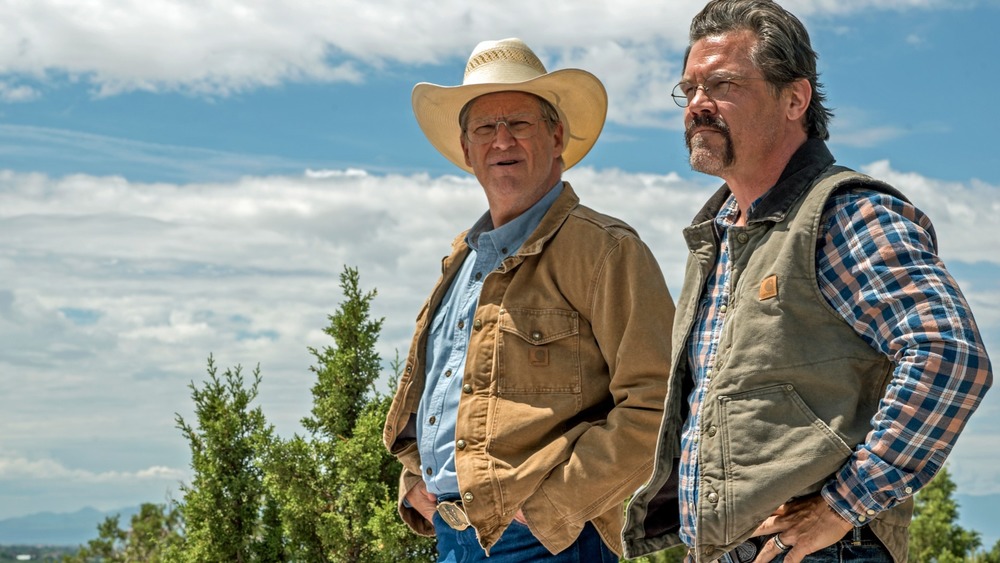 Among the many blessings Jeff Bridges has received in his career, he had the privilege to appear in 2017's Only the Brave — the retelling of the largest single loss of American firefighters since the terrorist attacks of 9/11. Bridges plays Duane Steinbrink, the Prescott, Arizona fire chief who helps Eric Marsh (Josh Brolin) put together the Granite Mountain Hotshots — an elite band of firefighters trained to tackle high priority fires, including deadly wildfires. 
Only the Brave gives us the chance to see the firefighters train to become the best of the best, as well as forge the unbreakable bonds that carry them through danger. Their courage faces its greatest test when they're called to save the town of Yarnell from a raging fire, and their heroism never falters.
Only the Brave is a heartbreaking, powerful film about the brotherhood and sacrifice of those who run toward danger rather than away from it.
Winter Kills (1979)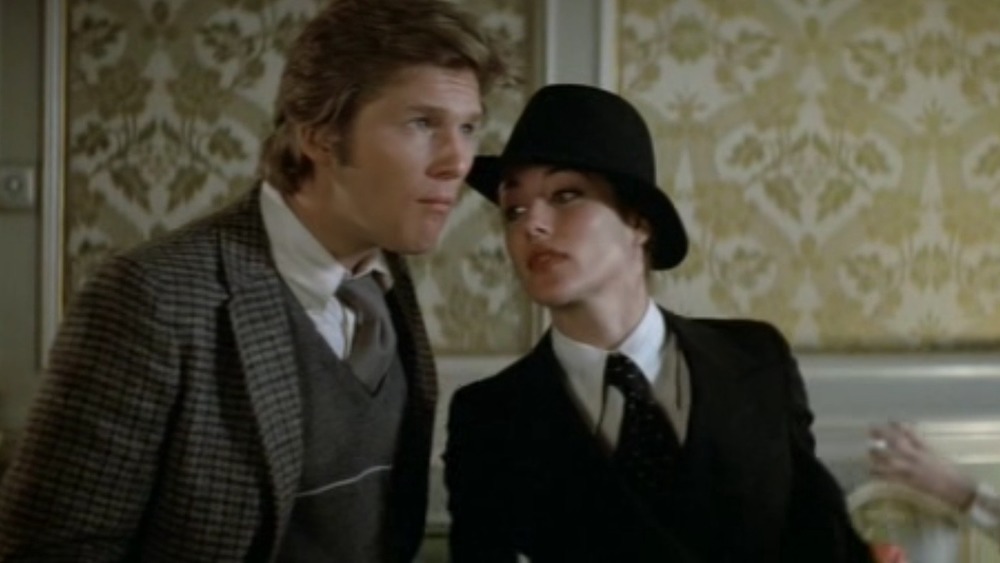 Twelve years before Oliver Stone made buzz terms out of phrases like "the magic bullet" and "back and to the left" with JFK, writer/director William Richert dealt with the conspiracy theories surrounding the assassination of John F. Kennedy in a very different way. Based on the 1974 Richard Condon novel of the same name, Winter Kills is a black satirical comedy starring Jeff Bridges as Nick Kegan — brother of Timothy Kegan, the murdered stand-in for Kennedy. Like Kennedy, Kegan is said to have been killed by a lone gunman, but when Nick encounters a man claiming to be his brother's second assassin 19 years after the fact, he begins digging deeper for the truth. 
Winter Kills wildly lampoons the tropes of conspiracy thrillers, having all of Kegan's witnesses killed off with absurd efficiency, and putting Nick himself in ridiculous situations — like being chased by a tank driven by Z.K. Dawson (Sterling Hayden). When Winter Kills was released in theaters, the general consensus seemed to be that no one got the joke and it proved a flop. The film has soon earned a cult following, giving it the chance to be recognized as — in the words of Stream on Demand's Sean Axmaker – "a wild kaleidoscope of clashing theories directed with wit and performed with gusto by an astounding cast."
Hearts of the West (1975)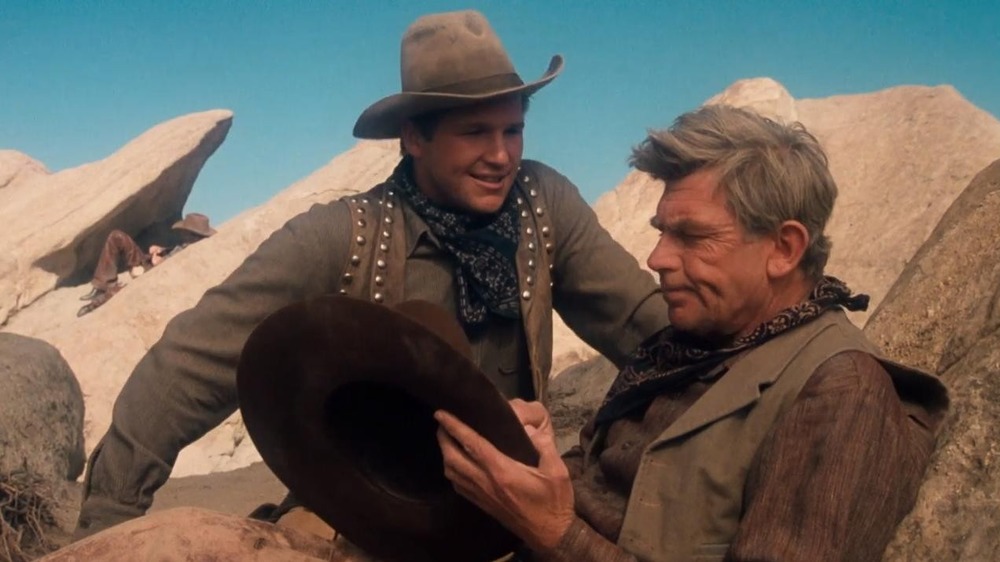 Jeff Bridges has starred in his share of successful westerns, but the 1975 comedy Hearts of the West is a somewhat different animal. Bridges plays the terminally naive aspiring writer Lewis Tater. In 1933 Lewis leaves his home behind to find his fame, and after being scammed by crooks in Nevada he makes his way to Los Angeles, where the aging stuntman Howard (Andy Griffith) takes him under his wing. Things seems to be going okay for Lewis — including a budding romance with Miss Trout (Blythe Danner) — until the scammers from Nevada trace him to the west coast.
Like Winter Kills and The Big Lebowski, Hearts of the West didn't do well in the box office when it was released, but has since gained a cult following that screens the movie in living rooms rather than theaters. Hearts of the West isn't the most complex of Jeff Bridges' films, and it's not meant to be. It's a funny and lighthearted take on the B-Westerns of old Hollywood, celebrating the same tropes it lampoons. As Emanuel Levy writes, "Hearts of the West never takes itself more seriously than it needs to, and it cleverly asks the audience to join in the joyous ride."
Thunderbolt and Lightfoot (1974)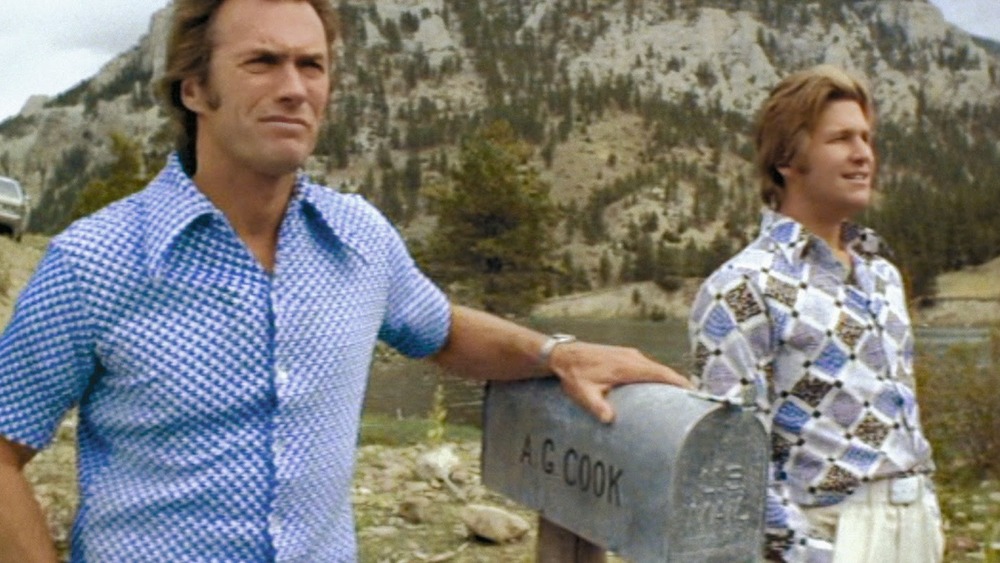 The year 1974 brought us the resignation of Richard Nixon as President of the United States, the infamous "Rumble in the Jungle" match between Muhammad Ali and George Foreman, and the unpredictable pairing of Clint Eastwood and Jeff Bridges in the offbeat crime comedy Thunderbolt and Lightfoot. After Lightfoot (Bridges) unwittingly saves the infamous bank robber Thunderbolt (Eastwood) from an assassin's bullet, the two team up — first fighting off Thunderbolt's old gang members and then recruiting them — for a brand new heist. The film is often seen as an early version of the modern bromance, because of what The Dissolve's Keith Phipps calls the "ill-defined, tender friendship" between the titular duo.
Thunderbolt and Lightfoot did well with critics and audiences alike, which may leave you wondering why Eastwood and Bridges never buddied up again for a similar film. According to Marc Eliot's 2009 biography American Rebel: The Life of Clint Eastwood, Eastwood felt upstaged by the younger Bridges. He wasn't the only one who felt that way, evidenced by the fact that Bridges earned the only Academy Award nomination — for Best Supporting Actor – Thunderbolt and Lightfoot enjoyed.

Crazy Heart (2009)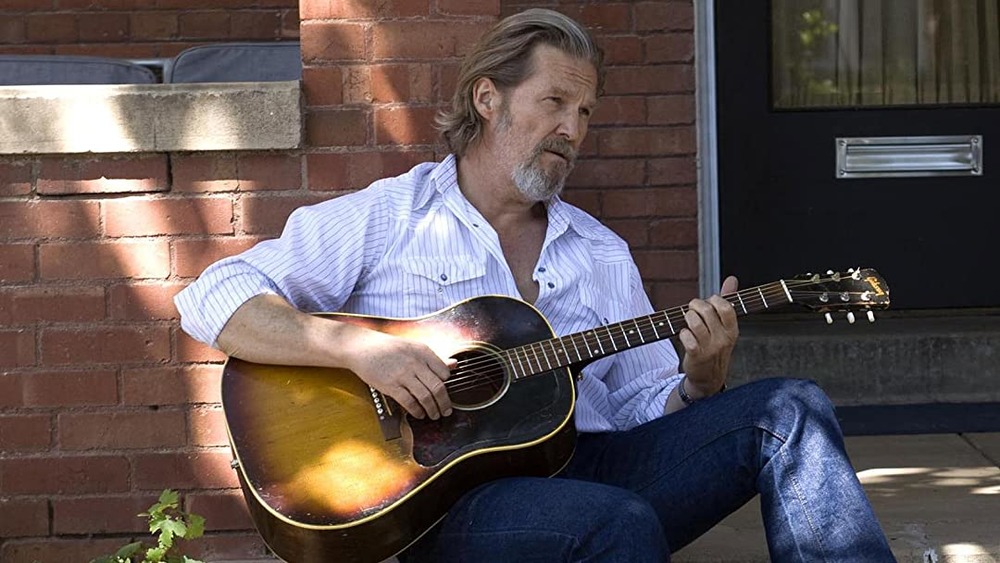 Named for the 1951 Hank Williams hit, the drama Crazy Heart gave Jeff Bridges his first Oscar win for Best Actor. Bridges plays Bad Blake, a singer/songwriter who used to rule the country charts but is now relegated to taking gigs in dive bars and bowling alleys. An alcoholic who's weathered at least four marriages, Blake is finally inspired to turn things around when he falls for the young journalist Jean Craddock (Maggie Gyllenhaal). After Blake and Jean begin a romance, Blake takes steps to rebuild his career — including contacting Tommy Sweet (Colin Farrell), the younger singer that Blake mentored and whose continued success turns a knife in Blake's pride.
Things would probably keep moving in a good direction for Blake if it weren't for his drinking. In spite of chances to open for Sweet and his blossoming relationship with Jean, Blake's self-destruction continues at a good pace. Rock bottom finally meets Blake square in the face when his drinking causes him to lose track of Jean's young son Buddy in a shopping mall. In the aftermath Jean breaks up with him, forcing Blake to a hard crossroads. 
Crazy Heart was generally considered to be one of the best films of 2009, with many critics remarking that it's Bridges' performance that elevates the film to greatness. 
The Iceman Cometh (1973)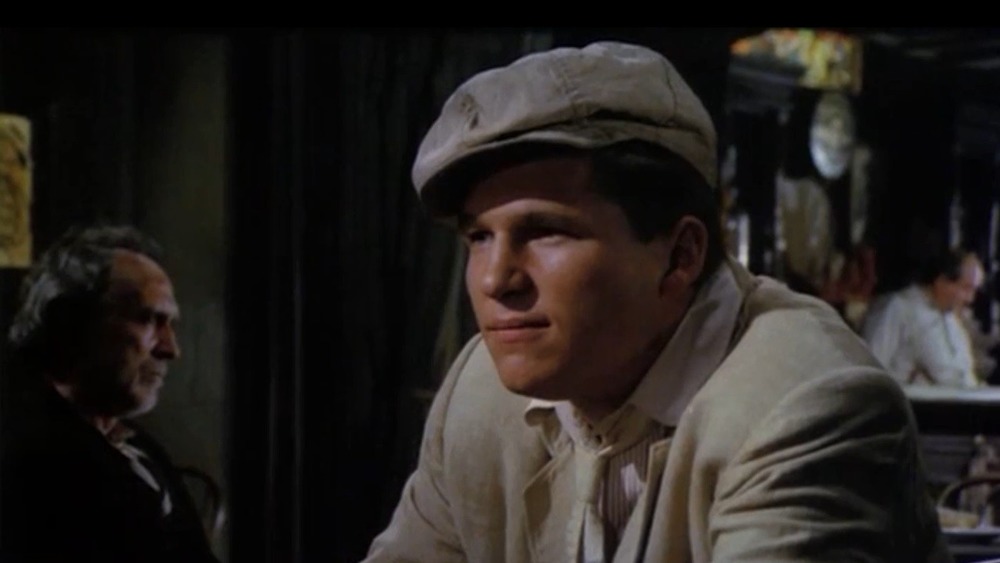 Close to 30 years after Eugene O'Neill's The Iceman Cometh premiered on Broadway, director John Frankenheimer brought his adaptation of O'Neill's play to the big screen. The entire story is told in a Greenwich Village saloon and rooming house, with a cast of drunks who spend their days doing their best to distract themselves from failures, traumas, and secret crimes. Jeff Bridges plays Don, son to the former anarchist Larry (Robert Ryan). We eventually learn Don's darkest secret and how it destroyed his family. He's ultimately one of the only characters to take any action to change his life by the end of the film, though that action doesn't exactly find him in a better place. 
At turns powerful and despairing, The Iceman Cometh gives us the opportunity to — as Roger Ebert wrote for the Chicago-Sun Times – "live in these two rooms and discover the secrets of these people, and at the end we have gone deeper, seen more, and will remember more, than with most of the other movies of our life."
Cutter's Way (1981)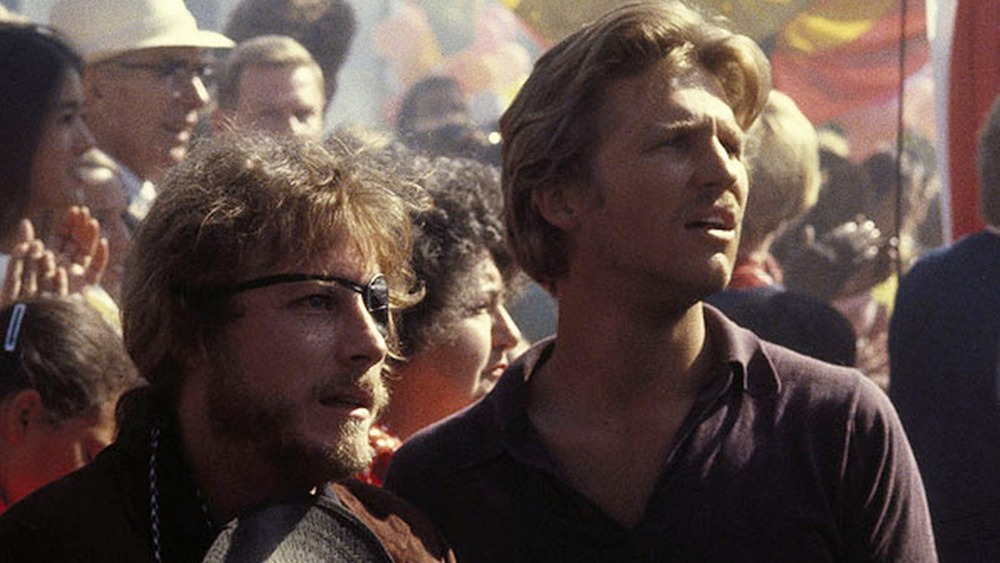 Sometimes the cards are so stacked against you, the only ally you can find is one who isn't playing with a full deck. That's where Richard Bone (Jeff Bridges) finds himself in the 1981 thriller Cutter's Way. 
Matt Brunson of Creative Loafing calls Cutter's Way "an ugly-truth endeavor examining a nation in which the rich and powerful literally get away with murder while the poor and pitiful barely exist at all."  The "poor and pitiful" of that equation are Bone — who's wrongly accused of murdering a young woman early in the film — and Bone's friend Cutter (John Heard), a Vietnam War vet whose combat experiences have left him an unlikable curmudgeon, and who also happens to be Bone's only friend. The "rich and powerful" comes in the form of J.J. Cord (Stephen Elliot), who the heroes become convinced is the true culprit. 
Hurt by poor promotion and early negative reviews, Cutter's Way didn't do that well upon release, but in later years quite a few critics would steer their readers to what The Telegraph called "an underrated classic." That theme of an unsung masterpiece pervades more recent Cutter's Way reviews, like Electric Sheep's Mark Stafford who wrote that it's "a largely overlooked shining gem" and Time Out's Tom Huddleston who insisted it's "a film ripe for rediscovery."
Bad Company (1972)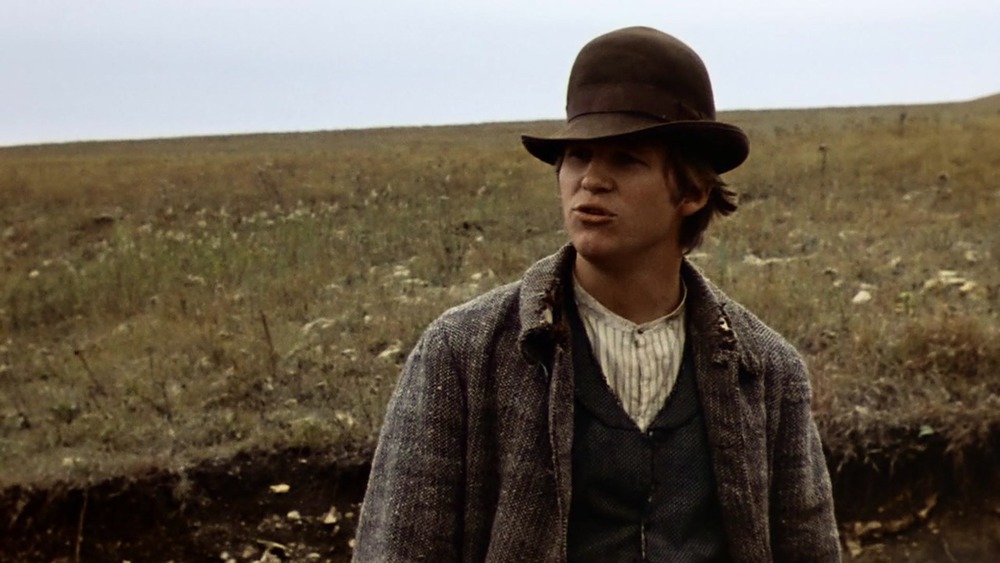 Decades before he'd appear in Westerns like True Grit or Hell or High Water, a much younger Jeff Bridges played the stylish and charismatic crook Jake Rumsey in 1972's Bad Company. Usually included in the sub-genre of Acid Westerns that subverted the genre's norms — and often credited with being the inspiration for the English hard rock group Bad Company (erroneously, per singer Paul Rodgers) – Bad Company strays far from the heroic legends of the West. 
It's those romantic myths Jake begins working hard to cure Drew (Barry Brown) of shortly after they meet. Drew heads west in order avoid conscription in the Civil War, and as soon as he gets to Missouri he's beaten and robbed by Jake. In order to survive Drew joins Jake's gang of young crooks, and together the young men clash with settlers and more powerful gangs in order to survive. Along the way, Drew and Jake become best friends and all the morals Drew holds so dear seem to mean less and less in the face of murder and starvation. 
Iron Man (2008)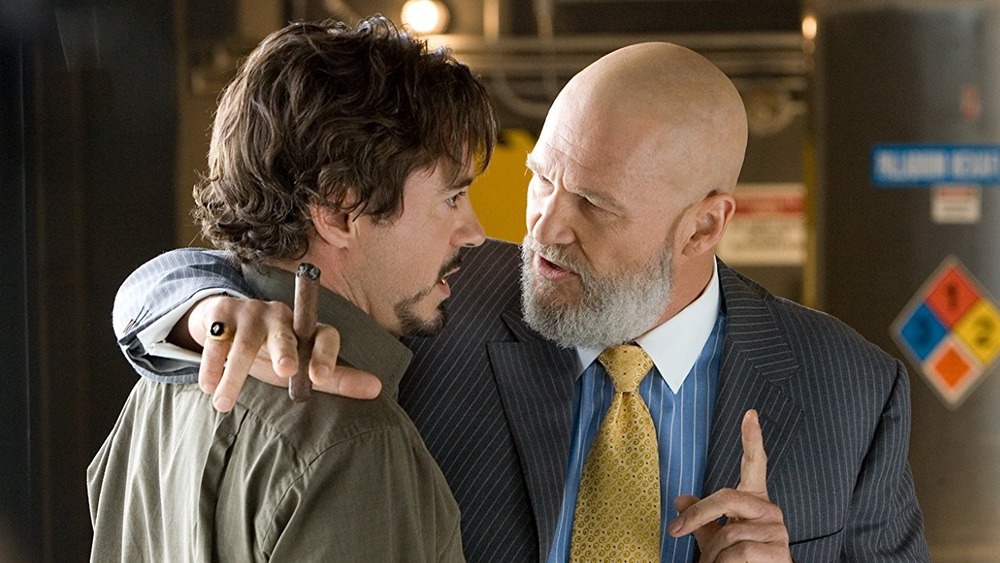 Jeff Bridges doesn't often play straight-up villains, but when he does it's a treat. One of the rare examples of how good of a bad guy he can be is his performance as Obadiah Stane in 2008's Iron Man. An old friend and business partner of Tony Stark's (Robert Downey, Jr.) late father, Stane proves to not only be plotting to steal Stark's company out from under him, but the mastermind behind the plot to kidnap Tony in the beginning of the film.
Bridges makes playing the corrupt businessman look easy, but it's worth remembering just how much the actor accomplishes. Even though Iron Man is only the first of Downey's many appearances as Tony Stark, almost as soon as we meet him it's clear that Stark is cynical, trusts few people, and is always the smartest guy in the room. With Stane, Bridges has the seemingly impossible job of creating a character who believably pulls the wool over Stark's eyes and keeps it there until he reveals himself toward the end of the film. Few actors could pull it off, and Bridges does it with charisma, ruthlessness, and style. 
True Grit (2010)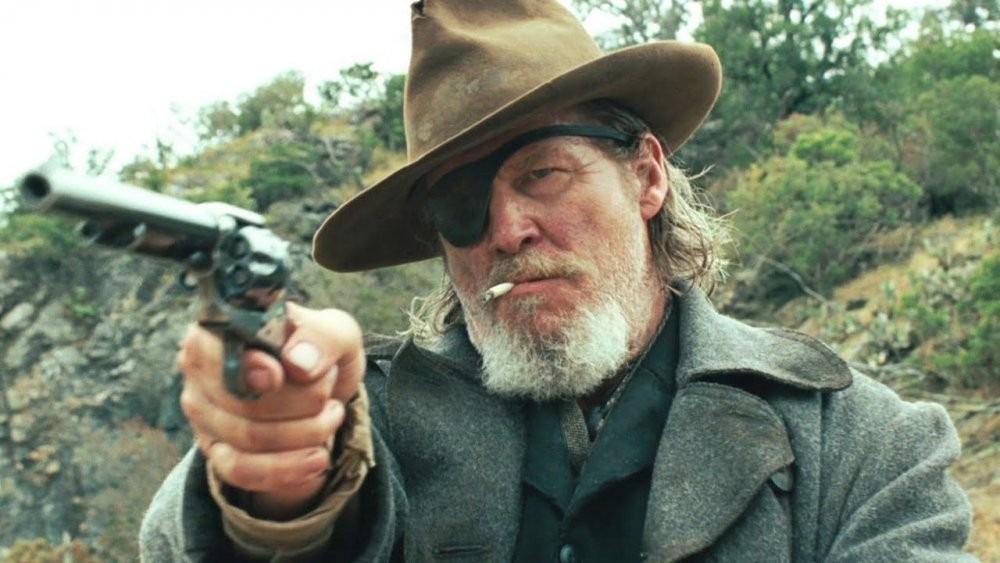 It was no small feat to remake the 1969 classic True Grit. The original film — an adaptation of the 1968 Charles Portis novel of the same name — is a beloved Western, and one of the most celebrated performances of the late John Wayne, and the only movie for which he won an Oscar. A big part of the 2010 remake's success is owed to Jeff Bridges, who takes over the role of Rooster Cogburn — the aging and usually drunk federal marshal who accompanies the young Mattie Ross (Hailee Steinfeld) in her quest to bring her father's killer to justice.
The writing/directing team of Joel and Ethan Coen brings True Grit to life a second time, with a story more faithful to Portis' novel. Bridges is joined by a wonderful cast including Matt Damon as the boastful Texas Ranger LaBoeuf, and Josh Brolin as Tom Chaney, the murderer they're all chasing through the wilderness. Whether you've seen the 1969 original or not, the more recent version of True Grit is mandatory viewing for any fans of Westerns, the Coen brothers, Jeff Bridges, or just plain old good cinema.
The Fabulous Baker Boys (1989)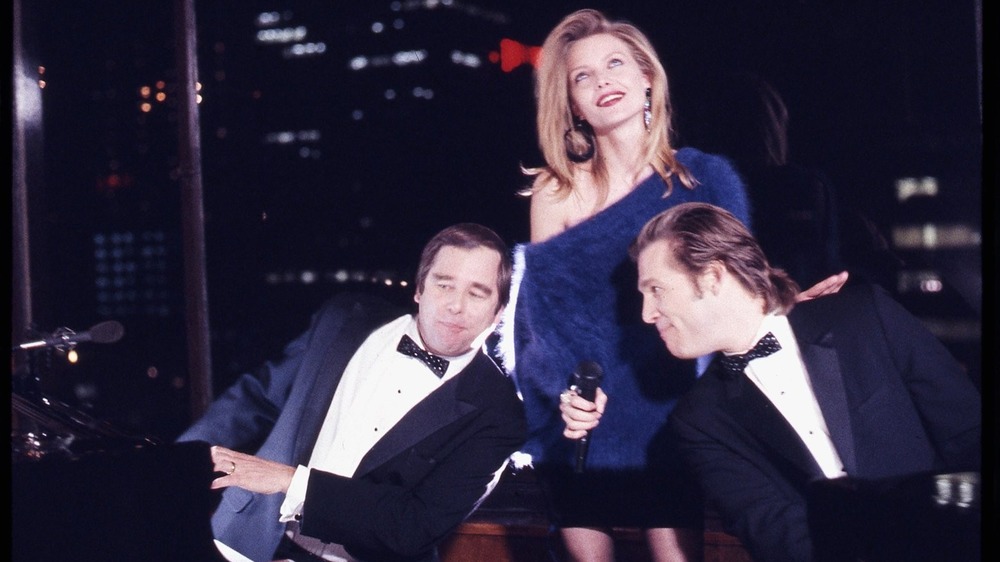 How do you spoil a good thing? Sometimes, by making it much better. That's what the Baker brothers learn in the Oscar-nominated 1989 dramedy The Fabulous Baker Boys. In a rare turn, the real brothers Jeff and Beau Bridges play the ivory-tickling Baker Boys, whose careers have seen better days. The gigs the pair of lounge pianists are scoring are getting crummier and crummier, so they decide to mix things up by recruiting a singer. After a long, hilarious audition montage ranging from the just plain bad to singers who would be more at home in Italian opera, the siblings strike gold with Susie Diamond (Michelle Pfeiffer). Between her sultry voice and steamy on-stage persona, Susie elevates the act, putting the Baker Boys back on top.
But, this wouldn't be a movie if everything turned out fine without complications. Up until now, Jack Baker (Jeff Bridges) has been happily single, but night after night of performing alongside Susie has him thinking differently. Older brother Frank (Beau Bridges) senses the attraction, and warns Jack if he lets Susie become more than a co-worker, everything they've worked for could implode.
Funny and sexy, with great musical interludes, The Fabulous Baker Boys proved to be one of the landmarks in Pfeiffer's career and one of our only chances to see the often hilarious chemistry between the Bridges brothers. Washington Post's Rita Kempley wrote that it was "like a beloved movie from the glory days of Hollywood. It transports you. It's an American rhapsody."
Hell or High Water (2016)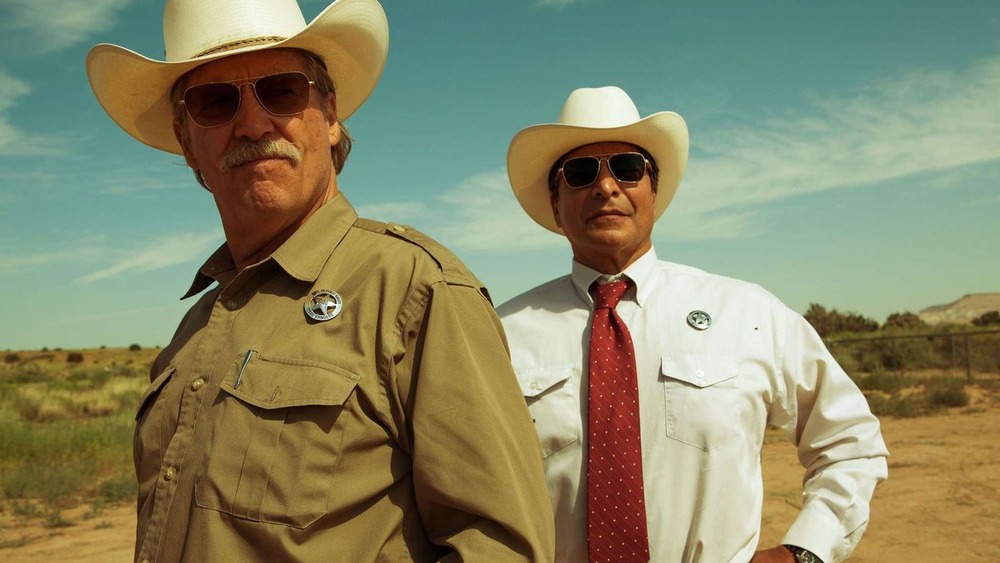 Hell or High Water is a modern Western heist flick reminiscent of the Coen brothers' No Country for Old Men. Jeff Bridges plays Marcus Hamilton, a Texas Ranger close to retirement. When brothers Tanner (Ben Foster) and Toby (Chris Pine) strike out on a bank robbing spree across west Texas, it's Hamilton and his patient partner Alberto (Gil Birmingham) who pursue the pair. 
The acting talent on display in Hell or High Water is impressive, with both cops and robbers delivering memorable performances. Bridges is rustically endearing as the aging Ranger. His less-than-politically-correct banter with his partner may not always sit well, but ultimately it's clear the two share a powerful bond. Pine is great as the brainier of the fugitive brothers, while Foster steals every scene he's in. Tanner is the less predictable of the two robbers, and Foster's performance is always brimming with explosive possibilities. He's always pushing things right to the edge, feeling like the wild card who's going to throw everything into madness, but never quite stepping over the line.
Hell or High Water is a great neo-Western with humor, drama, and suspense that builds to a bloody showdown.
The Last Picture Show (1971)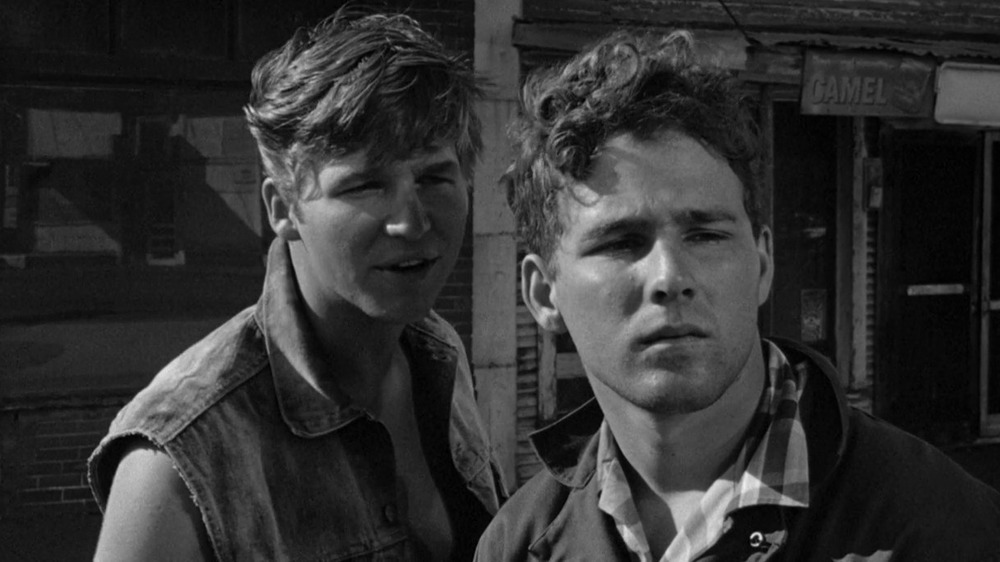 Some of Jeff Bridges' most celebrated films are his earliest, including the film The Independent's Anthony Quinn called "a coming-of-age story, a portrait of small-town Texas, and one of the all-time great American elegies." That film is 1971's The Last Picture Show. Based on Larry McMurty's novel of the same name, The Last Picture Show earned eight Oscar nominations after it was released in theaters, including Bridges' very first nomination — for best supporting actor for his portrayal of Duane Jackson, the lead's friend and romantic rival.
In the 1999 documentary The Last Picture Show: A Look Back, director Peter Bogdanovich said he chose Bridges for the role of Duane because of the actor's natural charisma. The Duane of the source material wasn't very likable, and Bogdanovich thought casting Bridges would add more depth to his realization on the screen.
In 1990 Bogdanovich directed Texasville, the sequel to The Last Picture Show, which likewise saw the return of many of the earlier film's actors to reprise their roles such as Bridges, Cybill Shepherd, and Cloris Leachman. Unlike its Oscar-magnet predecessor, however, Texasville failed to impress many critics or audience members.
Fat City (1972)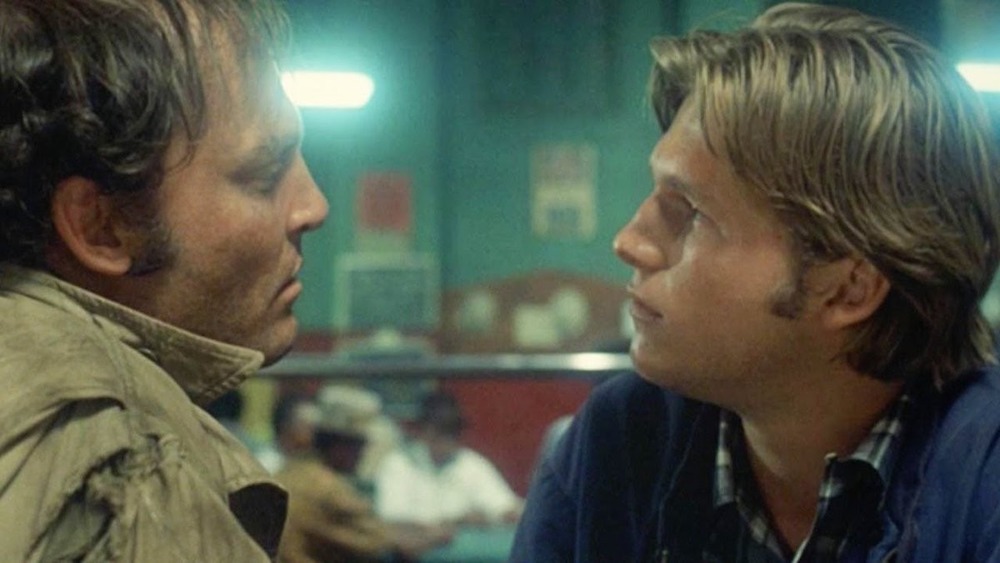 Based on the 1969 novel of the same name by Leonard Gardner, 1972's Fat City is widely considered to be one of Jeff Bridges' best films. But it isn't the kind of feature that would make a lot of money today, and tonally it's one of the actor's bleakest movies. 
Stacy Keach is the lead as Tully, a boxer past his prime who meets the younger Ernie (Bridges) in the gym, where the two share a friendly sparring match. After witnessing Ernie's natural skill, Tully encourages the younger man to pursue a career in the sport — which likewise inspires Tully to get back in the ring. Neither move is destined to go well. Tully gets involved with a mentally ill barfly, Ernie gets his girlfriend pregnant, and both spend more time picking fruit with migrant workers to keep their heads above water than boxing or training.  By the end of the film Ernie's boxing performance in the ring doesn't go nearly as well as it does outside, and while Tully shocks everyone by winning his comeback match, the rewards are hardly worth it. 
Quietly poignant, pessimistic and non-stylized, Fat City often feels like a grim but compassionate documentary about the futility of dreams.