Shows Like The Wilds That Drama Fans Need To Watch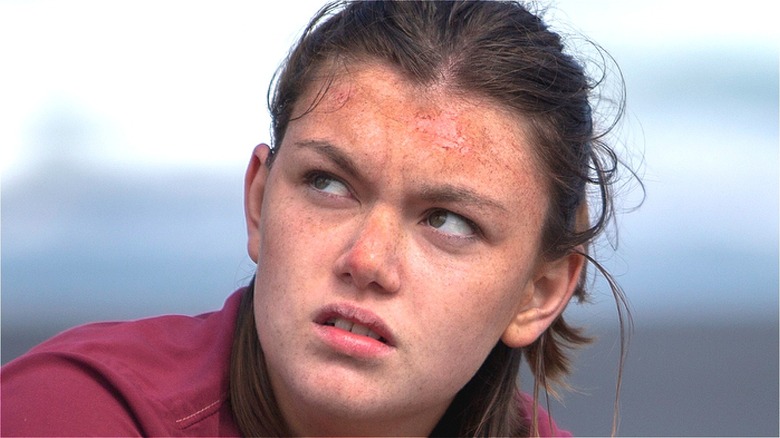 Matt Klitscher/Amazon Studios
With a large ensemble cast of actors, "The Wilds" was one of the breakout hits of 2020. Airing in December of that year, the show became known for depicting mainly female relationships in the most extreme way possible. When flying to Hawaii for a girls' retreat called Dawn of Eve, several teenagers are stranded on a remote island after their plane crashes. If the name of this retreat sounds a little on the nose, that's because it's supposed to.
The plane does not go down by accident. Dawn of Eve is actually a behavioral experiment, designed to test how a society would function if only women were in control. This, of course, does not go smoothly, as accidents and other tragic events occur early on in the series. As "The Wilds" is flashback driven, it's a drama reminiscent of classic television, while also feeling like a new, innovative story. If "The Wilds" is up your alley, there are several shows just like it to check out.
Lost is perfect for The Wilds fans
ABC
ABC's fantasy phenomenon is still considered one of the most perfect TV shows to this day. "Lost" premiered in 2004 and is the gold standard that many deserted island shows are held to. Following the survivors of Oceanic Flight 815, "Lost" employs many thematic elements such as fate, the nature of good and evil, and progression of character. Jack (Matthew Fox), Kate (Evangeline Lilly), and Sawyer (Josh Holloway) are only some of the many members of the ensemble cast who struggle to survive while confronting the demons of their past. 
After crash landing 1,000 miles away from their intended destination, the survivors find that the island is not as it appears, and something supernatural might be keeping them from leaving. The ending of "Lost" still confuses many viewers, but that shouldn't take away from its core strengths. "Lost" intricately weaves together the current timeline and flashbacks in a structure that is emulated by many television shows to this day. Its focus on character development and plot twists make it a show designed to be watched again and again, and it's a true fan-favorite.
The I-Land is another mystery set on an island
A mixture of mystery and island survival, Netflix's "The I-Land" was a limited series that premiered in 2019. The series ran for eight episodes and uses many classic archetypes from the genre. After 10 strangers wake up stranded on an island with no memory of who they are, they quickly realize that they need to join forces in order to survive. 
While the series showcases Kate Bosworth in a starring role as the cold-blooded KC, the main character Chase (Natalie Martinez) is the one who starts to unravel the mystery of the island. While the island initially feels like paradise, the group's strong personalities and drives cause tension, which leads to violence. As Chase does her best to stay alive, the reality of what the island is, and who the strangers really are, finally comes to light.
Alongside Bosworth and Martinez, "The I-Land" also stars Ronald Peet, Kyle Schmid, Sibylla Deen, Gilles Geary, and more, and it's available to watch on Netflix now.
Yellowjackets is a popular new show similar to The Wilds
Showtime's biggest freshman show is the incredibly popular "Yellowjackets." The fully female-led television series has been praised for its fleshed out characters and thematic nuance (via NBC News). "Yellowjackets" employs the flashback technique in a mysterious way, at times asking more questions than are answered. First starting in the '90s, the series follows a girls' high school soccer team that gets into a plane crash and lands in the Canadian wilderness. 
The story switches back and forth between two paralleling timelines, with the current timeline following the women two decades later, as they confront their trauma and a suspicious blackmailer who knows too much about what they did in the 18 months while they were stranded. The adult versions of the characters are cast perfectly to match their younger counterparts. Many of the actors were successful in their youth, such as Christina Ricci, Melanie Lynskey, and Juliette Lewis. Fans are desperate for news on the upcoming "Yellowjackets" Season 2 and to find out answers to the show's biggest questions.
Cruel Summer is a dark teen drama
Freeform's hit show of 2021 takes on a brutal vision of high school. Interweaving three timelines from 1993, 1994, and 1995, "Cruel Summer" makes the viewer wonder what the truth is. The mystery story follows two incredibly different teenage girls, Jeanette Turner (Chiara Aurelia) and Kate Wallis (Olivia Holt). 
After a year of being held captive in a teacher's house, Kate is rescued and accuses Jeanette of knowing where she was the entire time. "Cruel Summer" shows the harsh reality of coming back from a traumatic experience — with the story accompanied by a killer soundtrack (via Seventeen).
At the very end of Season 1, Jeanette and Kate come to an understanding. But like many mystery shows, not everything is as it seems. Neither girl is innocent, and Jeanette may know more than she initially lets on. Season 1 is a wonderfully-told, concise story, but it has potential for much more mystery and intrigue. "Cruel Summer" Season 2 is on the docket for more complicated and layered storytelling.
Fans of intense survival stories should watch The 100
Kass Morgan created a cast of varied, compelling characters in her first book "The 100" — featuring teenagers in an extremely stressful science fiction situation — and the rights to the YA series were quickly snapped up for adaptation by The CW. The show is led by Eliza Taylor as Clarke Griffin, a teenage girl who has lived her whole life on a space station known as the Ark, after a group of survivors escape nuclear fallout on Earth. 90 years after initially fleeing the planet, Earth is potentially still filled with radiation, but the leaders of the Ark realize that they must head back down to the ground, as the life support on the space station starts to fail. 
To test if the land is survivable, leaders Chancellor Thelonious Jaha (Isaiah Washington) and Marcus Kane (Henry Ian Cusick) send down 100 juvenile delinquents to the surface, including Clarke. Once they hit the ground, the 100 soon realize that they can now live without the repercussions of their past crimes or adult supervision, making their own rules. But instead of forming a society, the teenagers are diving straight into anarchy, and so Clarke decides to take control and be their leader. "The 100" starts as a "Lord of the Flies"-style drama, but after a few seasons, it heads straight into hard sci-fi. Stranded on a desolate, underdeveloped Earth and forced to fend for themselves, the teenagers learn difficult lessons, such as what it takes to survive in this strange world, and if the human race even deserves to continue.
Pretty Little Liars is filled to the brim with teen drama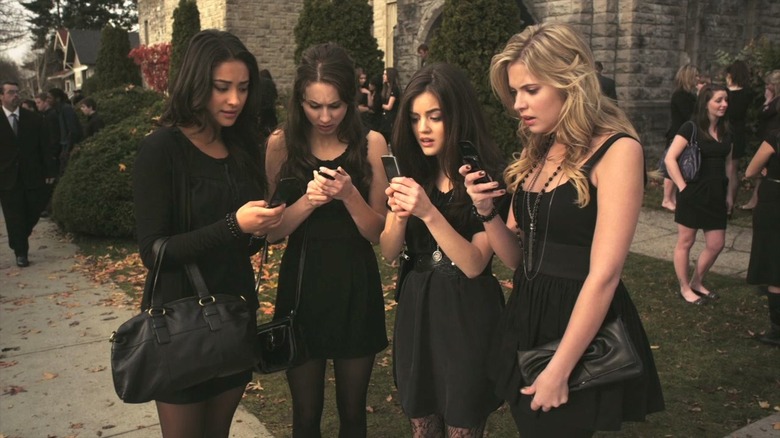 ABC Family/Freeform
The long and dramatic story of Aria (Lucy Hale), Spencer (Troian Bellisario), Emily (Shay Mitchell), and Hanna (Ashley Benson) is told over seven seasons of "Pretty Little Liars." The mystery drama show was adapted from the series of novels by Sara Shepard, generally following the same plot. In the television series, four friends are reunited after police find the body of their missing friend Alison (Sasha Pieterse), who was the queen bee of their group and kept them close by sharing secrets. Initially, the four remaining girls think this means that the nightmare is over, until someone starts blackmailing them under the moniker "A."
The girls and the viewers are led to believe this is someone masquerading as Alison, and slowly more secrets and twists are revealed as the core group of friends try to find out who is really terrorizing them. The show heavily employs the use of flashbacks, constantly revealing major surprises, with plenty of death and drama for everyone. Full of twist and turns, "Pretty Little Liars" depicts the heightened reality of what it is to be a teenage girl in the modern age.
Sharp Objects is for The Wilds fans who love mystery
An intergenerational family of women must come to terms with how they hurt each other in "Sharp Objects." HBO's limited series centers around the most traumatized one in the family, Camille Preaker (Amy Adams). Camille returns to her hometown of Wind Gap, a fictional town in Missouri, in light of an alleged serial killer targeting young girls. Camille's hunt for the truth is severely impacted by her alcoholism, which stems from her toxic relationship with her mother Adora (Patricia Clarkson). The two never got along, and Adora cruelly confesses things to Camille that a mother should never say to her daughter, such as that she supposedly never truly loved her.
Camille must also contend with her teenage half-sister Amma (Eliza Scanlen), who she hopes she can save from their mother's torment. "Sharp Objects" is a painful story of relationships between mothers and daughters, with the backdrop of a murder mystery. Based on the Gillian Flynn novel of the same name, the series doesn't shy away from mature themes and dark plotlines, using the core mystery to question whether or not it's truly possible to get over familial trauma.
Station Eleven features a breakdown of society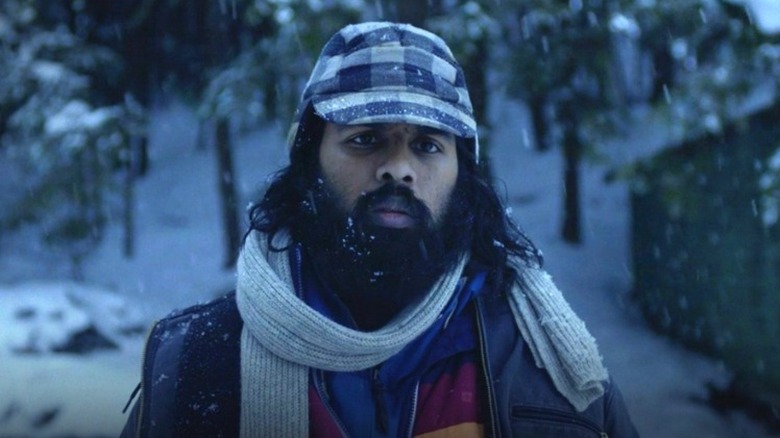 HBO Max
HBO's newest limited series is one that cannot be missed. "Station Eleven" is 10 episodes long and depicts a world after the fall of society. Mackenzie Davis plays the older version of Kirsten, a theater actor whose life changes completely in an instant. During a performance of "King Lear," the audience is shocked to see the main actor Arthur (Gael Garcia Bernal) expire due to an aggressive flu. Young Kirsten (Matilda Lawler) is only eight years old at the time and is alone without any family when the world spins into chaos. An audience member, Jeevan (Himesh Patel), becomes her protector, and the two embark on a journey together to survive the end of the world. 
"Station Eleven" flips back and forth from the start of the sickness to 20 years after. In her adulthood, Kirsten is part of a Shakespeare company that tours "The Wheel" of Michigan, putting on Shakespeare performances to those who have survived. The miniseries beautifully connects each main character through their own experiences before and after the world ends. This tale is so effective and moving, that many argue this TV show is not to be binged. Instead of a main overarching plot about survival like many post apocalyptic shows, the thesis of the series is about how important human connection is, and how the power of art can save people.
Dare Me highlights the intensity of teen relationships
"There's something dangerous about the boredom of teenage girls" is a quote from USA Network's series "Dare Me" that describes the series perfectly. The show is based off of Megan Abbott's book of the same name, depicting the codependent and toxic relationship between two teen girls, Addy (Herizen F. Guardiola) and Beth (Marlo Kelly). Beth is the leader of the renowned cheerleading squad at their high school, until her authority is challenged by a new coach, Colette French (Willa Fitzgerald).
Addy and Beth's relationship fractures completely when the teen drama turns into a dark murder mystery. Beth discovers that Coach French has been stepping out on her husband with a military recruiter, Sarge Will Mosley (Zach Roerig), which is made even more tragic when he is murdered. After his death, the small cheerleading community unravels quickly, threatening to destroy relationships and reveal all the secrets of the town. Unfortunately, "Dare Me" lasted only one season and was canceled once the mystery was wrapped up (via TVLine), but the savage portrayal of teenage girls paints a riveting portrait to revisit.
The Outer Banks is a dark adventure tale
Set in the titular seaside community of North Carolina, "The Outer Banks" is a microcosm of society. The characters of the Netflix series struggle with class differences, parental abandonment, and of course, buried treasure. Instead of going to school, John B (Chase Stokes) and his friends, known as the Pogues, become enamored with the idea of a ship lost at sea that supposedly carries treasure. John B has been alone since his father mysteriously disappeared not long before, and he is sure this is the way to find answers.
Joined by rich girl Sarah Cameron (Madelyn Cline), the group deals with love, loss, and an extremely evil antagonist in the form of Sarah's father. Wade Cameron (Charles Esten) is also intent on finding the treasure, even if it means going after a bunch of teenagers. "The Outer Banks" is full of mystery, causing many fans to wonder if their questions will be answered in the upcoming third season. There is never a dull moment for the teenagers at the center of this action-adventure series.
One of Us Is Lying will entice fans of The Wilds
Clearly influenced by earlier shows like "Gossip Girl," "One of Us Is Lying" takes the teen mystery to another level. Peacock's original series focuses on a high school brought into chaos by the creation of a takedown blog discussing the latest gossip of the school, followed by a sudden murder. During one eventful day in detention, teenage outcast Simon (Mark McKenna) dies of what appears to be an allergic reaction. But soon enough, the authorities deem this a murder case, and we are off to the races.
The suspects are the fellow classmates who were in detention with him, and like any good teen series, every character has a secret they can't let out into the world. Though it is influenced by many teen dramas before it, The Hollywood Reporter commends "One of Us Is Lying" on the show's ability to deliver shocking twists and turns. The Peacock series melds the heightened experiences of teenage life with a compelling mystery, and the show is self-aware enough to know what it is and have fun with the genre. Luckily for fans, the series has been renewed for Season 2 after the season finale's cliffhanger (via Collider).