The Knocked Up Scene That Made Seth Rogen Physically Ill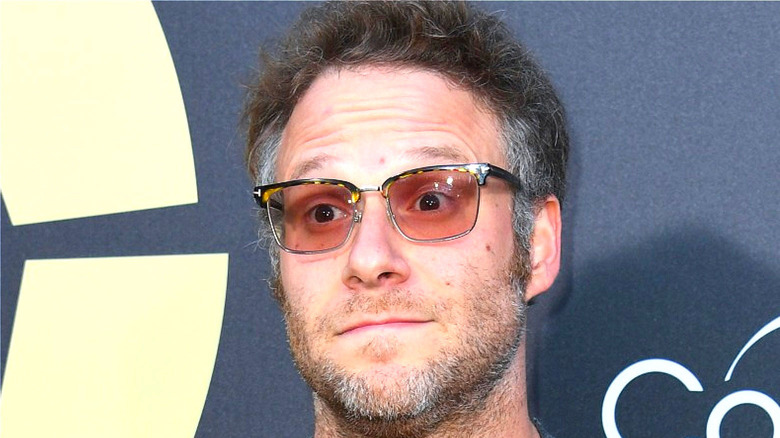 Jon Kopaloff/Getty
There's no denying that Seth Rogen has always been game for a laugh. The top-level funnyman who loves displaying his handmade ceramics on Instagram won audiences over with certified comedy classics like "Pineapple Express," "Superbad," and "The 40-Year-Old Virgin." One big winner from his early years as Judd Apatow's poster boy was opposite Katherine Heigl in the pregnant-with-plenty-of-giggles romantic comedy, "Knocked Up." 
The film sees the two discover they will be parents after a one-night stand, quickly contrasting in all the wrong ways, as Heigl's career-focused TV host clashes with Rogen's jobless stoner, who still lives with his friends.
Given that this is a Judd Apatow film about an unplanned pregnancy and how a goofy stoner adapts to it, you might not expect how much it actually demanded of the cast. Surely the biggest challenge would be to develop a steady stream of profanity-laced jokes on the fly and try to keep it all together? Well, as it turns out, there was one scene that Rogen fought to get through — and he wasn't the only one.
Seth Rogen and Jay Baruchel became incredibly ill after repeated roller coaster rides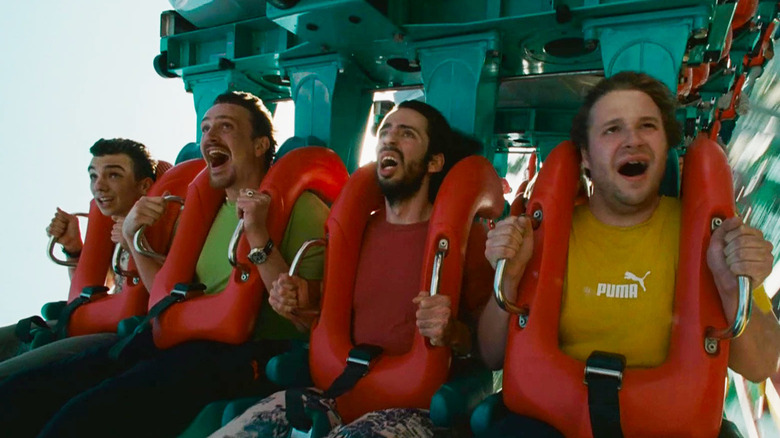 Universal
In between flipping through baby books and a bizarre trip to see Cirque Du Soleil, one scene features Seth Rogen and Jay Baruchel heading to a theme park for a bit of fun. The sequence proved difficult not only because of Jay Baruchel's fear of rollercoasters, but the sheer number of rides they had to go on.
Recalling the event on First We Feast's "Hot Ones" (via YouTube), Rogen went into detail about just how hard that scene was to film and its effect on him once the world stopped spinning. As it turns out, the reaction from Baruchel on film is 100% legit. As if that wasn't bad enough, the rest of the cast who came along for the ride had to do a bunch more takes before the cameras stopped rolling. "And then the rest of us had to ride it, like, f*****g 10 more times or some s**t like that, and we're doing the f******g falling thing." 
The event took a huge toll on both actors, particularly Baruchel, seemingly for our amusement. "Jay was having a nervous breakdown, Jay was on oxygen, I was like half passed out, half vomiting on Dramamine all day." While their efforts are commendable, it's still debatable whether the scene was worth it, given how briefly it's shown in the film. Of course, no one tell Jay Baruchel that.