Paul Rudd: Things Fans Might Not Know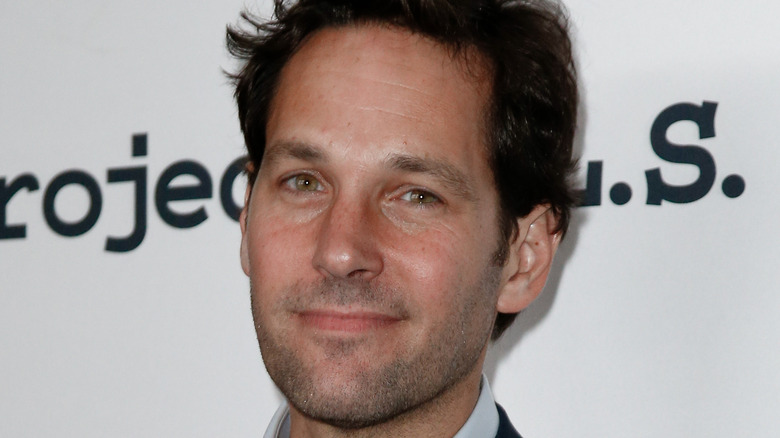 Shutterstock
Paul Rudd is something of a walking contradiction: He's an ageless, glamorous Hollywood star and a literal superhero who still seems like the most relatable, dorky everyman in town. And in contrast with both of those images, he loves to remind us he's neither an ordinary guy nor an ordinary star with oddball projects like appearances on "Tim and Eric Awesome Show, Great Job!" and "Wet Hot American Summer." Rudd even made Marvel, the ultimate example of commercial dependability, get real weird with his bizarre promos for "Ant-Man."
The quirky actor is adding another beloved multimillion-dollar franchise to his resumé with "Ghostbusters: Afterlife." But even there, he's playing your average schlubby dad, and audiences won't have any trouble seeing him in that dorky role — even if he happens to look like a Calvin Klein underwear model.
We haven't been able to find the secret of how Rudd can combine all these contradictory personas at once. But we were able to discover plenty of other juicy tidbits from the actor's life: These are the most exciting.
Rudd's the son of a local celebrity and Titanic tour guide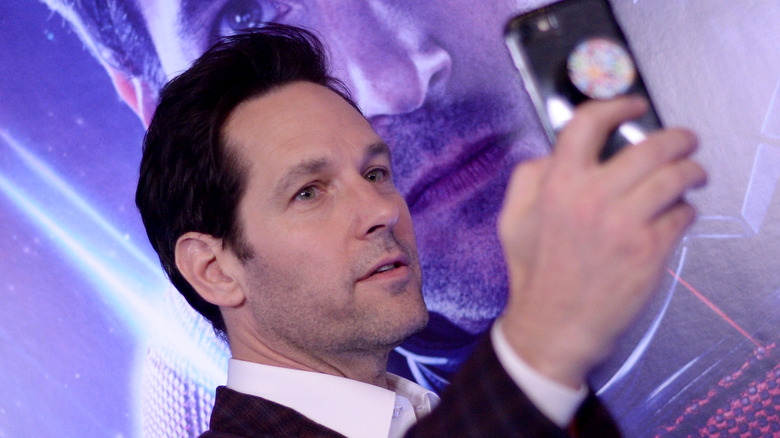 Eamonn M. Mccormack/Getty Images
Despite his timeless appearance, Paul Rudd was born to Gloria and Michael Rudd all the way back in 1969. The British couple met in London before emigrating to the US. GQ writes that Michael had worked as a salesman and vice president for Trans World Airlines, a job that took his family all the way from New Jersey to Kansas when his son was ten. Later, Michael found a more exciting career as a tour guide to historical sites, including many associated with the Titanic, in Europe.
But it's Kansas that lays its affectionate claim to Michael's unique personality. In his old age, the elder Rudd became just as memorable a character in his hometown of Lenexa, Kansas as his son eventually became on a more global stage. In GQ, Paul recalls his father's hobby of writing strongly-worded letters to the local paper, a prolific pastime that inspired his nickname, "The Angry Lenexan." Fortunately, Michael had a sense of humor about his cantankerous reputation, and up until his death, he'd forward his letters to his sons, always signed "The Angry Lenexan."
Paul Rudd auditioned for Titanic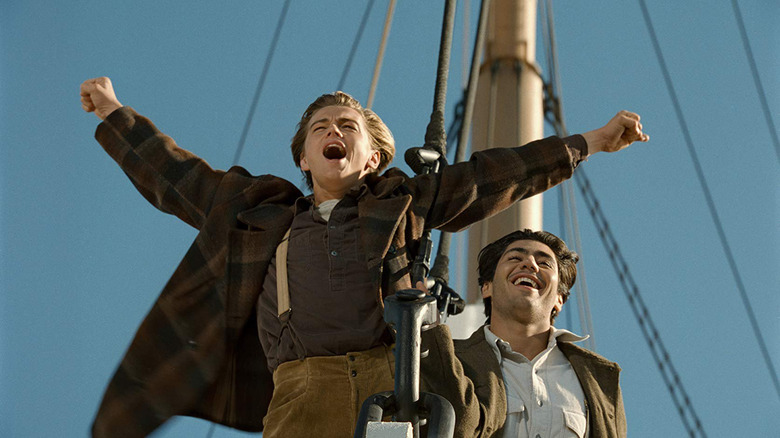 Paramount
The elder Rudd's fascination with history ended up affecting his son's acting career. One of Michael Rudd's biggest obsessions was the sinking of the RMS Titanic. Many of his tours focused on the famous ship, he was a card-carrying member of the Titanic Historical Society, and he kept a collection of memorabilia that took over the Rudd family basement. So when James Cameron announced his plans to make the tragic wreck into a big-screen epic, Paul Rudd was first in line for the leading role that eventually went to Leonardo DiCaprio.
"That was the one part I really, really wanted, for my dad," Rudd told GQ, but his knowledge of the ins and outs of the historical Titanic may have done him more harm than good. In an interview with James Corden, he remembers rambling on about "the kind of steel that was used, and Harland and Wolff, where they built it" and apparently exasperating the casting directors, to whom none of that information mattered. His co-guest, "Streets of Fire" star Diane Lane, couldn't believe Rudd was up for such an iconic role. With his usual self-deprecating humor, Rudd responded, "Neither could the casting director!" Rudd got the last laugh, though, when he starred in "Avengers: Endgame" and beat the ironclad (or not) box office record for "Titanic."
Paul Rudd DJed bat mitzvahs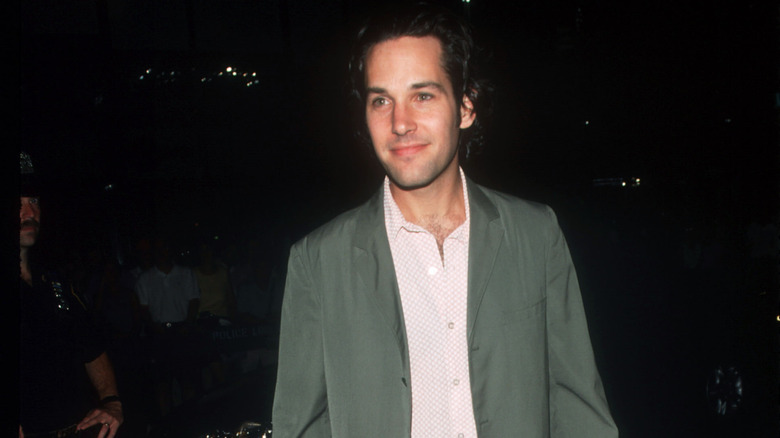 Evan Agostini/Getty Images
Before he became a star, Paul Rudd took a variety of odd jobs to get by, and some of them were quite unusual indeed. For a while, Rudd moonlighted as a DJ, and if you're imagining something like Skrillex or Zedd, think smaller. If you're thinking of the guy spinning records at weddings, think even smaller than that. Rudd's DJ career was strictly kids' stuff, literally — it was all birthdays and bar and bat mitzvahs, the ceremonies that induct 13-year-old Jewish kids into adulthood. 
"People had to wear tuxedos, but I was still trying to develop my own look," he tells GQ. But some enterprising YouTuber has uploaded the footage from her Rudd-DJed bat mitzvah, and what we can see from it suggests he might have been better off sticking to the dress code. Young Rudd was no glamorous movie star — with his ruffled tuxedo, baggy boat shorts, white socks, and Bill-and-Ted hair, he looks more like he should be reading the "Ant-Man" comics on his couch than starring in the movie version.
However, you'll notice that even at this prehistoric stage of his career, he's already showing off the charm and goofy humor that made him a star, lifting the limbo bar for the guest of honor and wisecracking, "It's her gig, she gets under the 'bo."
Rudd studied Jacobean drama at Oxford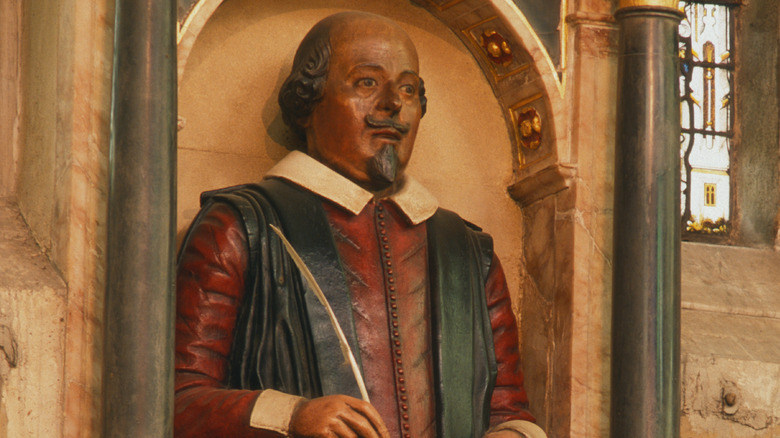 Epics/Getty Images
Before he starred in stoner comedies and comic book movies, Rudd contemplated taking his career in a very different direction: He spent a semester at Oxford studying Jacobean drama. In layman's terms, this meant examining the history of theater during the reign of King James I in the early 1600s, including Shakespeare and his contemporaries Ben Jonson, John Webster, and Thomas Middleton.
Rudd's the first to see the distance between his intellectual studies and his eventual career. He started laughing when the subject came up in his GQ interview and explained why: "I like [Jacobean drama], and then, on the other hand, I'm making a living telling boner jokes." Then again, he argues, maybe these studies were good preparation for a career in lowbrow comedy after all: "Maybe in their own way, a lot of the Jacobean playwrights were making boner jokes and fart jokes." After all, even Shakespeare wrote about characters with names like Bottom and Doctor Butts.
A chance encounter with a star inspired Rudd to move to New York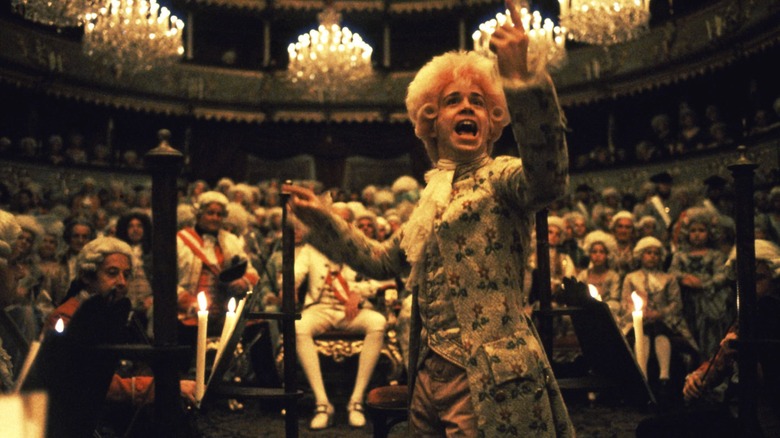 Warner Bros.
It's hard not to be jealous of Rudd's celebrity lifestyle, and one reason is all the other rich and famous people he gets to hang out with. Who wouldn't want to pal around with Conan O'Brien, Will Ferrell, and the cast of the Marvel Universe? But not everyone has the knack for hobnobbing Rudd does: One of his stories suggests celebrities were drawn to him even before he became one himself. Rudd told Jimmy Kimmel that after graduation, he wanted to find work onstage in New York. That and a series of car accidents made him want to "go somewhere where there isn't a car."
He scored an audition that required him to bring his own monologue, so he went to the Julliard library to cram. He found a scene from "Amadeus," Milos Forman's classic about the imagined rivalry between the great composer Wolfgang Amadeus Mozart and his forgotten peer Salieri. Distracted as he hurried through the street trying frantically to memorize his lines in time, he walked straight into another pedestrian. 
When he looked up, he realized it was Amadeus himself, actor Tom Hulce! Rudd apologized and explained what a bizarre coincidence this was, but Hulce "didn't seem as weirded out by it." Instead, the "Amadeus" star asked if he lived in town. Rudd said he was thinking about moving there, and Hulce told him he should. You don't just ignore a sign like that: Rudd's been a New Yorker ever since.
Rudd almost ruined the Friends finale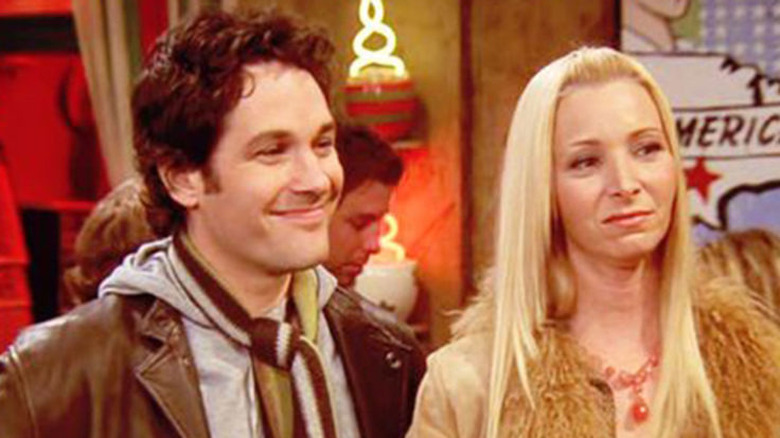 NBC
After a breakout role in "Clueless," one of Paul Rudd's highest-profile early roles was as a recurring cast member on the last two seasons of "Friends" as Mike Hannigan, a love interest and eventual husband for Lisa Kudrow's Phoebe. This meant Rudd got in on one of the biggest TV events of the era with the series' two-part finale in 2004. Paul Rudd confessed to Conan O'Brien on the "Conan Needs a Friend" podcast that, as the new guy, he felt awkward witnessing the tearful goodbyes among a cast that had been working together for over a decade. "Oh, I feel like I shouldn't be seeing this," he recalls thinking.
But his attempts to defuse that tension backfired spectacularly. He inserted himself between star Jennifer Anniston and creator Marta Kaufman as they were hugging goodbye and said, "Guys. What a ride. Here we are." Then, he says, "They just kind of walked away a little bit." And listening to him tell the story, it sounds like he's still embarrassed about it 15 years later.
Rudd's Mac and Me running gag came from channel-surfing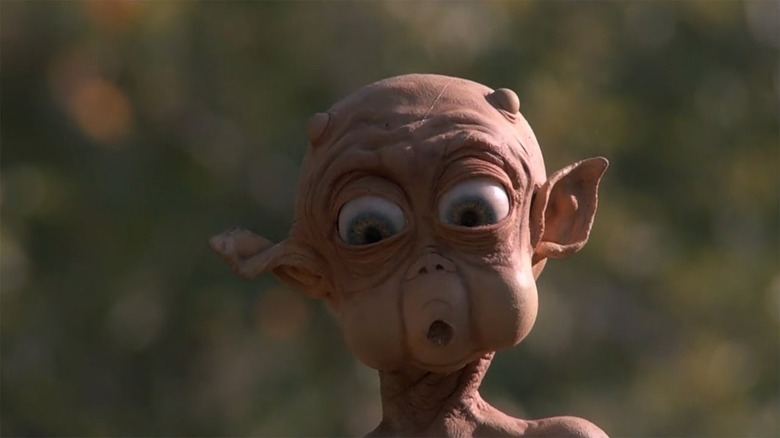 MGM
As much as for any of his roles, Paul Rudd's fans love him for instigating one of the strangest and longest-running gags in talk show history. Any time Paul Rudd appeared on "Late Night with Conan O'Brien," you could count on him teasing some exciting exclusive footage, only to deliver a scene of a little boy in a wheelchair flying off a cliff and a hideous little balloon-cheeked alien puppet popping out. That gag continued for over 15 years as Conan moved from "Late Night" to "Tonight" to TBS.
That clip comes from the 1988 "E.T." knockoff "Mac and Me," and if anything, what you see in the clip undersells just how bizarrely terrible that movie is. What could possibly lead someone to think of using it as a bait-and-switch on the talk show circuit? On "Conan Needs a Friend," Rudd explained that he stumbled across the film on TV, watched the entire thing, and thought, "What? This is the greatest thing I've ever seen!"
Before settling on "Mac and Me," he also contemplated an equally strange kiddie movie, one he says hits the same sweet spot of "Who is this made for?" The inexplicable "Baby Geniuses" imagines everyone is born knowing the secrets of the universe, pitting a spy network of super-intelligent infants against adults trying to learn their secrets. Rudd toyed with using an action sequence where one baby is obviously replaced by an adult actor so he can kung-fu kick some baddies. But "Mac and Me" won out, and the rest is history.
Judd Apatow tried to intervene in Rudd's Mac and Me joke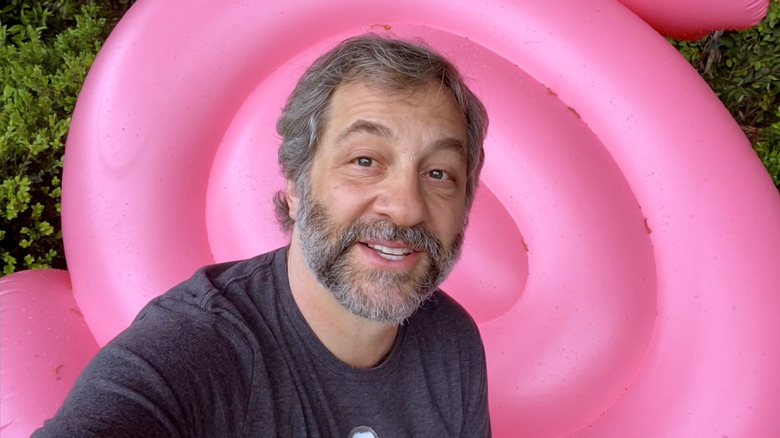 Getty Images/Getty Images
Rudd says the "Mac and Me" tradition grew out of his discomfort with promoting his own work: He told O'Brien, "There's something so tricky about saying, 'Oh, here I am, I'm gonna sell my wares on TV!' Like, 'Oh, here's something from what I just filmed!' It just seemed ... kind of insincere. ... It's all just silly. This entire business is silly anyway." But other people in the business don't always see it that way.
Take, for instance, producer Judd Apatow. He introduced Rudd to an even wider audience with his memorable supporting roles in "Anchorman: The Legend of Ron Burgundy" and "The 40-Year-Old Virgin" and proved Rudd had what it took to be a leading man with "I Love You, Man." The two collaborated again in 2012 for "This Is Forty," with one condition: Rudd had to actually show the clip on "Conan" and not just trot out "Mac and Me" again. Rudd even told O'Brien that Apatow had come onset to cut off the "Mac and Me" clip.
This was the only time Rudd showed a real clip from one of his movies on "Conan." But the legacy of Rudd's gag was too powerful to stand in the way of, and Apatow never made that demand again.
Paul Rudd and Judd Apatow bonded over an obscure Steve Martin bit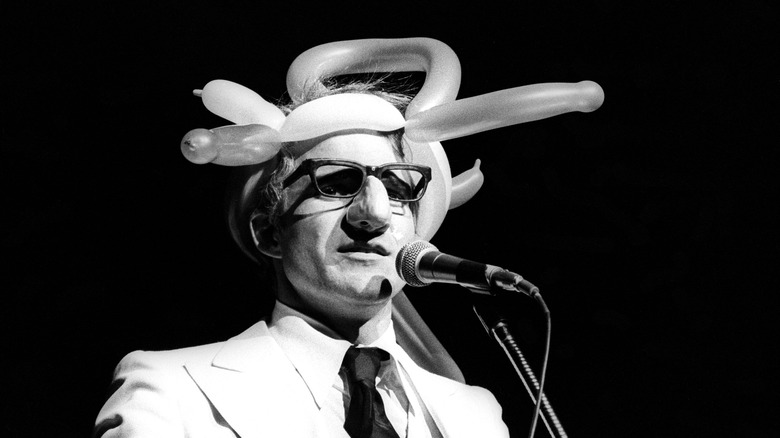 Larry Hulst/Getty Images
Rudd and Apatow's relationship has been essential to both of their careers, and it began with a meet-cute straight out of an Apatow comedy. The GQ feature on Rudd reflects on his youth studying comedy records for his future career, especially the work of Steve Martin. Most of all, he admired Martin's gift for coming up with bizarre character names — for instance, on one track on "Comedy Is Not Pretty," Martin skewers the practice of stage names by claiming his real name is Gern Blanston.
Years later, Rudd was discussing Mr. Blanston at a dinner party when an anonymous guest commented that Martin's bit explained why Apatow used that name in his email address. That inspired Rudd to shoot Apatow an email, beginning a correspondence that would eventually lead to some of Rudd's juiciest roles. And that story ended up connecting Rudd to Martin himself, too: A few days after recounting it in an interview, he received a copy of Martin's autobiography "Born Standing Up," signed "Steve Martin (Gern)."
Rudd owns a candy store
A lot of us like to imagine what we'd do with movie-star money, but few of us ever get to live that dream and even fewer remember those wild ideas when they've actually made it. Fortunately, Rudd knows exactly what money is good for. Rudd's friend and "Walking Dead" star Jeffrey Dean Morgan tells the story of how the two of them came to own Samuel's Sweet Shop in Rhinebeck, New York on the official site: "When [my wife] Hilarie & I came to the area & started getting coffee at Samuel's, Ira [the original owner] made it clear that we were home. We just got each other."
When Ira died, Morgan wanted to make sure nothing happened to the store, so he convinced Rudd to help him raise the funds to buy it and keep it in business. And he doesn't seem to regret it: He goes on to say, "Saving Samuel's is one of the coolest things we have done" — not bad considering his résumé also includes killing zombies and playing Batman's dad.
As for Rudd, he seems pretty happy with his investment. The site also includes his testimonial: "The best thing about being an owner of a candy shop is getting my favorite holiday candy in June," and that one treat is "so delicious they actually make me angry."
Rudd has an Irish pub in his house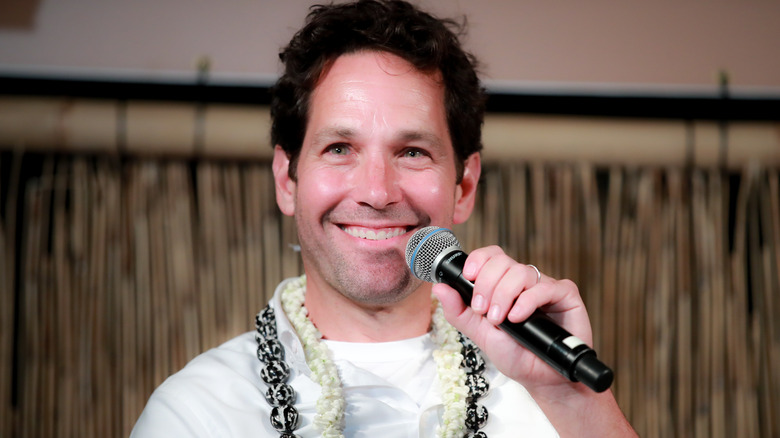 Rich Fury/Getty Images
Rudd told New York Magazine that when his first son, Jack Sullivan Rudd, was born, Michael Rudd insisted that his grandson should own his own Irish pub. He had personal reasons for his request: The Irish Sun reports that the British-born elder Rudd had taken his family on many summer trips to the Emerald Isle and dreamed of retiring to the seaside town of Kinsale in County Cork.
Rather than wait until Jack was old enough to buy the pub, Michael went to work right away, helping his son build one in the basement of his home in Kansas City and naming it Sullivan's. Sadly, it turned out Michael Rudd was right not to delay his plans: He died of throat cancer before he could build a sister location in the Rudds' second home in Rhinebeck. The original Sullivan's became Michael Rudd's legacy, and Paul even told Vanity Fair he hoped to scatter some of his father's ashes there.
Rudd had a tough time getting his father's ashes through airport security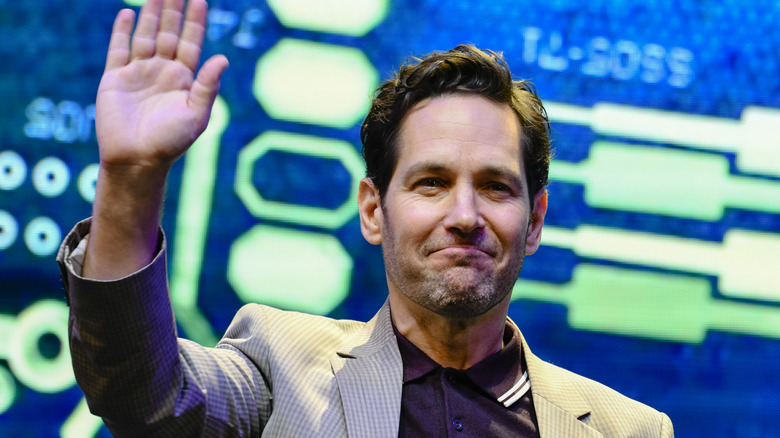 Keith Tsuji/Getty Images
Rudd honored his father's wishes to have his ashes scattered across Ireland, but he would discover this plan to be more difficult than he'd anticipated. He told Vanity Fair, "Getting them there was a comedy show in and of itself. You think it's hard to go through airport security with toothpaste ..." He added, "It's amazing just how many ashes there are in one body," and revealed that transporting them all required a full duffel bag. When a security agent asked what was in it, Rudd couldn't think of anything to say but "Uh ... my dad."
This got him a ticket to the office, but he eventually managed to talk his way out of the situation and get the ashes to Ireland. Once he was there, Rudd says he traveled around spreading his father's remains in multiple locations. Of course, a star like Rudd can't travel so widely without getting noticed, and Twitter was full of reports of Rudd sightings all over the country.