Danielle Brooks Explains Why Her Peacemaker Character Is The Most Relatable - Exclusive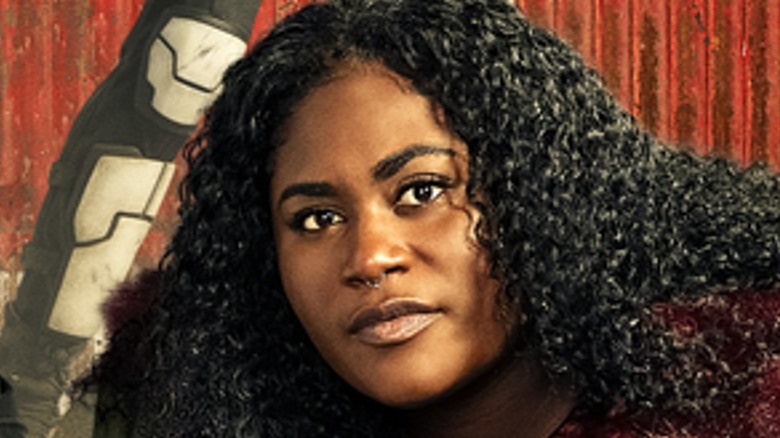 HBO Max
Undoubtedly one of the biggest differences between iterations of characters as seen in movie and TV series is that there's a lot more room for development with the latter. And while writer-director James Gunn gave ample time for audiences to get to know each of the main characters of "The Suicide Squad" within the movie's 2-hour-and-12-minute timeframe, there's no question fans are getting much more story depth and complexity with the cast of the film's spinoff, "Peacemaker," offering eight episodes in the new TV series.
Streaming exclusively on HBO Max, "Peacemaker" finds John Cena in the titular role, reprising his deadly assassin character from "The Suicide Squad." But, in addition to being assigned to a mission to destroy alien invaders known as "Butterflies," the brawny antihero is dealing with some serious issues involving his racist, hate-mongering father, Auggie Smith (Robert Patrick). But Peacemaker isn't alone in his angst. His fellow Black Ops members Emilia Harcourt (Jennifer Holland), John Economos (Steve Agee), Clemson Murn (Chukwudi Iwuji), and Vigilante (Freddie Stroma) are also dealing with issues of their own.
Another team member, Leota Adebayo (Danielle Brooks) also has her hang-ups, including the fact she's concealing that her mother is Amanda Waller (Viola Davis) — the volatile head of A.R.G.U.S. and the mission's boss — and Adebayo has been hired to keep a watch over colleagues. Still, Brooks finds her character the most relatable in the series.
Adebayo's life is normal compared to her fellow team members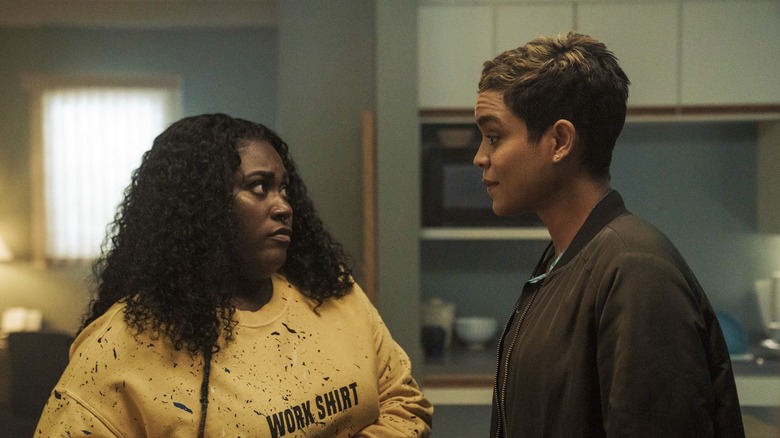 HBO Max
There's no question the Black Ops team is a dysfunctional unit. What makes Leota Adebayo unique, though, is that she's the only team member who has a relatively normal life outside of work, even though that life contains the sorts of problems — including a strained relationship with her wife, Keeya (Elizabeth Ludlow) — that people want to avoid.
As an actor, though, Danielle Brooks is thrilled for her character to have those extra complexities: "There are so many layers ... Amanda Waller and all of the conflict that she's having there, [Adebayo's problems] with the wife, and also the job switch of someone who was a veterinarian and started off very much in normalcy," Brooks told Looper in an exclusive interview. "Now [she] has been plopped into this world that is overwhelming for her. It was a joy to have layers. That's what you want as an actor."
As such, Brooks believes what Adebayo is going through makes her character the most relatable to viewers in a story that involves some very extraordinary circumstances. "The best part for me was that the same things that Adebayo was going through and experiencing were the same things that I was experiencing, a feeling [of being] very new and green and learning on the job," Brooks reflected. "I had a lot of excitement about the things that I was getting to do. In each scene, I got to bring that into Adebayo unapologetically, which was so much fun. That was my favorite part. It was like I didn't have to hide my excitement about having a window busted in the car or my excitement about jumping through fire with John Cena. I got to actually express that, and that was cool."
The first seven episodes of "Peacemaker" are streaming on HBO Max, with the season finale set to debut Thursday, February 17.