Robert Pattinson Reveals The Part Of Playing Batman That Shocked Him The Most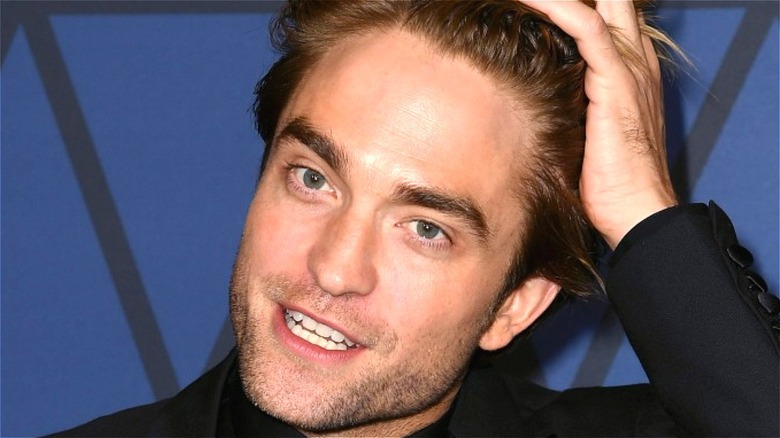 Kevin Winter/Getty
In just a few more weeks, moviegoers will be flocking to theaters for the much-anticipated release of Matt Reeves' "The Batman" starring Robert Pattinson. And when it finally comes time to meet their new Caped Crusader, there's apparently going to be a number of things that stand out. This version of the Dark Knight that Pattinson and Reeves will be offering up to fans come March 4 has been teased as being quite different from previous incarnations that we've seen from the likes of Christian Bale, Ben Affleck, and Michael Keaton. As Pattinson himself put it in a recent GQ interview, "It's just a totally different vibe."
According to the movie's synopsis, "The Batman" will be an "edgy, action-packed thriller" that depicts Batman in his earlier years "struggling to balance rage with righteousness as he investigates a disturbing mystery that has terrorized Gotham." The synopsis goes on to describe this version of Batman as a "disillusioned, desperate vigilante awakened by the realization that the anger consuming him makes him no better than the ruthless serial killer he's hunting." 
During his GQ interview, wherein Pattinson broke down several roles from his career, the actor gave fans some more details about how this alternate, more dramatic take on the DC Comics character really resonated with and shocked him.
Playing an emotional, grieving Batman took a toll on Robert Pattinson
We already know that the deaths of Bruce Wayne's parents will not be shown or featured in "The Batman," but that doesn't mean they won't play a role whatsoever. According to Robert Pattinson, his version of Wayne will basically be in "year two" of his vigilante war on crime, and the character is still reeling from the loss of his mom and dad.
"I mean, it's sad," Pattinson told GQ of playing a resentful, grief-stricken Wayne. "I thought it's really, really sad. It's a tragedy. That's one of the reasons it feels kind of different ... Instead of him getting over his parents dying at the beginning, and then just becoming Batman and saving Gotham, now he really hasn't gotten over them at all ... and I'm basically, I'm playing the parent's death constantly through the whole time."
When it came time to shoot his scenes and portray the iconic superhero, Pattinson said he tried his best to approach the performance from an "emotional context," which took a toll on him. "It does end up becoming something kind of strange, and it always kind of shocks you what comes out of it," Pattinson said. "I mean, I didn't really realize how sad it would make me feel." 
Warner Bros. and DC's "The Batman" is set to hit theaters on March 4.