15 Great Shows Like Riverdale That Are Worth Your Time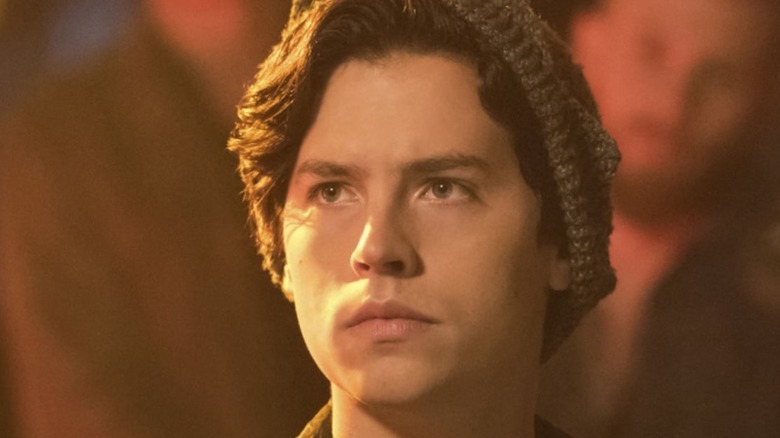 The CW
If you'd told people in 2016 that Archie Comics was about to make a major pop culture resurgence, they probably would have laughed — that is, if they even knew what Archie Comics was. Yet, "Riverdale" has been a TV juggernaut for years, gathering a massive fan base behind it. The series dropped a bit in ratings for Season 6, but its impact on the greater landscape of the teen drama genre is undeniable.
Part of what made "Riverdale" so intriguing right from the start of the first season was a unique blending of different genres and tonal influences. The series began as a murder mystery, but much of its time since has been spent on the relationship dramas between the core characters. There are biker gangs and war scenes. There are hints of the supernatural and the occult. There are serial killers, and musical episodes. A few seasons in, "Riverdale" became so absurd that watching the spectacle of what happens next is half the fun, superseding even the characters themselves. It's dark, colorful, incredibly self-serious, and filled with increasingly chaotic plotlines.
For those who've found something to love in the dramatic style of "Riverdale," there are a lot of other great shows out there that offer something tonally similar. Because the CW series blends so many different kinds of stories together, there are a lot of different ways into the show as a viewer — and as such, there are many other series that share at least part of the "Riverdale" DNA. Here are some great shows like "Riverdale" that fans should check out next.
Outer Banks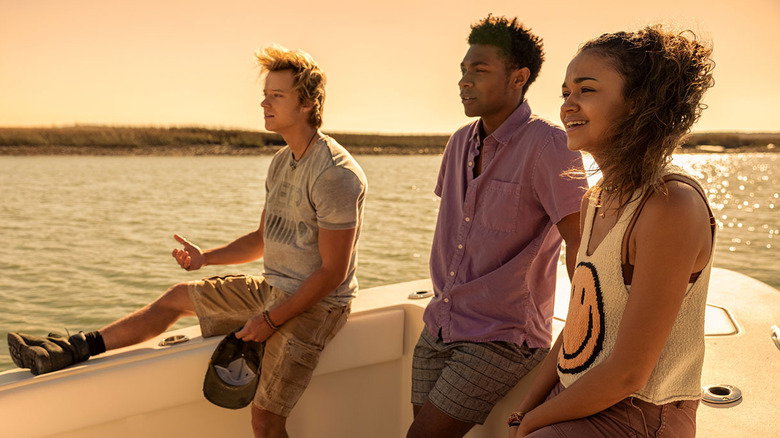 Netflix
Let's start off with something very similar to "Riverdale" in multiple ways: Netflix's popular teen drama, "Outer Banks." The series first aired on the streaming platform in the spring of 2020, introducing viewers to its beachy world of hidden treasure, classism, betrayal, and murder. "Outer Banks" has everything you could want out of a soapy (but still heartfelt) teen drama: Will-they-won't-they relationship pairings, skipping class, solving mysteries, and fighting back against the powers that be, all with the gorgeous production values that are part and parcel of a Netflix original series.
The parallels to "Riverdale" are probably pretty clear just from that description. This is a show about teens doing incredibly dangerous things that most real-world teens would never do, but that's why it's fun. And like in "Riverdale," there are also some primary adult characters who give the show a bit of multigenerational balance. "Outer Banks" has received generally positive reviews through its first two seasons (earning a 78% score on Rotten Tomatoes), and it's an easy recommendation for anyone who's had fun watching "Riverdale."
Sex Education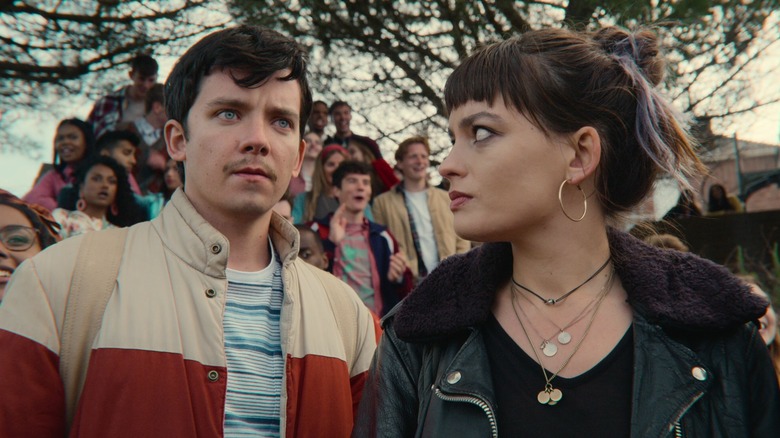 Netflix
Another Netflix series focusing on teenage drama, "Sex Education" is about as different from "Outer Banks" as it can be while still existing in the same overall genre. Compared to "Riverdale," "Sex Education" seems both lighter and more comedic, and at the same time more serious and grounded. It's a show that brings a healthy amount of intentional levity and humor to its storylines, while also basing them in very real, deeply human circumstances.
"Sex Education" is a show about identity. It's a show about young people — and, for that matter, older people too — breaking down their own barriers and embracing who they truly are. It's also a show about teenagers running around school naked by mistake, throwing poop at cars, and learning about sex by, well, having a lot of sex. If you come to this expecting the kind of self-serious absurdism that "Riverdale" sports, you may be a bit let down. But "Sex Education" is plenty ridiculous in its own, hilarious way, and it has a lot of genuine heart and laudable diversity at its center.
Buffy the Vampire Slayer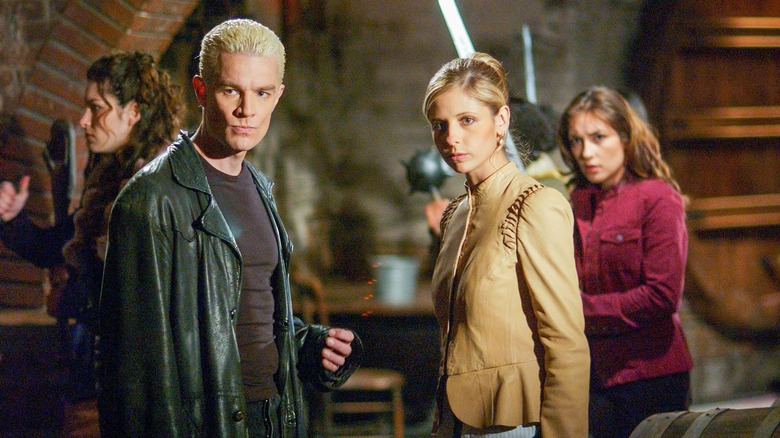 UPN
If you're a fan of "Riverdale," there's a good chance you've already devoured "Buffy the Vampire Slayer." If you haven't, you might as well start now.
"Buffy" has a lot of the same qualities that define "Riverdale": campy dialogue, teenagers doing dangerous things, lots of high school relationship drama, the whole shebang. But of course, "Buffy" also has the added modifier of vampires. And demons. And gods from hell. And a hundred other supernatural phenomena looking to destroy the California town of Sunnydale. The action in "Buffy the Vampire Slayer" might look a bit dated today (mostly because of the big rubbery suits used for most of the demons in the show), but in a way that's still charming and fun. Plus, most of the supernatural plotlines are woven into larger themes of growing up and being a teenager, which will make fans of "Riverdale" feel right at home.
With seven seasons to watch and five full spinoff seasons of "Angel," there's a lot to dive into in "Buffy." The core cast is great, and their chemistry is what makes the show work so well season to season, with standout performances from Sarah Michelle Gellar, David Boreanaz, James Marsters, Anthony Stewart Head, and Alyson Hannigan. If you follow the "Riverdale" pedigree back a couple of decades, it's easy to see the influence "Buffy" has on it, and the show is still worth watching all these years later.
The Magicians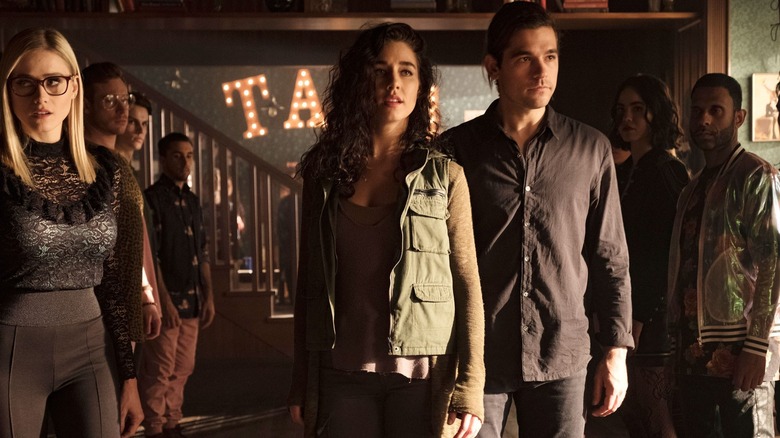 Syfy
It says something about the absurdity of "Riverdale" that many of the shows most similar to it openly embrace magic as part of their lore. "The Magicians" is just such a show, and it's a total blast from start to finish. There are magic schools and mystical lessons in the tradition of "Harry Potter," but with a core character group that is significantly older. They may not be teens, but they still carry a lot of the same energy that makes Riverdale so entertaining.
"The Magicians" doesn't take itself too seriously, but it does treat its characters and relationships with nuance and respect. It's a strikingly diverse show that celebrates human connection, camaraderie, and cooperation. And yes, there's still lots of lore and world-building to get invested in as well. 
Perhaps the biggest draw here is the ensemble cast, led by Stella Maeve, Jason Ralph, Olivia Taylor Dudley, Hale Appleman, Arjun Gupta, and Summer Bishil. Like "Buffy," this is a show that thrives off of it the size of its cast and the many different kinds of relationships and character arcs that can be explored because of it. If that sounds like it's up your alley, give "The Magicians" a turn in the spotlight.
Reservation Dogs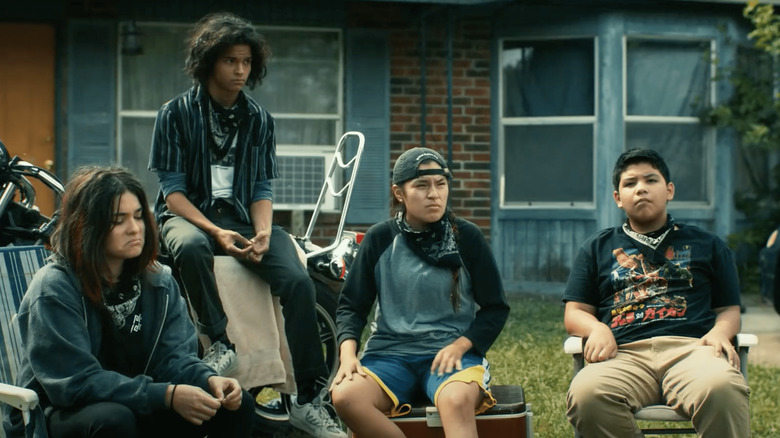 Hulu
"Reservation Dogs" is good — like, really, really good. The New Yorker, The Guardian, and many other prominent publications have all sung the show's praises since its premiere in August of 2021, and with Season 2 already on the way, the show could be getting even better. It's a tough series to describe succinctly because it feels so refreshingly unique. Is it a comedy? Well, it's incredibly funny and clever. Is it a drama? It certainly has its share of powerful moments and beautifully-realized character arcs.
Pinning "Reservation Dogs" down to a single genre would be doing it a disservice, so let's focus on what the show actually does. At face value, it's a story about four indigenous teenagers who pull various thefts and other schemes to make money, all with the end goal of leaving the Oklahoma reservation where they live to move to California. Going a layer deeper, it's a story about family, community, and the modern Native American experience that puts both joy and hardship at the center.
How does all this connect to "Riverdale"? Well, on paper, the two shows actually look quite similar in premise. They both center on a core group of four teens in a small town who get into trouble and interact with a multigenerational ensemble of supporting characters. They also both have hints of the supernatural, albeit handled in very different ways. However, "Reservation Dogs" is a show that demands to be watched because it isn't like anything else on TV right now. It's fiercely smart, deftly written, and is brought to life by a stellar cast.
Twin Peaks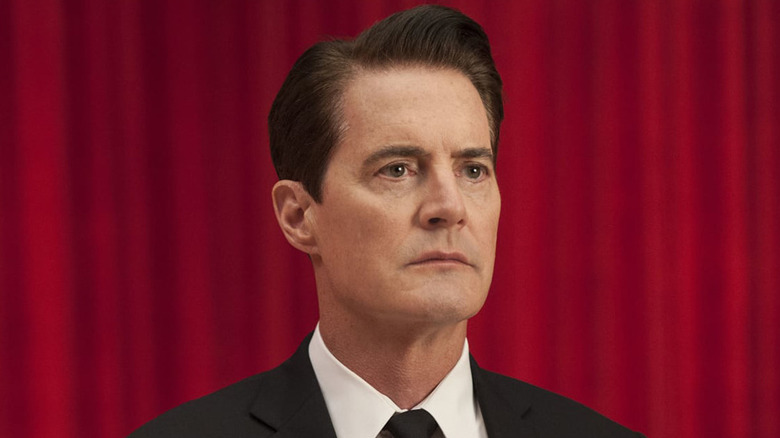 Showtime
"Riverdale" Season 1 owes a ton to "Twin Peaks" (per Vulture), acknowledged by the casting of Madchen Amick (Alice Cooper on "Riverdale," Shelly Briggs on "Peaks"). 
The David Lynch/Mark Frost small town murder masterpiece ran for two seasons in the early 1990s, then was revived for an off-the-wall "Return" season in 2017. In "Twin Peaks," the murder of high school prom queen and beloved community figure Laura Palmer shakes the foundations of the small Pacific Northwest town of the show's title. What many residents believed to be a quiet and peaceful logging town is revealed to hold dark, sometimes supernatural secrets, including a dangerous drug smuggling operation, land wars between unscrupulous tycoons, and a dangerous, otherworldly presence lurking in the bowels of the woods.
That setup should sound very familiar to fans of "Riverdale," which begins with the mysterious death of teenager Jason Blossom. Just like in the town of Twin Peaks, Riverdale's citizens slowly begin discovering that their home may not be all that they thought it was.
However, while the basic setup of the two shows are quite similar, there are some big differences. "Twin Peaks" has a lot of teenage characters who are pivotal to the story, but the main focus is on FBI Special Agent Dale Cooper (Kyle MacLachlan) and his investigation into the murder case. Lynch's show also has much more of a horror theme running throughout, with more overt mysticism that at times dives into the full-on demonic.
Like "Riverdale," "Twin Peaks" is a wild ride, as well as an absolute classic. You've never experienced anything else quite like it, and decades later it is still hauntingly, gloriously, defiantly original.
Chilling Adventures of Sabrina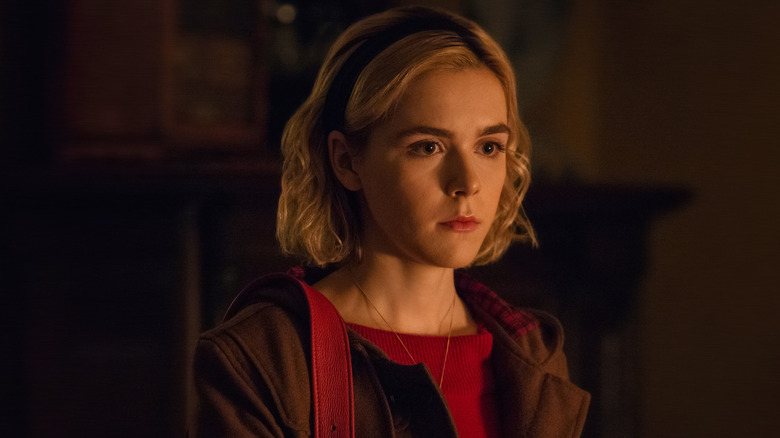 Netflix
Out of all the shows on this list, this is the one "Riverdale" fans are most likely to have already checked out. That's because Roberto Aguirre-Sacasa, the creator of "Riverdale," also served as the creative lead on "Chilling Adventures of Sabrina" during its four-season run on Netflix. The two shows were originally meant to take place in the same universe, but those plans were thrown away after "Sabrina" landed on a streaming platform instead of on The CW. Fortunately for fans, that crossover finally manifested itself in Riverdale Season 6.
What is "Chilling Adventures of Sabrina"? It's kind of like "Buffy," but with more of a darkly comic spin. It's a show about witchcraft, the devil, and navigating the ins and outs of high school. It's also fiercely stylish in its aesthetic presentation, which is rife with allusions to the occult and classic horror movies.
"Sabrina" is fun, affecting, and led by a powerhouse performance by Kiernan Shipka. It's also now, finally, directly connected to "Riverdale," which should make it a must-watch for diehard fans of the CW series.
The End of the F***ing World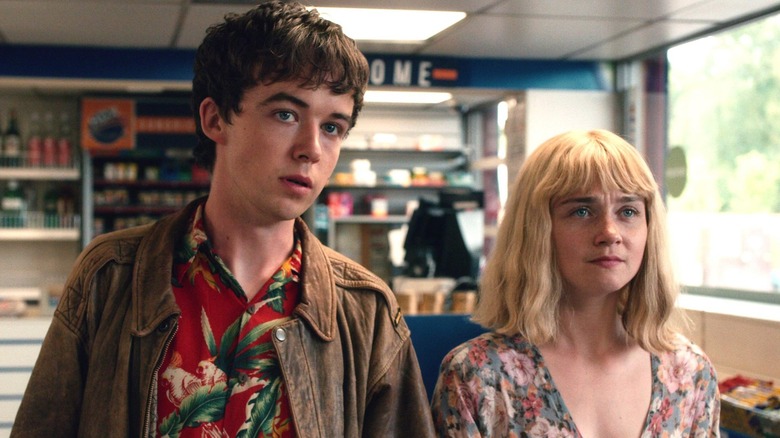 Netflix
At this point, it should be clear that a Netflix subscription comes highly recommended for anyone looking for more shows like "Riverdale." "The End of the F***ing World" is a bit different from the other Netflix original series on this list, however. The show stars Alex Lawther as James, a high school student who believes himself to be a psychopath. As such, he decides to kill one of his classmates, Alyssa (Jessica Barden), who has plenty of her own issues going on. They embark on a journey together that is at different point bleak, pitch black, hilarious, and sweet.
"The End of the F***ing World" is not your typical teen show. In fact, it doesn't really fit that moniker at all, save for the ages of its protagonists. It's messy and complicated in really interesting ways, and it's carried to greatness by the fantastic chemistry between Barden and Lawther. It's also a very quick watch, so there's really no excuse not to give it a try — provided you're prepared for the show's darker storylines.
The Vampire Diaries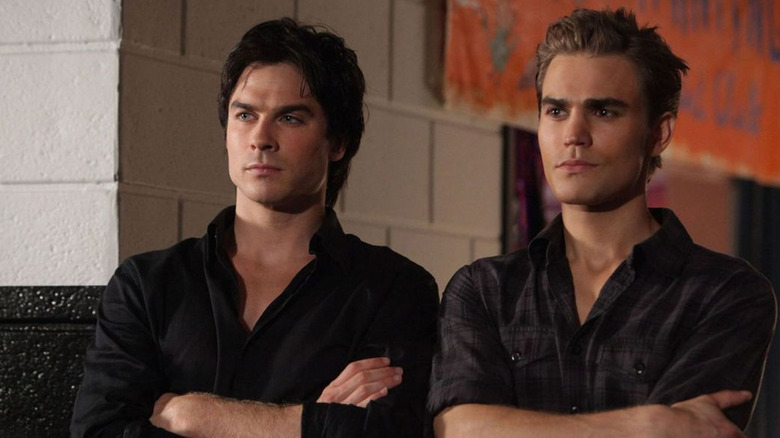 The CW
"Riverdale" will be remembered as one of the more popular shows ever to air on The CW, but it may never supplant "The Vampire Diaries" as the network's leading teen drama. Though the original series ended back in 2017, the legacy (no pun intended) of "The Vampire Diaries" still looms large. It's the classic supernatural high school setup: girl meets vampire, meets vampire's brother, starts love triangle — a tale as old as time.
What you see is what you get with "The Vampire Diaries," and what you get is a lot of fun. This is CW drama in its purest form, from the small town mysteries and supernatural lore to the relationships at the center of the plot. The best part is that, if that sounds enticing to you, there's a lot of this world to explore — eight seasons and two spinoffs, "The Originals" and "Legacies," which are also well worth checking out.
Titans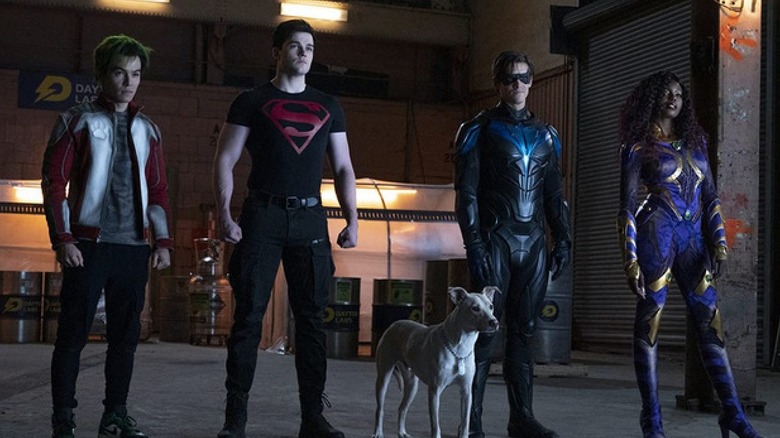 HBO Max
Want a little superhero flavor on your dark teen drama? "Titans" is the show for you.
Based on the classic "Teen Titans" characters from DC Comics, this HBO Max series (originally premiered on the now-defunct DC Universe) stars Brenton Thwaites as Robin/Nightwing, Anna Diop as Starfire, Teagan Croft as Raven, and Ryan Potter as Beast Boy, alongside a supporting cast that includes Superboy, Hawk, Dove, Jason Todd, and more. 
"Titans" is brutal in a bone-breaking, bloody way, but it never makes its characters caricatures of themselves. The show's discussion of trauma, abusive upbringings, guilt, forgiveness, and personal growth are handled well, and the show's stars do a great job bringing the comic book storylines to life.
Make no mistake: "Titans" is an action show, not a traditional drama. There are big, expensive fight scenes that frequently end messily, but there's also lots of relationship drama, comedy, and subtler character arcs to keep things from going too dark too frequently. It's an instant recommendation for DC Comics fans — but really, "Titans" can be enjoyed by anyone who likes the dark drama and stylish aesthetic of "Riverdale."
Love, Victor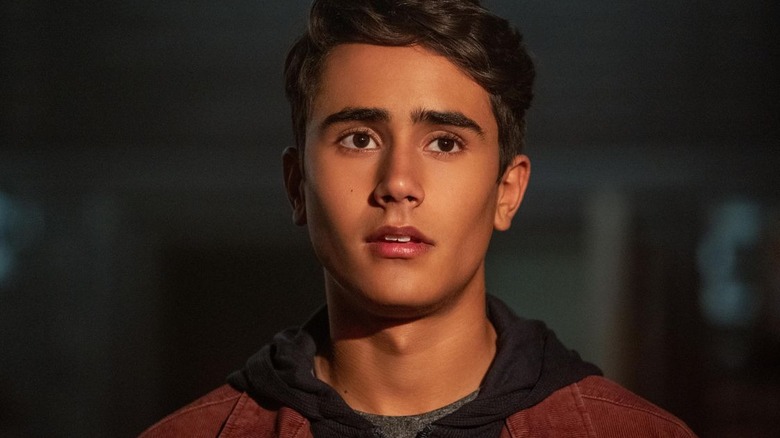 Hulu
Loosely connected to the 2018 film "Love, Simon," which itself is an adaptation of a novel by Becky Albertalli, Hulu's "Love, Victor" tells the sweet story of a gay high school student learning to embrace who he is while navigating the teenage social world. It is sweet, sincere, and driven by a fantastic lead performance from Michael Cimino as Victor.
There's nothing dark or morbid about "Love, Victor," and if that kind of tone is what draws you to "Riverdale," this might not be the show for you. But if you're just looking for a compelling story about life in high school, and you have Hulu access, it's absolutely worth the watch. The writing is heartfelt, the larger themes of identity and acceptance are handled well, and it's encouraging just to see such a well-written, well-acted character find his way. "Love, Victor" is a pure joy to watch — for "Riverdale" fans, or for anyone else looking for a teen drama with lot of optimism and heart.
Cobra Kai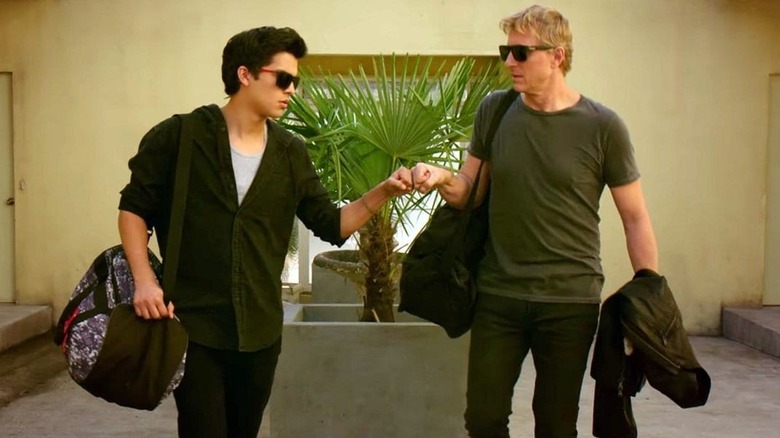 Netflix
"Cobra Kai" can be a very silly show. It can also be a really great, stylish, and compelling one, with a huge ensemble of characters across all ages engaged in a bunch of thrilling karate smackdowns. 
Tonally, Netflix's "Karate Kid" sequel series is quite different from "Riverdale." But in terms of the actual subject matter, the two shows can be quite similar. They both feature a love square of sorts — with "Cobra Kai" being between Miguel Diaz (Xolo Maridueña), Sam LaRusso (Mary Mouser), Robby Keene (Tanner Buchanan), and Tory Nichols (Peyton List). They both revolve around teenagers doing incredibly dangerous things. But where "Riverdale" makes its younger characters the clear narrative priority, "Cobra Kai" balances its adult protagonists with the teenagers to create a different sort of tone.
There are no serial killers or aliens in "Cobra Kai" (yet), but it's still completely absurd. Karate gangs break into houses and get into full-on brawls in the middle of schools. Old men became cartoon villains in their bid for karate supremacy in the greater Los Angeles area. And there are a lot of training montages. It's a stylized show, and one that doesn't take itself too seriously, which works well given the subject matter. Go in with the understanding that things are about to get silly, and you'll have a great time with "Cobra Kai."
Shadow and Bone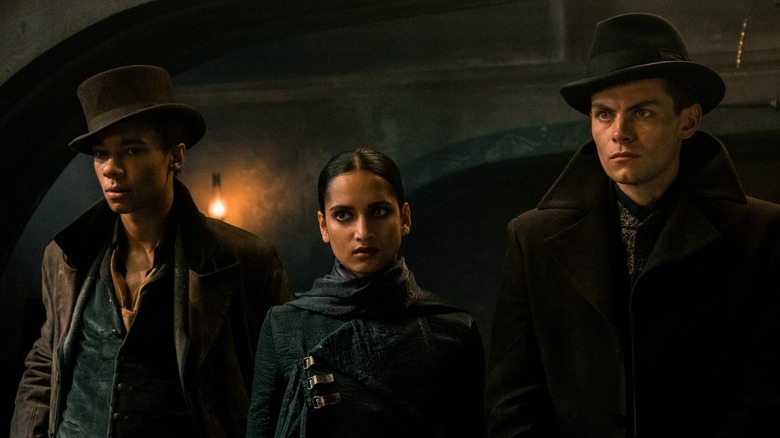 Netflix
"Shadow and Bone" is very different from most of the other shows on this list because it's a fantasy adventure series, not a teen drama. The main characters are all comparable ages to the stars of a show like "Riverdale," but this is not the half-fantasy, half-high school relationship saga you'll get with shows like "Buffy the Vampire Slayer" and "The Vampire Diaries." So why is it on this list? First, because "Shadow and Bone" shares a lot of tonal similarities with "Riverdale," making it a pretty easy transition for fans of the CW drama. And second, because it's just a great show in its own right.
Based on the bestselling "Grishaverse" series of novels by Leigh Bardugo, Netflix's "Shadow and Bone" series takes place in a fantasy world akin in technology and climate to 19th century Russia. Some people in this world, called Grisha, possess the ability to manipulate matter and energy in different ways. There's a love triangle, magical training, and teenage (or thereabouts at least) street gangs, which should make viewers of "Riverdale" feel right at home. The audiovisual presentation is gorgeous, the cast is fantastic, and the world-building is captivating from the start. There's a lot to love about "Shadow and Bone," and barely anything holding it back.
Euphoria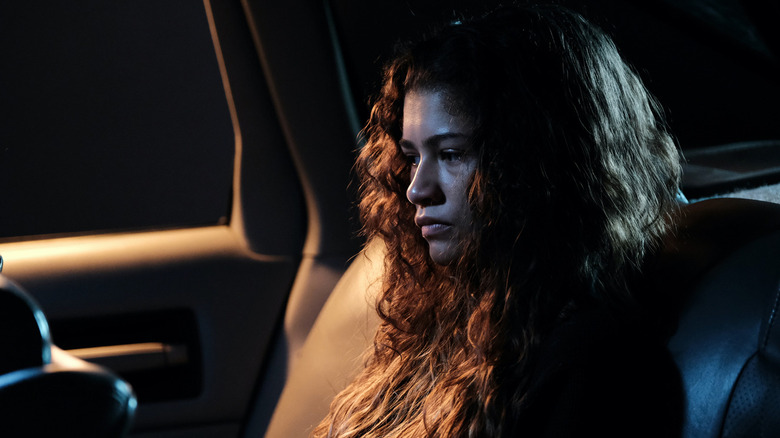 HBO
Since its first season debuted in the summer of 2019, "Euphoria" has become one of the best-reviewed teen dramas on television (currently holding at 87% on Rotten Tomatoes). It's a gorgeously crafted show that deals with heavy topics like addiction, trauma, identity, and mental health, brought to life by a spectacular young cast led by Zendaya's Emmy-winning performance as protagonist Rue Bennett.
"Euphoria" is stylish, exquisitely shot, and flooded with an almost excessive flair. It blends this powerful aesthetic with deeply resonant writing and a nuanced and diverse group of core characters. This is HBO, and there are very few holds barred in the show's handling of its complex subject matter. It can be hard to watch at times, but that's largely because the emotional hooks it sinks into its viewers are so powerful. The combination of beautiful visuals and powerful storytelling is a tough one to beat, making it apparent why "Euphoria" has received such high praise.
Fate: The Winx Saga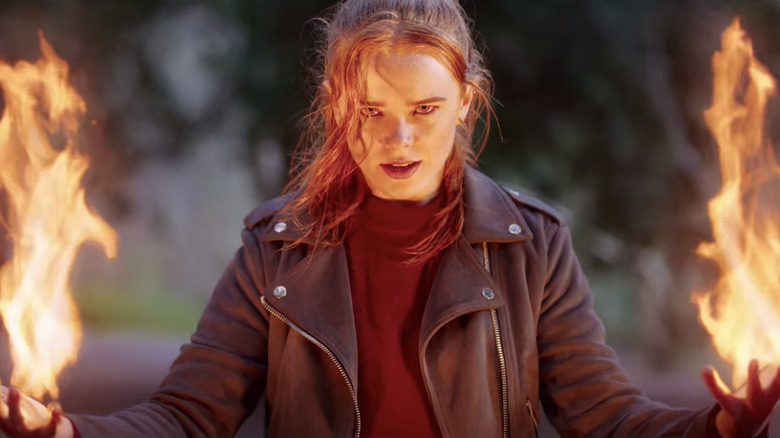 Netflix
Finishing off our list of shows like "Riverdale" is "Fate: The Winx Saga," Netflix's live-action reboot of the beloved "Winx Club" cartoon. "Fate" tells the story of Bloom, a normal teenage girl who discovers through a tragic and traumatizing accident that she's actually a fairy possessed of powerful fire magic. She journeys to a parallel, mystical realm called the Otherworld to enroll at Alfea College — a magic school for fairies. There, she joins up with a group of like-minded friends and begins training to face the forces of evil, because of course there are forces of evil.
"Fate: The Winx Saga" is the epitome of the dark teen reboot. Gone are the bright colors, lighthearted adventures, and fairy wings of "Winx Club." Here' they're replaced with sex, murder, and a lot of weed smoking. It's a show that, like "Riverdale," takes itself pretty seriously, but doesn't require that you do the same. There's an undeniable style to the dark tone of "Fate," and the story is carried by strong performances from the core cast, especially by Abigail Cowen as Bloom.