Kiernan Shipka Opens Up About Playing Sabrina Again On Riverdale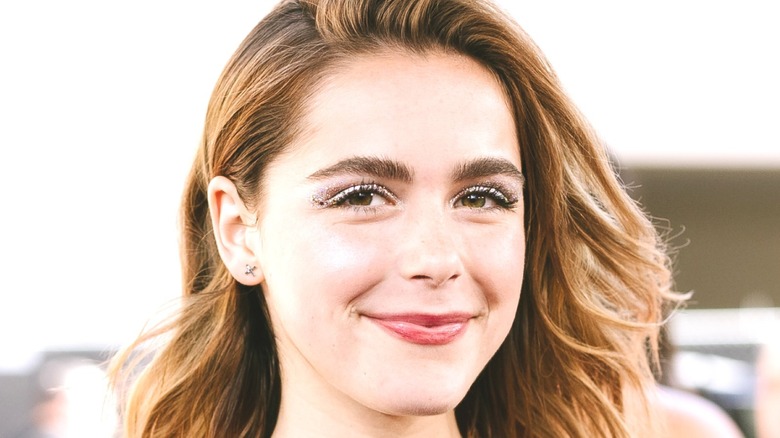 Emma Mcintyre/Getty
Back in 2017, Archie Comics chief creative officer and "Riverdale" showrunner Roberto Aguirre-Sacasa began putting into motion his plans to expand the live-action Archie Comics world (via The Hollywood Reporter). 
The horror-inspired takes on classic characters like Archie (KJ Apa), Betty (Lili Reinhart), Veronica (Camila Mendes), and Jughead (Cole Sprouse) proved to be extremely popular with "Riverdale" viewers, so it only made sense to try and bring the CW show's style to other well-known properties. As a result, Aguirre-Sacasa began writing a darker adaptation of "Sabrina the Teenage Witch," with the updated iteration titled "The Chilling Adventures of Sabrina," and rumors quickly began swirling of it one day crossing over with "Riverdale."
Fast forward three years later and "The Chilling Adventures of Sabrina" was canceled after four seasons. In an interview with NME, Ross Lynch, who played Harvey Kinkle in "Chilling Adventures of Sabrina," blamed the show's cancellation on the COVID-19 pandemic, saying, "We probably would have had 10 more episodes had COVID not happened." 
While the show's cancellation seemed to permanently kill any chances of a crossover between "Riverdale" and "Chilling Adventures of Sabrina," fans refused to give up hope. Consequently, in October, Aguirre-Sacasa confirmed that Sabrina Spellman (Kiernan Shipka) was coming to "Riverdale" Season 6.
Playing Sabrina again was like riding a bike for Kiernan Shipka
In an interview with EW, Kiernan Shipka talked about how easy it was to step back into the character of Sabrina Spellman for her "Riverdale" appearance. "It's funny, she just like took over me the second that I started speaking. It was the craziest thing," Shipka said. "I felt like no time had passed."
Shipka's "Riverdale" scenes are reportedly all with actor Madelaine Petsch, who plays Cheryl Blossom in the CW series. To fans of "Sabrina," the connection between the two makes sense. Notably, the Blossom family is briefly discussed in "Chilling Adventures of Sabrina" Part 3, when Sabrina is searching for an unholy artifact and discovers that the last person to have it was a soldier named Benjamin Blossom. 
The reveal prompted fans to ask: Could there be more to Cheryl Blossom than we know? The answer to that question is, fortunately, given in the "Riverdale" Season 5 finale (via Deadline), which sees Cheryl discover that not only was one of her ancestors accused of witchcraft by the town but that she cursed them in response. The season ended with Cheryl reciting the same curse.
Shipka's appearance as Sabrina, meanwhile, is part of a larger five-episode "Riverdale" arc, and no one seems more excited about the character's return than the actor herself. In fact, when she was asked by EW if there's a chance of Sabrina coming back in future episodes of "Riverdale," Shipka didn't hesitate to say, "I think the door is open, and that's very exciting."