The One Superman & Lois Actor That Adam Rayner Needs For More Scenes - Exclusive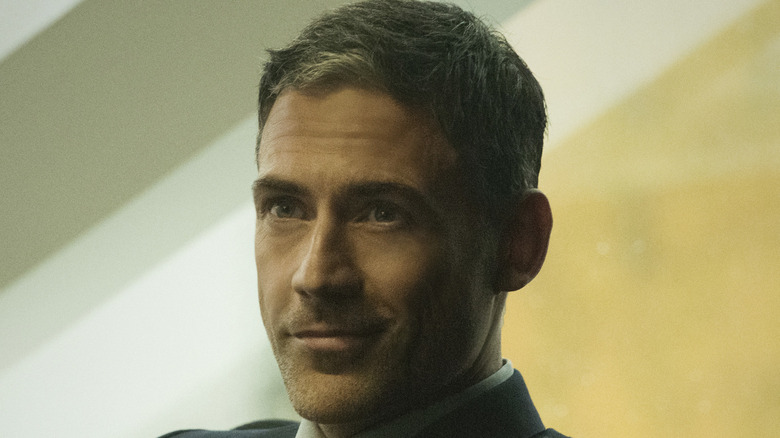 The CW
The CW series "Superman & Lois" is no stranger to a slate of incredible actors to carry out the show's unique spin on the classic love story between ace reporters Lois Lane and Clark Kent. With "Teen Wolf" veteran Tyler Hoechlin as Superman and "Grimm" alum Bitsie Tulloch playing Lois, the show couldn't have found a better duo to helm the series — and their chemistry was immediately palpable from their first stint on "Supergirl." 
However, the title characters aren't the only Superman characters to enter Smallville for the series. Classic Superman villain Morgan Edge came onto the scene back in Season 1 — with a twist. As it turns out, Edge happens to be Kal-El's long-lost Kryptonian half-brother Tal-Rho. That's certainly a new angle for the Superman mythos.
During an exclusive interview with Looper, Adam Rayner dished on which "Superman & Lois" actor he wants more scenes with, how he discovered that epic plot twist, and what it was like working with Tyler Hoechlin. 
Smallville's most badass reporter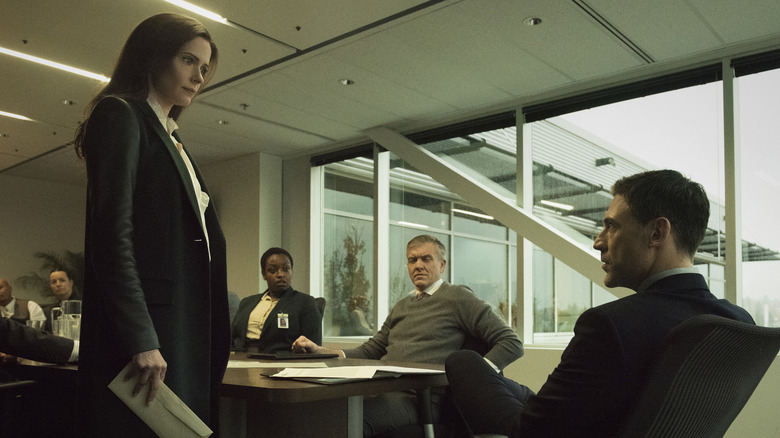 The CW
On what was it like working with Bitsie Tulloch and if she's someone Rayner would like more scenes with, he said, "Oh, definitely. The real sparks flew between those two characters. It was great fun to play. They're terrific characters. We had a lot of fun doing those scenes." He added, "Whilst I was thrilled to go and be Superman's antagonist with Tal-Rho, I was slightly sad to no longer be Lois Lane's antagonist as Morgan Edge. I would love to see those two onscreen again." It's safe to say that the fans are dying to see these two have another verbal sparring match, too.
However, when it comes to the big reveal that Morgan Edge is Superman's long-lost brother Tal-Rho, the actor had no clue when he signed on to the gig. "I didn't know, actually. When I took the job, I thought I was Morgan Edge — the shady billionaire. It was revealed to me in a conversation with Todd [Helbing] fairly early on, and I was thrilled," Rayner said. "It made the role — it made the job — it made everything about it more interesting and more exciting. Both the fact that Morgan Edge would become someone else [and] was pretending to be someone else the whole time, which always makes playing any character more interesting — and then, of course, the fact that I was going to be the brother of this iconic character."
Emotional tennis with Tyler Hoechlin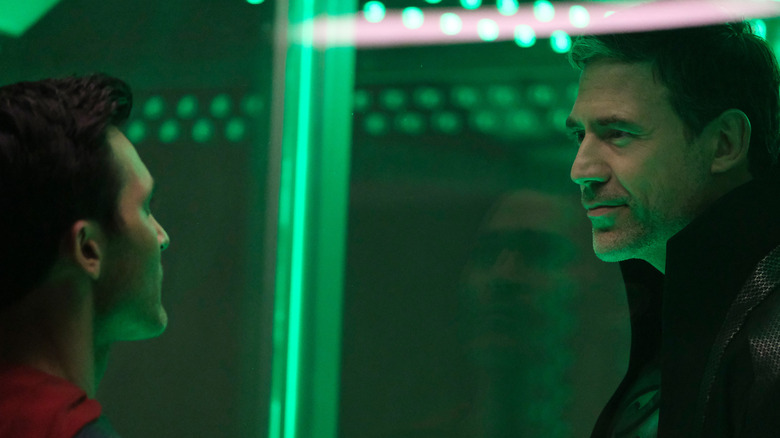 The CW
Rayner may be a little envious of Hoechlin's real-life super strength, but he only has wonderful things to say about his onscreen brother.  "He's a little younger than me, so I'd come out of it a bit sorer than him, but it was good fun. Whether we're flying through the air or down on the ground, it's great fun being a part of that world and doing all those scenes with him," Rayner explained. "I always have a great time with Tyler. He's such a nice guy. He leads the show so well, and we always have a good laugh. Mostly, I'm just abusing him for being so fit while I squeeze into my muscle suit, trying to look as good as him — but obviously totally failing." Rayner jokingly added, "I spent a lot of time taking that out on him, basically for being so young and fit. He gets a lot of abuse for that from me." 
The second season of "Superman & Lois" airs Tuesdays on The CW, with episodes streaming on the CW website and app the following day.