The Transformation Of Oliver Platt From Childhood To Chicago Med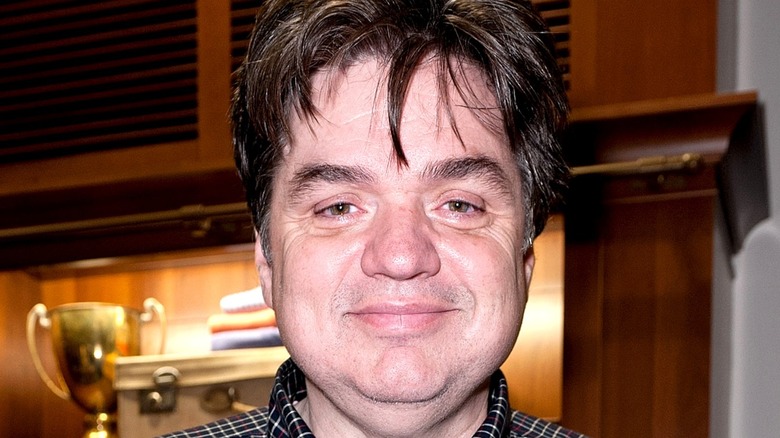 D Dipasupil/Getty
Familiar to any long-time viewer of Dick Wolf's One Chicago medical drama "Chicago Med," veteran actor Oliver Platt has become a beloved favorite with fans of the NBC hit show. As Psychiatry Chief Dr. Daniel Charles, Platt's character is the go-to professional for doctors and nurses needing his insights and advice regarding patients' mental states and behavioral issues at the show's fictional Gaffney Chicago Medical Center.
While Platt may not be considered archetypal leading man material in Hollywood's casting suites, his lengthy and critically celebrated career has seen him steadily employed on TV and in films ever since launching his small screen debut back in the mid-1980s. Starting off with smaller roles in episodic TV series, he would go on to land increasingly meatier parts as a character actor on television and the silver screen. All this being said, it seems like the perfect time to take a look back at the early career and later achievements that contributed to Platt's transformation from childhood to his recurring role as Dr. Charles on "Chicago Med."
Platt traveled the world as a child before kickstarting his acting career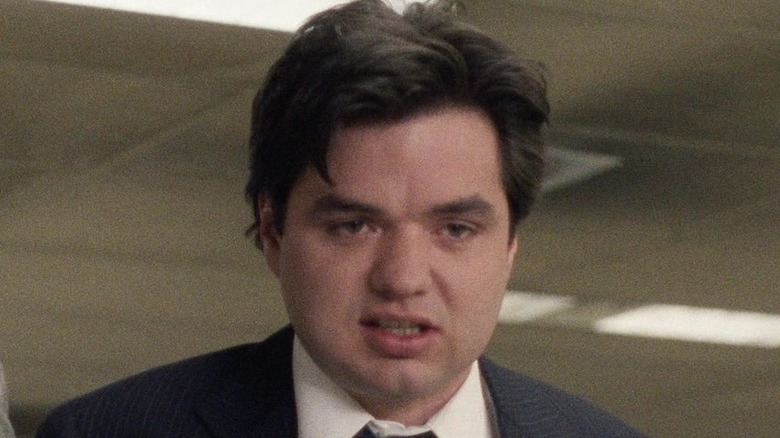 20th Century Studios
Oliver Platt was born in 1960 in Windsor, Ontario, to Americans Sheila Maynard and Nicholas Platt, who was a diplomat for the United States. Because of his father's job, Platt's early childhood saw him living all over the world as his father took positions across Asia and the Middle East (via The Academy of Diplomacy). 
Platt was apparently interested in acting from an early age, which eventually led him to get a drama degree from Tufts University (per Film Monthly). After cutting his teeth in regional theater and off-Broadway productions, he began to break through to the world of film and TV in 1987 with a role on the TV series "The Equalizer." His feature film debut came in 1988 when he landed small roles in movies like the big-screen production of the castaway adventure "Crusoe," the Mike Nichols comedy "Working Girl," and the Michelle Pfeiffer starring "Married to the Mob." 
Beefier roles then started to come Platt's way. In 1990, he joined the cast of the paranormal thriller "Flatliners," played Sy Brenner on the "Wiseguy" TV series, portrayed Neil Beleene in Carrie Fisher's "Postcards from the Edge" and shared the screen with a lovable St. Bernard in 1992's "Beethoven." The next year, he was cast alongside Robert Redford and Demi Moore as Jeremy in "Indecent Proposal," and took on the role of Eric in the Johnny Depp staring "Benny & Joon."
Platt was a Musketeer alongside Kiefer Sutherland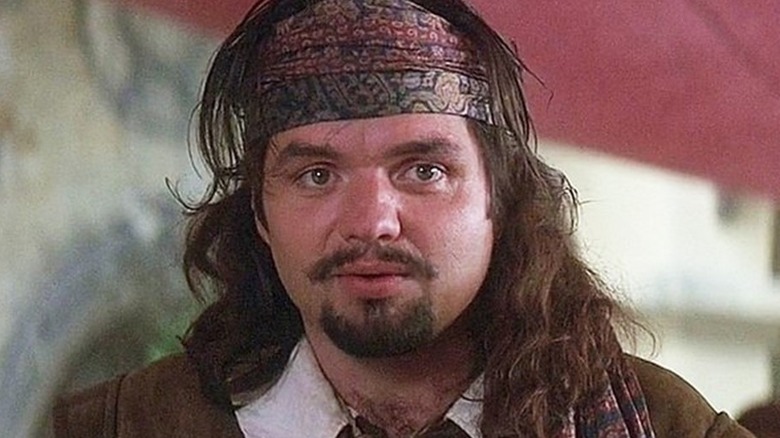 Disney
1993 would see Platt take on his first, and only, action-adventure role when he was cast in the feature film adaptation of Alexandre Dumas' "The Three Musketeers." Buckling on his rapier as the dashing swordsman Porthos in the big-budget period piece, Platt starred alongside Charlie Sheen, Kiefer Sutherland, and Chris O'Donnell.
A succession of film and TV work then came Platt's way over the next few years, including the part of Dennis Murphy in the hip-hop-inflected 1998 film "Bulworth," directed by Warren Beatty and starring Beatty and Halle Berry. The following year, he got to spend a little time on Seasame Street in the TV movie "Sesame Street: CinderElmo." Additional major feature film appearances at the time found Platt cast as Dr. Mark Weller in the Eddie Murphy hit "Doctor Dolittle," as well as assuming supporting actor duties in the giant-croc thriller "Lake Placid." He also appeared in "Bicentennial Man" with Robin Williams, and had a one-off appearance in the "Zombie!" episode of the long-running TV horror anthology series "Tales from the Crypt."
Platt played a presidential advisor on The West Wing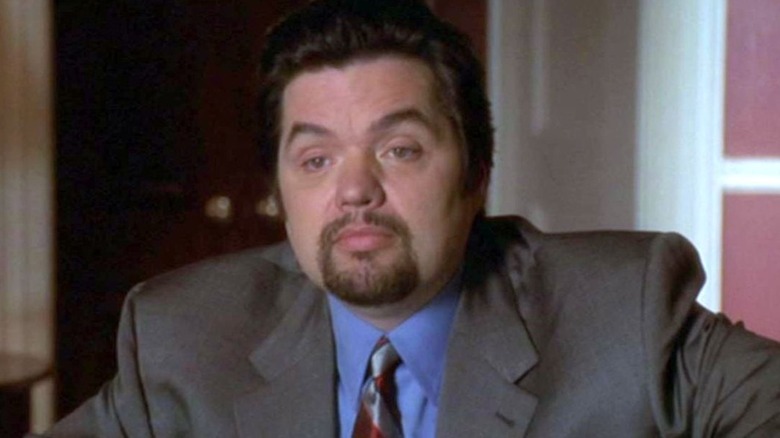 NBC
In 2000, Platt landed the lead role of tabloid journalist Wallace Benton on the TV drama "Deadline." Produced by One Chicago mogul Dick Wolf, the series featured Platt as a smooth-talking, hard-drinking reporter who also teaches a journalism class and has no scruples about using his students to help him dig up dirt for his stories.
"Deadline" only lasted for a single season, but by 2001, Platt was already bouncing back by embarking on one of his most iconic character outings when he joined the administration of fictional Democratic President Josiah Bartlet (Martin Sheen) in Aaron Sorkin's paradigm-shifting TV tour de force "The West Wing." As White House Counsel Oliver Babish, Platt served as a political guiding force for Sheen's chief executive in a role that earned Platt an Emmy Award nomination for outstanding guest actor in a drama series. In this same vein, Platt would go on to receive additional Emmy nominations for his work as Freddie Prune in the TV series "Nip/Tuck," and dual nominations for his portrayal of Russel Tupper in Showtime's "Huff" in 2005 and 2006 (via Emmys.com).
Platt co-starred in TV's Fargo and all three One Chicago shows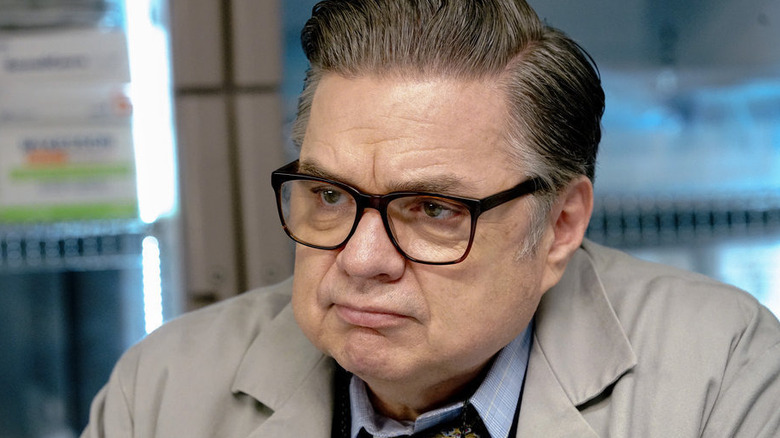 George Burns Jr/NBC
In 2014, Platt assumed another high-profile recurring role when he was tapped to play the conniving grocery store kingpin Stavros Milos in the darkly hilarious TV series "Fargo," which also featured Billy Bob Thorton and Martin Freeman.
The next year, Platt returned to producer Dick Wolf's TV show empire as the above-mentioned Dr. Daniel Charles in Wolf's then-newly minted medical procedural "Chicago Med." Spun off from "Chicago Fire," the hospital drama became the third entry in Wolf's One Chicago franchise, following in the footsteps of "Chicago P.D.," which launched in 2014. To date, Platt has been featured in over 130 episodes of the series, as well as visiting the other two Chicago-verse shows, turning up in nine episodes of "Chicago P.D.," and a total of seven installments of "Chicago Fire."
From his early-stage work in off-Broadway productions to his initial forays in 1980's primetime series to his extensive feature film credits, and his regular recurring roles in long-running TV hits, Oliver Platt has experienced a noteworthy transformation from childhood to one of the best-loved characters on NBC's hugely successful network smash, "Chicago Med."