Mia's Most Heartbreaking Moment In Yellowstone Season 4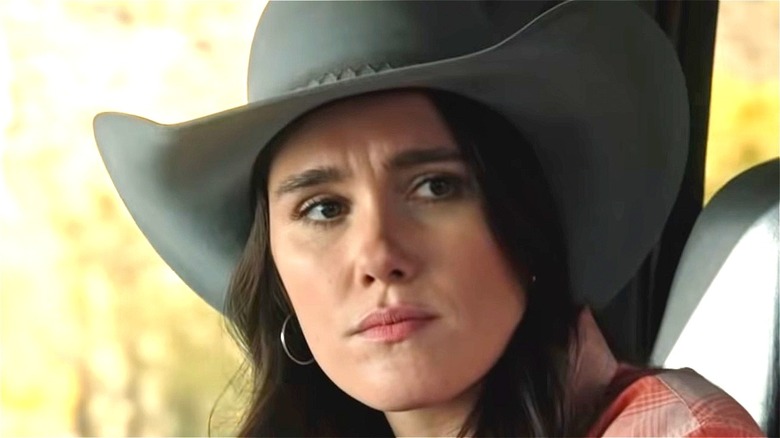 Paramount Network/YouTube
With a record-setting season premiere and the debut of its spin-off prequel "1883," the success of "Yellowstone" only continues to grow. The Western drama was recently renewed for a fifth season, meaning fans will get to see what happens following the divisive Season 4 finale. Additionally, Jimmy Hurdstrom (Jefferson White) is presumed to be leading the upcoming spin-off "6666."
As the criminal-turned-cowboy heads back to the 6666 Ranch with his new fiancé, fans are wondering whether or not his former love interest Mia (Eden Brolin) will remain a part of the series. Mia, a barrel racer and so-called buckle bunny, is an admittedly unpopular character among "Yellowstone" fans. Many blame her for Jimmy's near-fatal rodeo injury and generally dislike her presence in the bunkhouse.
While it seemed like Mia's storyline was coming to an end when Jimmy left for Texas and the two broke up, the Season 4 finale reignited some intense feelings and led to a heartbreaking scene.
Mia's confrontation with Jimmy was hard to watch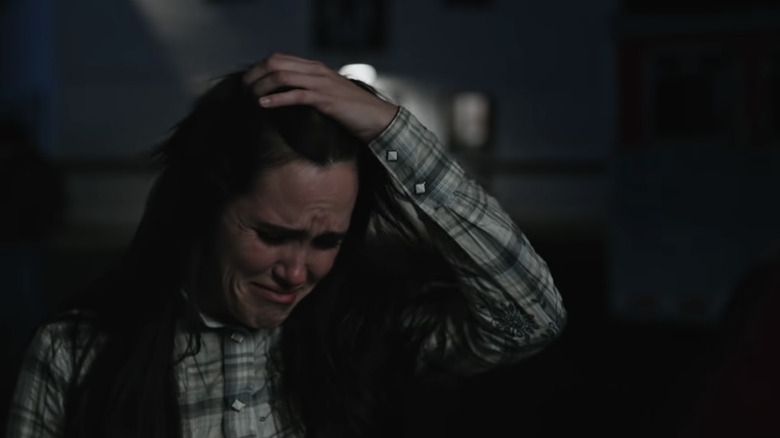 Paramount Network
Whether you love or hate Mia, it's undeniable that watching her brawl with Jimmy and his bride-to-be Emily (Kathryn Kelly) was hard to watch. Everyone in the bunkhouse was stunned by the news of Jimmy's sudden engagement, but Mia genuinely believed that he would come back for her. She impulsively jumps up and takes a swing at him, leading to a brutal confrontation.
On the "Yellowstone" subreddit, fans who typically don't side with Mia couldn't help but feel sorry for her. "I think she really loved Jimmy but she gave him an ultimatum instead of just going with him to Texas. Had she done that, they'd probably still be together," said u/Kind-Intention4120.
Others debated whether or not he should've fought to save their relationship, but the consensus is that, regardless, breakups suck. "I felt bad for Mia's heartbreak, but it just goes to show that you should think about the way you're treating someone, because they just might find someone else who treats them the way they deserve," pointed out u/ShowerMurky5151.
"How long was Jimmy gone? Feels like less than a month and he finds another love..." wrote u/Delolcat, adding that they dislike Mia and don't think she should've been at the ranch that night in the first place but still felt sorry for her.
Who knows, maybe Mia will pop up again in "6666" to have another throwdown with Emily.