The Yellowstone Season 4 Theory That Would Change Everything In The Bunkhouse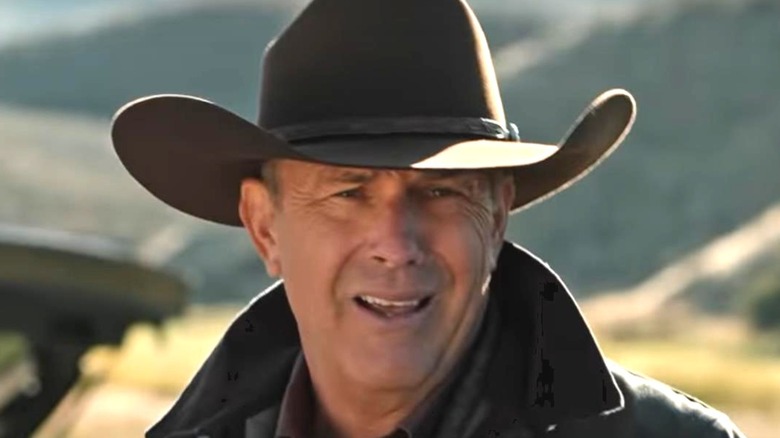 Paramount Network
"Yellowstone" is almost back, folks, and who would've guessed there's trouble brewing on the wild frontier? Season 4 of the acclaimed drama starring Kevin Costner is set to premiere a two-hour special event on Paramount Network. Costner is no stranger to the wild west, having starred in such films as "Let Him Go" and "Open Range," but a massive TV series success is actually something new for the Hollywood heavyweight. The show follows the winding tale of the Dutton family, led by "Yellowstone" protagonist John Dutton (Costner), owners of the largest ranch in the United States who deal with conflicts at just about every turn, from land grabs to murder.
Season 3 left off with plenty of cliffhangers, but the most troubling theory for "Yellowstone" Season 4 so far is the potential return of not just one, but two disruptive influences, neither of whom may be so welcomed by fans. As if there weren't enough problems in the bunkhouse already; now things look to get even uglier on the frontier.
Are Laramie and Mia coming back?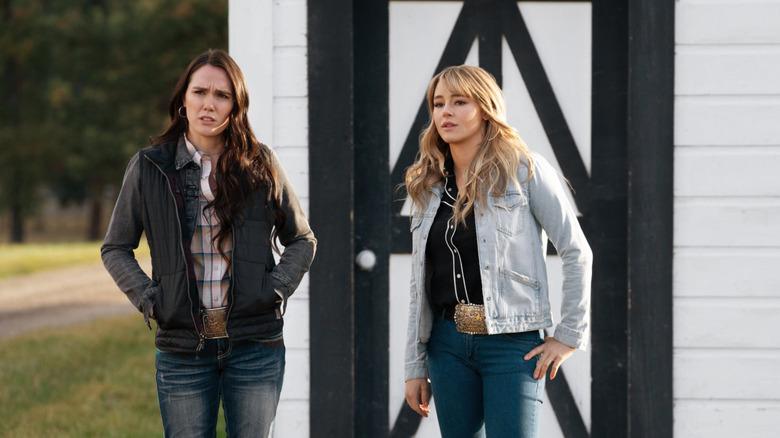 Paramount Network
Yes, you guessed it; speculation around the potential return of barrel racers Laramie (Hassie Harrison) and Mia (Eden Brolin) is running rampant (via Express). And the reaction so far indicates these two characters may be less than fan favorites. Remember last season when Mia sucked ranch hand Jimmy (Jefferson White) into the high-stakes world of rodeo? That, of course, eventually landed him in the ICU. It might be better if they don't see each other anymore. Just saying.
Meanwhile, Laramie had that whole fling thing with bunkhouse resident Lloyd (Forrie J Smith). Her main goal appears to be causing as much friction as possible at the ranch. No one seems to be able to come up with any other significant purpose for Laramie to be there. But every great show needs conflict, so love them or hate them, it seems a safe bet that these two hooligans will be back to stir up more trouble in Season 4 of "Yellowstone." And whether you love them or hate them, they are sure to elicit a strong response from fans. Also, where they go trouble follows, which is ultimately what you want out of a good villain.