Who Is The Actor That Plays Mia On Yellowstone?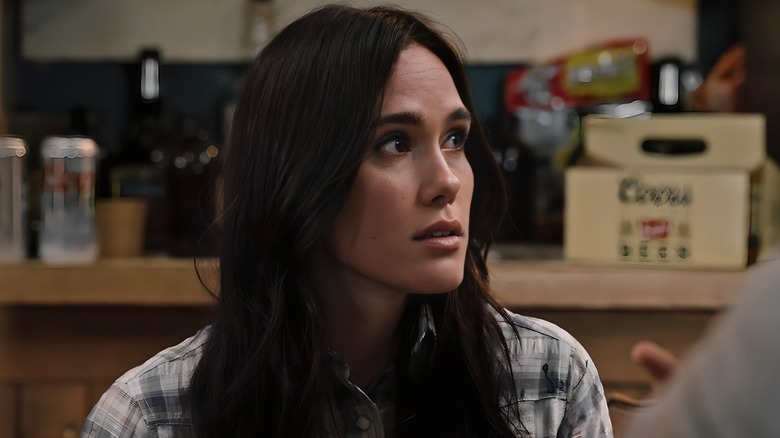 Paramount
One of the strangest storylines to come out of the divisive fourth season of "Yellowstone" is that of ranch hand Jimmy Hurdstrom (Jefferson White), who spends the greater part of the season embroiled in a pointless love triangle that seems more at home in "Riverdale" than it does in the hit Western drama series.
Jimmy has a falling out with John Dutton (Kevin Costner) early on in Season 4, and the grizzled leader of Yellowstone Ranch decides to send Jimmy away to work at the infamous 6666 Ranch in Texas (more commonly called Four Sixes Ranch). Because of this, Jimmy is forced to end his budding romance with Mia, a barrel racer and member of the rodeo where Jimmy is injured in Season 3, and it seems for a while that the story of Jimmy and Mia is all but done — especially when Jimmy starts dating a veterinary technician named Emily (Kelsey Asbille) during his short tenure at Four Sixes. However, Mia returns in the Season 4 finale to confront Jimmy, asking him to choose once and for all between her and Emily.
As of right now, it appears that Mia's role in "Yellowstone" is mainly to drive a wedge between Jimmy and Emily — which is unfortunate, considering the actor who plays Mia actually comes from a veritable dynasty of acting royalty.
Mia is played by Josh Brolin's daughter, Eden Brolin
As it happens, Mia is played by none other than Eden Brolin: the daughter of legendary actor Josh Brolin (who "Yellowstone" showrunner Taylor Sheridan had previously worked with in the 2015 thriller "Sicario"). Prior to working on "Yellowstone," Eden was known for playing Charlie on the fantasy sci-fi television series "Beyond," as well as her role in the 2020 neo-noir film "Arkansas."
As mentioned, Brolin has been a recurring member of the "Yellowstone" cast since the series' third season, serving as a love interest to Jimmy after the two meet at the rodeo. When Jimmy is injured in a rodeo accident, Mia visits him in the hospital during his recover, and encourages him to rejoin the rodeo once he is healthy again. She even starts working at the Yellowstone Ranch to be closer to him — though once Jimmy is shipped off to Texas, this plot point seems to fizzle out the same way their romance does. 
No longer working at the Yellowstone Ranch or dating Jimmy, it seems Mia's story is all but finished on "Yellowstone," but there has been no confirmation yet about whether or not Mia (and therefore Brolin) will return for the upcoming fifth season.