Who Plays Colby On Yellowstone?
"Yellowstone" just finished up its fourth season. Once again, the Paramount Network series went over fairly well with audiences and critics (via Rotten Tomatoes), getting nominated for a SAG Award and having its fifth season green lit with an expected release this fall (via Variety). The show centers around John Dutton (Kevin Costner), family man and owner of the largest ranch in the United States, as he tries to keep his land out of the reach of corrupt politicians and those bordering his ranch who may have the means or desire to take it away from him. The ranch is essentially one huge crew played by an incredibly talented cast, including Luke Grimes, Kelly Riley, Wes Bentley, Cole Hauser, Gil Birmingham, and Kelsey Asbille, to name a few.
There are also a few actors on "Yellowstone" who may be harder to recognize, with some relatively fresh faces brought on board in some pivotal roles. This includes the rowdy group of ranch hands we see at Yellowstone Dutton Ranch, played by actors like Jefferson White as fan-favorite wrangler Jimmy Hurdstrom. White only broke onto the scene back in 2014, with his first official acting credit on his IMDb profile being Brad Mullin on "The Americans."
With Jimmy, who has been the most prominent ranch hand of the group through Season 4, now off has the Dutton ranch with the approval of John, "Yellowstone" Season 5 will have time to focus on the bunkhouse crew he left behind. A few long-time wranglers remain, including one familiar face: Colby Mayfield. Here's who plays the beloved and loyal Yellowstone Dutton Ranch employee on "Yellowstone."
Denim Richards plays Colby Mayfield in Yellowstone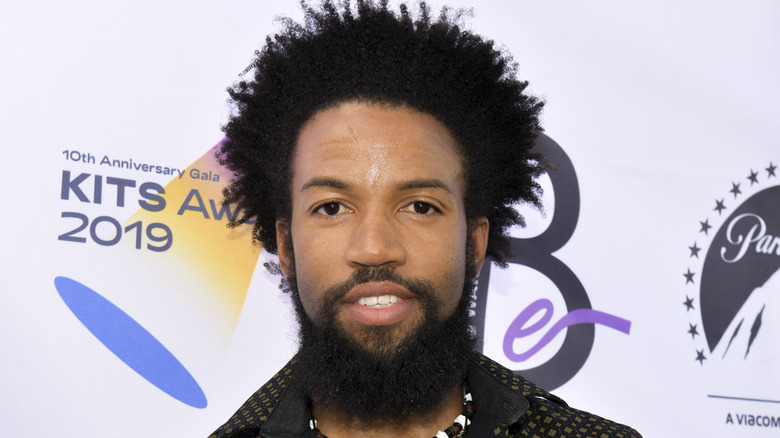 Rodin Eckenroth/Getty Images
"Yellowstone" character Colby Mayfield is a ranch hand audiences have seen working for the Dutton ranch since the show first began. Colby is played by actor Denim Richards (via IMDb). The rising star received his first official acting job in 2007 as a choir member on the show "Lincoln Heights," a drama series that follows a police officer and his family as they move into a bad neighborhood. Richards is a trained vocalist, as seen in this clip posted to Outsider's Twitter in 2021, so this initial role makes sense for his skillset.
From there, he would get smaller roles on TV movies and shows. Per his IMDb page, he has appeared on "Catfish: The TV Show," "Murder Book," "Acting Out," and "The Book of G.A.M.E. (Getting a Major Edge)." In June 2018, Richards made his first appearance as Colby in the premiere episode of "Yellowstone." He would continue to be a recurring character in Season 2, along with getting his other most known role as Elijah Adrieux in "Good Trouble" at the same time. This likely put him high up on the radar for studio executives, and as such Richards was promoted to a series regular on "Yellowstone" before Season 3 premiered back in 2019 (via Deadline).
Richards writes and directs as well
Along with pursuing his career in acting on shows like "Yellowstone," Denim Richards has creative pursuits in writing and directing. In a 2020 interview with Wealth of Geeks, he discussed two writing and directing projects, including 2020's "The Zoo" and "The Forgotten Ones," which is yet to be released. Richards noted that "The Zoo" has been something he had been wanting to work on since 2012. The story follows the experiences men of color had during World War II and Nazi experiments that were conducted upon them. 
"The Forgotten Ones" will follow the release of "The Zoo" according to Richards, and he hopes to bring nearly all of the cast of "The Zoo" for "The Forgotten Ones." The description, as penned by Richards on IMDb, notes the film follows a group of people from diverse backgrounds who are forced to work together to make sense of what has happened to them, as they are removed from normal society by a higher power. Although this project has been officially announced, the release date is still unclear. This is likely due to the fact that it will have to work around Richards' schedule with "Yellowstone."
As more and more information is revealed about what could happen during Season 5 of "Yellowstone," it will be interesting to see if anything is revealed about the future of Colby. Either way, the future looks bright for the very creative Richards.