Here's When We're Likely To See Yellowstone Season 5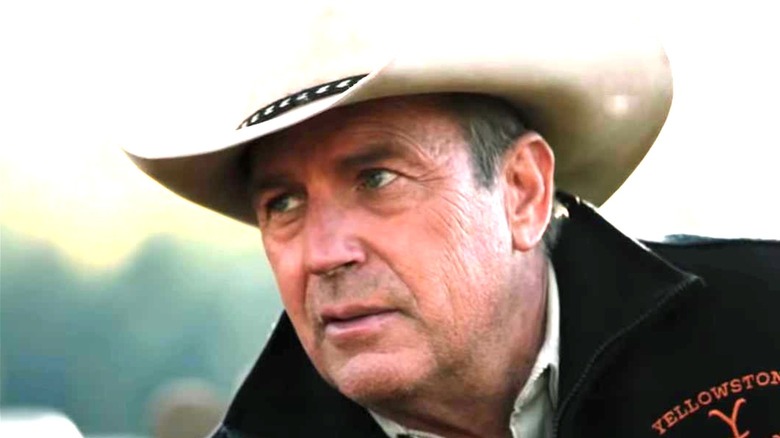 Paramount Network/YouTube
Created by Taylor Sheridan and John Linson, "Yellowstone" follows the Dutton family, including patriarch John Dutton (Kevin Costner, above), who own a large ranch in Montana that shares borders with a Native American reservation. The ensemble cast also includes Luke Grimes, Kelly Reilly, Wes Bentley, Kelsey Asbille, and Gil Birmingham.
Now four seasons in, "Yellowstone" has only gotten more popular as it's continued. While a high 8.12 million viewers tuned into the Season 1 premiere, as reported by The Hollywood Reporter, that number increased to 12.7 million by the Season 4 premiere (via Deadline). The fourth season wrapped up on January 2, 2022, with 10.3 million tuning in (via TV Insider).
Whichever ratings number you look at, it's clear that there are millions of "Yellowstone" fans now eagerly awaiting the fifth season of the series. So when can we expect to see "Yellowstone" Season 5? In a recent interview, executive producer David Glasser spoke on the future of the series.
Yellowstone Season 5 could premiere this fall
Speaking with Variety, executive producer David Glasser discussed the recent SAG nomination for "Yellowstone," as well as the future of the show. Glasser revealed that he expects production for Season 5 to begin this May and that the new season will likely then premiere in the fall.
Glasser also teased what showrunner Taylor Sheridan has in store for the next season. He told Variety, "It's the prime of the show. I think the show is still maturing, and there's still a lot of story to tell. I know with Taylor, he's got a lot to say and a lot to write. He's deep into Season 5 of 'Yellowstone' now. He's got some incredible ideas that he shared that I think audiences are going to be really excited about."
The premiere of Season 5 will follow the show's first major awards nomination — the SAG nod for drama ensemble — which Glasser also addressed with Variety. He said, "It's now an 'all of U.S.' show. It definitely hit the middle [of the country] in the beginning and then spread out. And that's great, because I think there's still a lot of audience to grow ... And so I think the show's got incredible legs."
Stay tuned for more updates on when to expect the premiere of "Yellowstone" Season 5.